"The Shape of Water," a whimsical science-fiction fable set during the Cold War, won best picture at an Academy Awards fueled by stirring calls for a more inclusive Hollywood.
In speech after speech, Oscar winners and presenters paid tribute to the #MeToo movement, rallied for racial diversity and pushed for gender equality.
"The greatest thing that art does — and that our industry does — is erase lines in the sand," said Guillermo del Toro, who won for directing "The Shape of Water." He is the third Mexican filmmaker to win that honor, following his pals Alejandro G. Iñárritu and Alfonso Cuarón.
"Shape" also picked up honors for its production design and score. The movie stars Sally Hawkins as a mute janitor who falls in love with a mutant amphibian held captive at the laboratory where she works.
The emcee, Jimmy Kimmel, opened the show with pointed one-liners about the recent upheaval in Hollywood, from the fall of producer Harvey Weinstein to debates over pay inequities.
He set aside the snark for an earnest appeal for safer workplaces: "We can't let bad behavior slide anymore. The world is watching us. We need to set an example."
In one of the most powerful moments of the night, three actresses who have accused Weinstein of sexual misconduct — Ashley Judd, Anabella Sciorra and Salma Hayek — took to the stage at the Dolby Theatre in Hollwyood and received a standing ovation.
"We work together to make sure the next 90 years empower these limitless possibilities of equality, diversity, inclusion and intersectionality," Judd said. "That's what this year has promised us."
The trio introduced a video segment about #MeToo that featured clips from barrier-breaking projects like the empowering superhero epic "Wonder Woman" and the racial satire "Get Out."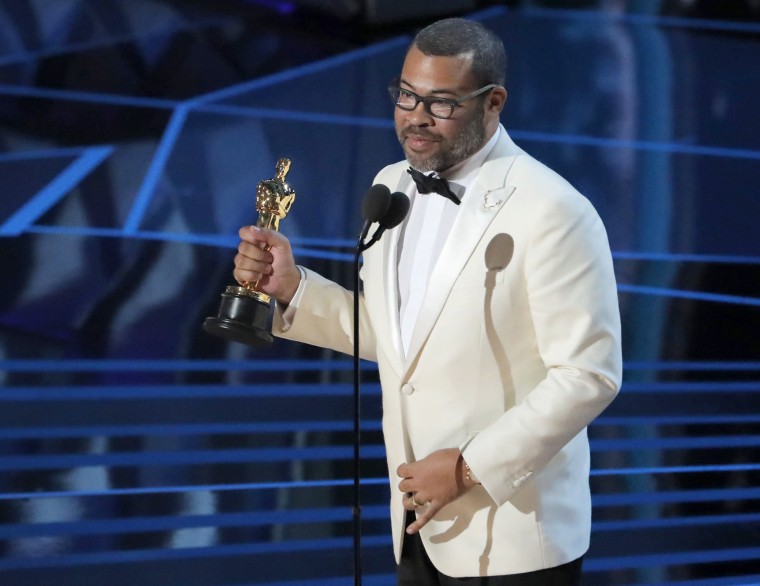 Jordan Peele made history as the first African-American to earn an Oscar for best original screenplay, winning for his script to "Get Out," a box-office smash he also directed.
Peele said he was uncertain the movie would ever get off the ground, but "I kept coming back to it because I knew if someone would let me make this movie, that people would hear it and people would see it."
"I want to dedicate this to all the people who raised my voice and let me make this movie," Peele added.
The acting awards went to stars who were widely predicted to get the gold: Frances McDormand (lead actress, "Three Billboards Outside Ebbing, Missouri"), Gary Oldman (lead actor, "Darkest Hour"), Allison Janney (supporting actress, "I, Tonya"), and Sam Rockwell (supporting actor, "Three Billboards").
In her acceptance speech, McDormand asked all the woman nominees in the audience to stand.
"Look around, ladies and gentlemen, because we all have stories to tell and projects that need financing," McDormand said to wild applause. "I have two words to leave with you tonight, ladies and gentlemen: Inclusion rider."
A pair of film industry veterans won long-awaited honors.
James Ivory, a titan of international art-house cinema, won best adapted screenplay for the tender love story "Call Me by Your Name." Ivory, 89, is the oldest Oscar winner ever.
Roger Deakins, a 14-time nominee, won his first Oscar for his cinematography on the science-fiction sequel "Blade Runner 2049." Rachel Morrison, who photographed "Mudbound," became the first woman nominated in that category.
"Dunkirk," an intense World War II drama that earned more money than the nine other best picture contenders, took home three prizes in technical categories — editing, sound editing and sound design.
Kimmel made light of last year's envelope fiasco, when "Bonnie and Clyde" co-stars Warren Beatty and Faye Dunaway were handed the wrong envelope and incorrectly announced "La La Land" as best picture. The actual winner: "Moonlight."
"I do want to mention, this year, when you hear your name called, don't get up right away," Kimmel joked in his monologue. "Give us a minute."
Beatty and Dunaway gamely returned to the stage on Sunday night to hand out the best picture award. "It's so nice seeing you again," Beatty quipped.
Among the most resonant symbolic gestures of the night: Jodie Foster and Jennifer Lawrence presented the best actress award, standing in for last year's best actor winner, Casey Affleck, who has been accused of sexual misconduct.
"It's a new day in Hollywood," Lawrence said.