/ Source: Associated Press
NEW YORK — The poignant and groundbreaking coming-of-age show "Fun Home" was named best musical at the Tony Awards on Sunday, one of five big trophies it won on the way to making history for its composing team.
It tied for the winningest show on Broadway this season with the British import "The Curious Incident of the Dog in the Night-Time," which also won five awards, including best play. The sumptuous revival of "The King and I" also had reason to whistle a happy tune, with four awards including best revival.
The melody was sadder for "Something Rotten!," which came into the night with 10 nominations but left with only one award.
RELATED: Stars Dazzle at 69th Tony Awards
London-born actor Alex Sharp won best lead actor in a play for "The Curious Incident of the Dog in the Night-Time," beating out stars Bradley Cooper and Bill Nighy.
"Fun Home," based on Alison Bechdel's graphic novel about growing up with a closeted dad in a funeral home and the first musical to have a lesbian as its main character, won for best book, best lead actor in Michael Cerveris and best direction from Sam Gold. It came into the night with 12 nominations and left with the top trophies.
Songwriters Jeanine Tesori and Lisa Kron became the first female writing team to nab a Tony for musical score for "Fun Home."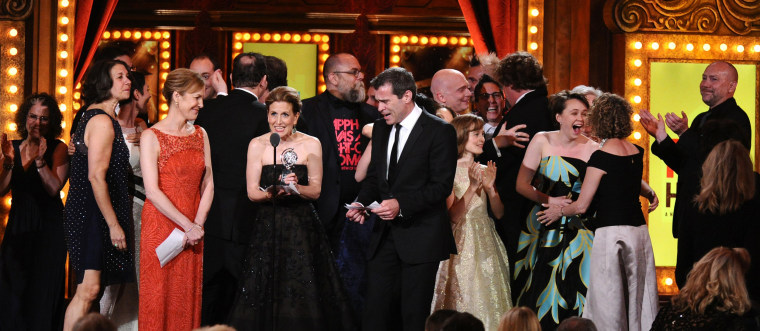 Kelli O'Hara got her first Tony after six nominations, winning for her role as the English school teacher in the classic musical "The King and I."
The British had a big night, with "Skylight" winning for best revival, and Helen Mirren nabbing her first Tony for playing Queen Elizabeth II in Peter Morgan's "The Audience." She already won an Oscar for playing the monarch in the movie "The Queen."
"An American in Paris," which had a co-leading 12 nominations, won four technical awards, including best scenic design and one for Christopher Wheeldon for best choreographer.
Co-hosts Kristin Chenoweth and Alan Cumming infused the show with a low-key medley of jokes and songs that displayed their playful, daffy chemistry. Their costume quick-changes included Cumming in a hoop skirt and Chenoweth as E.T., her co-host cracking, "I said 'Fun Home.'"