Oscar season is looking more and more like one very well-dressed protest against President Donald Trump.
In speech after fiery speech at Sunday night's Screen Actors Guild Awards, winners struck a defiant tone against Trump's sweeping immigration ban.
Their words varied from tender personal reflections to full-throated battle cries, but they were nearly uniform in channeling the nationwide demonstrations sparked by Trump's halting of immigrants from seven predominantly Muslim nations.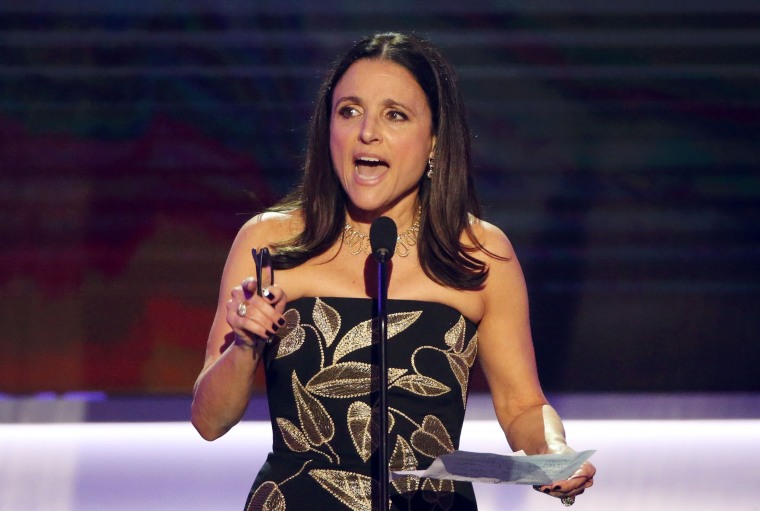 Julia Louis-Dreyfus, who added another honor for her performance on the political satire "Veep," said she was the daughter of an immigrant who fled religious persecution in Nazi-occupied France.
"Because I love this country, I am horrified by its blemishes," said Louis-Dreyfus. "And this immigrant ban is a blemish and it is un-American."
The critical speeches at the SAG Awards followed Meryl Streep's scathing comments about Trump's infamous mimicking of a disabled New York Times reporter in 2015, which many have argued was a deliberate attempt to mock members of that community.
"This instinct, to humiliate, when it's modeled by someone in the public platform, by someone powerful, it filters down into everybody's life, because it kind of gives permission for other people to do the same thing," Streep said on Jan. 8 as she accepted a lifetime achievement award at the Golden Globes.
Perhaps the most moving speech on Sunday came from Mahershala Ali, who won best supporting actor for his acclaimed performance in Barry Jenkins' coming-of-age portrait, "Moonlight." Ali said the film, about a shy, gay Miami boy's hard life, held lessons of acceptance. "We see what happens when you persecute people," Ali said. "They fold into themselves."
Ali said his own relationship with his mother exemplified tolerance. The son of a Protestant minister, Ali converted to Islam 17 years ago.
"We put things to the side," Ali said of their differences. "I'm able to see her. She's able to see me. We love each other. The love has grown. That stuff is minutia. It's not that important."
The most blistering speech was by David Harbour, who led the cast of Netflix's "Stranger Things" on stage to accept best ensemble in a TV drama series. "We will hunt monsters," Harbour vowed in lengthy remarks that drew a standing ovation.
The hit Netflix series "Orange Is the New Black" won best ensemble in a comedy series for the third straight year.
"We stand up here representing a diverse group of people, representing generations of families who have sought a better life here from places like Nigeria, the Dominican Republic, Puerto Rico, Colombia, Ireland," said star Taylor Schilling. ''And we know that it's going to be up to us and all you, probably, to keep telling stories that show what unites us is stronger than the forces that divide us."