In "Barbie," the titular character has a hard lesson to learn: Being a woman in the real world is uncomfortable.
But for many of the women watching, the film feels like a celebration of hyperfemininity being accepted into the mainstream.
On Wednesday evening, moviegoers dressed in blond wigs, pink outfits and bedazzled cowboy boots streamed into the Cinema 123 by Angelika on New York City's Upper East Side for a Barbie blowout party. The attendees were giddy as they filed into an upstairs theater playing music from the official "Barbie" soundtrack, and an usher handed out "Barbie" posters and pins as they entered. The early screening was one of hundreds held across the country days ahead of the film's wide release.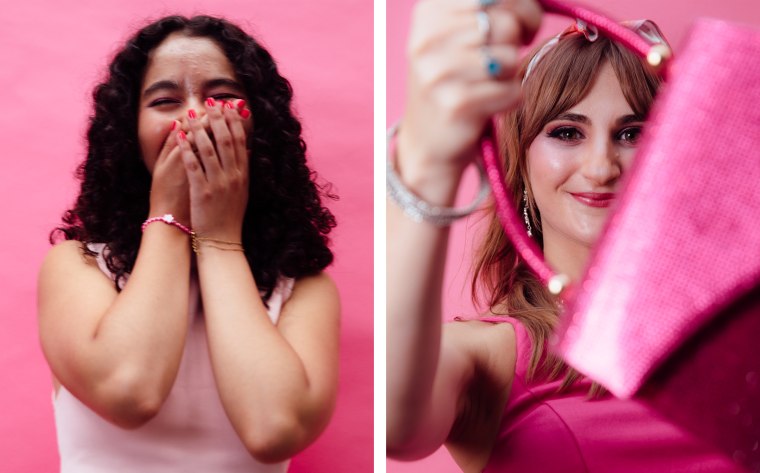 Julia Bonadonna, 24, and Anna Clark, 25, who attended the film's showing Wednesday, said "Barbie" feels like a landmark moment for feminism and a rebuke of some of the stereotypes to which women are subjected.
"Barbie is a feminist icon — even if some people would disagree," Bonadonna said. "I think she's entered the lives of so many young girls and created such an idea of what we can become."
Maddy Hamilton, 32, and Rhisa Muse, 31, said they had come to support "Barbie" and director Greta Gerwig, while also having an excuse to get their group of friends together for a girl's night. They said they were excited for the film even if, earlier in the day, they had read a review of "Barbie" that claimed the film lacked depth.
"I think all of our reaction was like, 'It's OK to be fun,'" Hamilton said. "The person who wrote that, I'm sure, was a man who … sees things that women enjoy and think are fun as not serious."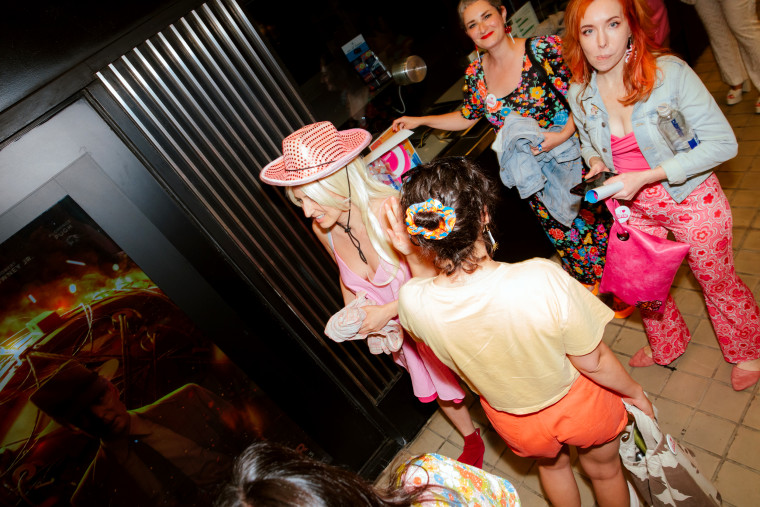 Shrouded in Barbie's iconic, hyperstylized pink, the movie takes on serious and systemic societal issues, examining the complexity and contradictions of modern womanhood. As Barbie makes her way in the real world, she must grapple with the overwhelming emotion and discomfort of being human, as well as a patriarchal system that would make her a secondary character in her own world. While Ken's "himbo" character is the source of much of the film's comedy, "Barbie" gives Ken humanity and vulnerability, all with the intent of showing how his character also suffers under the pressures of the patriarchy. 
The film frequently touches on the nuances of being a woman. At one point, Barbie, played by Margot Robbie, wanders into a school and is confronted by a tween, Sasha, who lays into her, calling her a "bimbo." Throughout the course of the film, both Barbie and Sasha come to terms with the many dimensions of womanhood, accepting that women can be hyperfeminine, while simultaneously being "weird, dark and crazy," as Sasha's mother puts it. The crux of the message is that women should have the autonomy to be what they want to be without having to conform to the patriarchy's ideals. 
As the first crowds poured into theaters across the country to watch "Barbie," so too did the first reviews. As of Wednesday evening, "Barbie" had earned an 89% on the movie review aggregation site Rotten Tomatoes.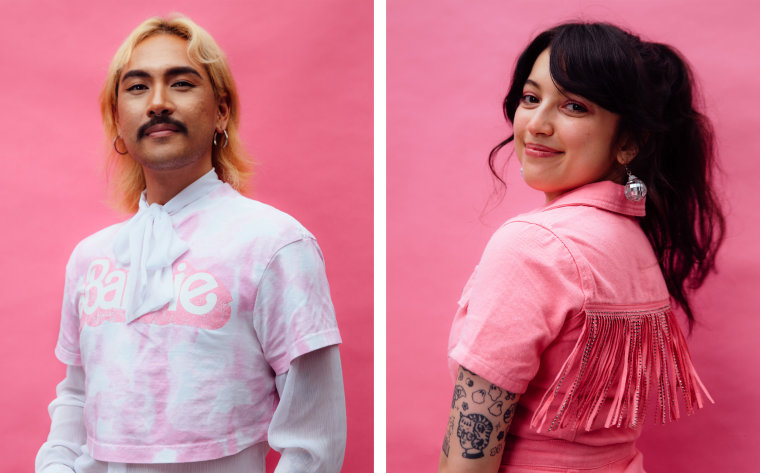 Reviewers praised "Barbie" for having more depth than some might expect for a summer film. Common Sense Media said the film "promotes the idea that feminism is inclusive of all women — and that being a woman is complicated and sometimes messy." Reviewer Ty Burr wrote that the crowd of mostly young women who were in attendance at the screening seemed to identify with the film "as if the movie were seeing them as much as they were seeing it."
The movie marks the mainstream arrival of ideologies that have long bubbled up on social media. On TikTok, many women are in the midst of a "bimbo" renaissance, in which the hyperfeminine is embraced. As "Barbie" debuts, the movie appears to fit perfectly into that cultural moment with its feminist tones, toy fantasy world and plethora of pink products.
The history of Barbie
Barbie might seem like an unlikely vessel for a feminist message.
Throughout her 64-year history, Barbie has been both lauded and criticized for her representation of womanhood. 
Barbara Millicent Roberts, better known as Barbie, first debuted in 1959 at the American Toy Fair in New York City, as an 11-inch blond with a rosy pout, according to History.com. She was created by Ruth Handler, co-founder of Mattel, after Handler watched her daughter play with paper dolls. 
Barbie has had every job imaginable, from doctor to model to ballerina. Part of the appeal of the doll was the various outfits and occupations offered by Mattel. Since her debut, Barbie has had more than 250 jobs, including as an astronaut landing on the moon four years before Neil Armstrong.
Since her inception, Barbie has been shrouded in duality. She is seen as the idealized woman created to mold girls in the shape of the male gaze. Barbie's proportions have often been criticized for being unrealistic, with long legs and a petite waist. One study found that if Barbie were a real person with her proportions, she'd have to walk on all fours. Another study, published in 2016 in the journal Body Image, analyzed the responses of 112 girls between 6 and 8 years old on Long Island who played with dolls of different body shapes, and found that more girls who played with thin dolls like Barbie experienced discrepancies between their actual versus ideal body sizes.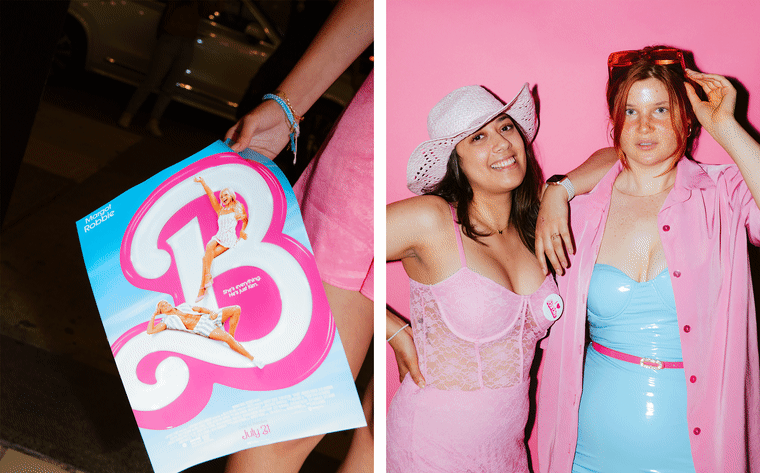 Still, Barbie has also been viewed by some groups as a progressive icon for women. 
Her initial "Barbie Home," a cardboard ranch house released in 1962, was "strikingly masculine," according to The New York Times. Based on the home, Barbie was a single woman, attending college, who had no children and no kitchen. Barbie only got her first kitchen in 1972's Bohemian Townhouse.
And while her origin was criticized for being predominantly white, both social pressure and marketing sensibility led to more diversity in the Barbie lineup. 
The first diversity in Barbie's world came in 1968 with the release of Christie, a Black doll in the Barbie collection. An official African American Barbie and a Latina Barbie were released in 1980. That same year, more than 40 international Barbie dolls were released.
In recent years, Barbie has introduced collections recognizing iconic women such as Amelia Earhart, the female aviator, Frida Kahlo, the Mexican painter, and Katherine Johnson, the Black mathematician and NASA employee, as well as dolls — branded Barbie Fashionistas — with four body types, seven skin tones, 22 eye colors and 24 hairstyles.
Still, "Barbie continues to be a fraught icon," Hannah McCann, senior lecturer of cultural studies at the University of Melbourne, said in an email. 
"On the one hand, she is seen as representing unrealistic patriarchal beauty expectations," McCann said. "On the other hand, Barbie is celebrated as the ultimate 'girl boss' who has done every job imaginable."
While Barbie is an aspirational figure, she has also been a vessel for kids to project their own desires and goals. Andi Davids, global head of strategy at branding agency Bulletproof Brands, said that Barbie's relevance has persisted through the years because the brand roots itself in the fundamental human experience of imagining what people will be when they grow up. 
"Barbie has always been a reflection of the culture around her and specifically the role of femininity and womanhood around her," she said. 
The rise of 'bimbo feminism' has created an opening for Barbie
Different ideas for a "Barbie" movie have long percolated in Hollywood. "Juno" screenwriter Diablo Cody, who was previously hired to write the movie's script, told GQ that she was unable to figure out a draft because "the culture had not embraced the femme or the bimbo as valid feminist archetypes yet."
"If you look up 'Barbie' on TikTok you'll find this wonderful subculture that celebrates the feminine, but in 2014, taking this skinny blonde white doll and making her into a heroine was a tall order," Cody told GQ.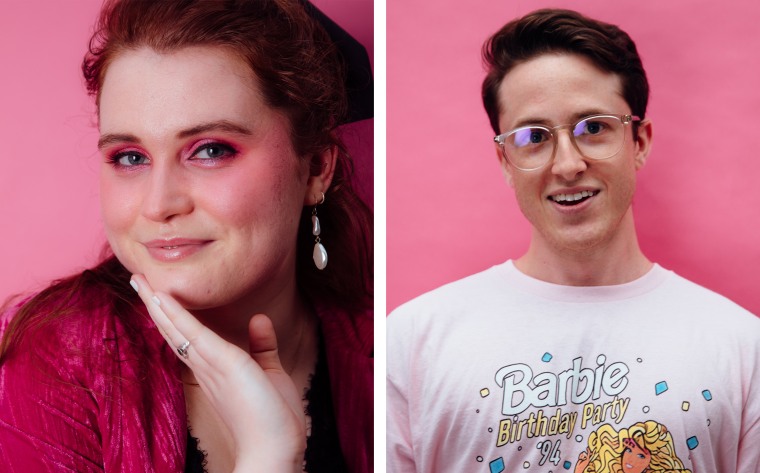 The rise of BimboTok and hyperfeminine creators has made way for a new, multifaceted representation of feminism. TikTok bimbos are "all-inclusive, gender-neutral leftist icons" whose core tenets include being "pro-sex work, pro-LGBTQ,  pro-BLM, and anti-straight white male," according to Rolling Stone. 
Barbie, with her hyperfeminine presentation, limitless abilities and various identities, is a fitting mascot for bimbo feminists. Davids described it as the "dimensionalization of femininity" in which a person can be "multiple contradictory things in one."
McCann added that "while we had 'girl power' in the 1990s, and films like Legally Blonde in the 2000s, there hasn't really been a cultural moment ready to embrace hyper-femininity and feminism at the same time. In the past decade there has been a feminist resurgence, so rather than celebrities distancing themselves from feminism as they did in the past, we now have feminine icons who also embrace feminist politics."
A desire for play in a post-pandemic world
The "Barbie" movie has also generated excitement because of its collaborations, which have produced signature pink items from makeup to clothes to rugs. Products that exist in Barbie's dream world are now available for people to play with in real life.
"One of the things that has made Barbie so successful ... is it's given us so many different ways to play through products, through the collaborations, through the AI stickers," Davids said. "It's building up anticipation for something, setting up this expectation and then providing us and equipping us with the tools to be able to play in real life. It's literally a break from the monotony and pressures and stress of adulthood."
"Barbie" also comes at a time when many people desire fun, gaudy playfulness after years of being isolated because of the pandemic. Barbie represents what life can be, which resonates for folks who were stuck inside fantasizing about what they would do after lockdowns were lifted. 
"It's nice to be able to play and indulge and go to an imaginative space where anything is possible," she said. "Barbiecore is coming in at a nice time to be able to dress up and engage in a little bit of fun and fantasy."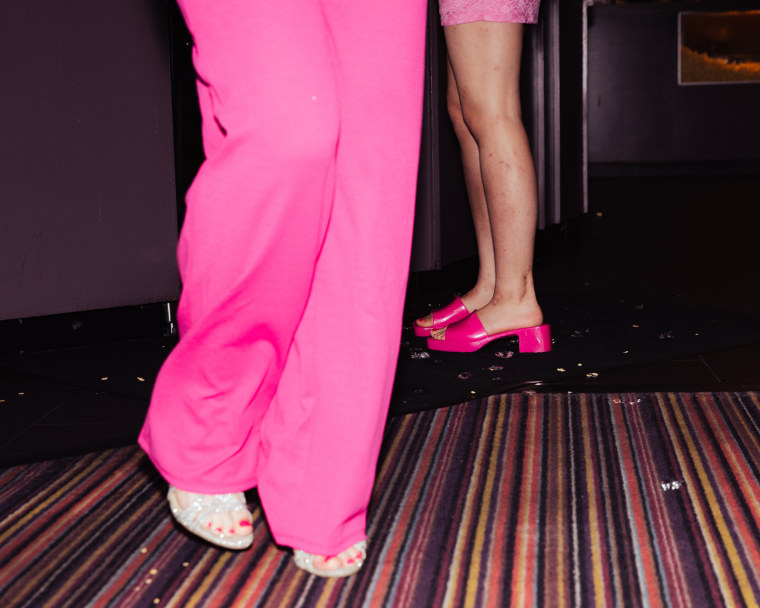 That playfulness was on full display at the theater Wednesday, as "Barbie" came to a close. After the 1 hour, 54-minute run time — during which the audience laughed, sniffled and cheered following a musical number led by Ryan Gosling's Ken and accompanied by dozens of other Kens — moviegoers began to leave.
As they left the theater, some remarked on Gerwig's ability to balance playfulness and humor with a genuine reflection on modern womanhood.
Jessica Sung, 28, who wore a pink cutout dress to the film, said she had a blast watching "Barbie," even if she was still processing what she had just seen.
"It was very relatable on so many levels — in a way that was light-hearted, but, still, I think I kind of had an existential crisis watching it," she said.