A bestselling fantasy author who accused her estranged husband in a lawsuit of trying to poison her over the course of several years has voluntarily dismissed the suit, according to court documents.
In a lawsuit filed in January in the Circuit Court of Williamson County, Tennessee, Sherrilyn Kenyon alleged that her husband, Lawrence Kenyon, and two of the couple's employees orchestrated a "Shakespearean plot" to poison her and tried to sabotage her writing career.
In 2014, Sherrilyn Kenyon, who writes fantasy and paranormal romance novels and is best known for the "Dark-Hunter" series, "was unexpectedly stricken with a bevy of mysterious symptoms that her doctor could not explain" and was eventually bedridden, the suit said.
After her husband filed for divorce in 2018, tests showed she had high levels of lithium, tin, barium and thorium, the suit claimed.
Lawrence Kenyon's attorney, Sean R. Aiello, told NBC News on Tuesday that Sherrilyn Kenyon notified the court late last week that she wanted to drop the suit. Her request to dismiss the complaint was accepted July 26, court documents show.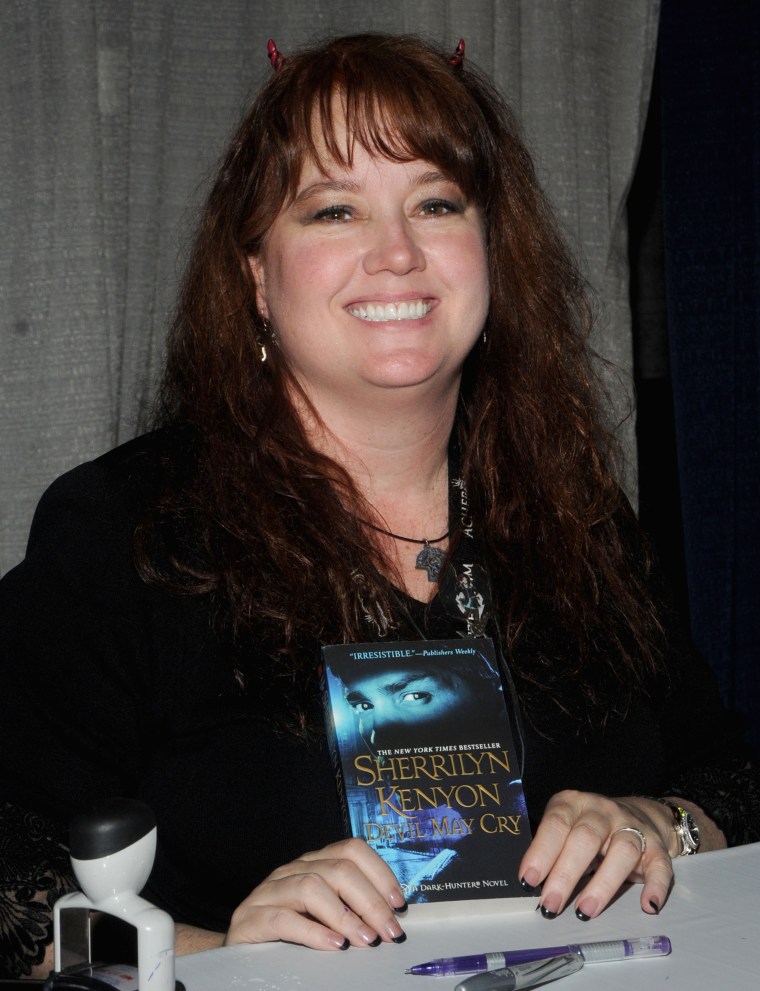 Last month, Lawrence Kenyon filed a motion asking that the lawsuit be dismissed, which would have forced Sherrilyn Kenyon to appear in court Thursday to justify her claims.
After she moved to drop her suit, her husband said in a statement, "Mrs. Kenyon opted to dismiss all allegations rather than face presenting her case and her outlandish allegations to scrutiny by a jury of her peers."
"Mr. Kenyon is appreciative of those who have stood by him during these hard past few months, and heartfully thanks those in his wife's life who assisted her in reaching the just decision to retract her false allegations," the statement said. "He further hopes that these same individuals will continue to support Mrs. Kenyon in getting the assistance she needs and in getting back to what she does best — writing fiction."
The Kenyons, who have been married since 1990 and had three kids together, are still in the midst of settling their divorce, but "no further legal action against Mr. Kenyon or Mrs. Kenyon's former employees remains in this case," the statement said.
"Additionally, despite thorough investigation of the allegations leveled by Mrs. Kenyon, no law enforcement or other investigative agency has issued any charges," Lawrence Kenyon said in his statement.
Sherrilyn Kenyon said in a statement that she dismissed the suit against her husband in order "to focus my energy and financial resources on my divorce litigation."
"However, I maintain a strong and steadfast belief in the merits of this case," the statement said. "I am confident in the facts and evidence of my case and look forward to revisiting this lawsuit at a future time."
Kenyon, whose latest book, "At Death's Door," is slated to be published in about a month, had also said she suffered hair loss, extreme nausea and vomiting, bone loss and deterioration of her teeth due to the poisoning.
She said her husband "stood to gain millions of dollars upon her demise through life insurance and the value of her estate, including her copyrights and trademarks."
Sharon Puckett, public information administrator for the Williamson County Sheriff's Office, said in January that the author filed a report with the sheriff's office several months before filing her lawsuit and that the case was assigned to a detective. Neither Puckett nor the Williamson County sheriff immediately responded to questions Tuesday about the status of the case.
The lawsuit, which was almost 100 pages long, had sought damages not in excess of $20 million.