NEW YORK — A wooden dining chair used by author J.K. Rowling while she wrote the first two "Harry Potter" books is up for grabs at auction in New York and is expected to fetch tens of thousands of dollars.
Hand painted and signed by the novelist, the oak chair comes with a letter marked as having been sent by "Owl Post," in which Rowling described the chair's history.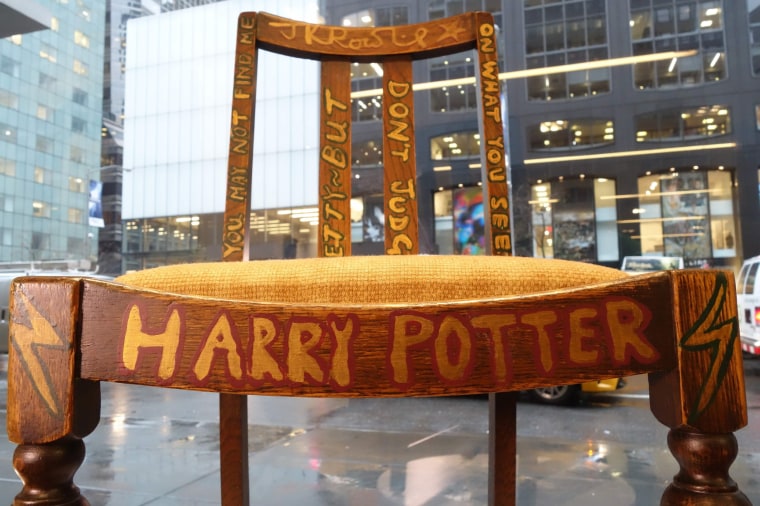 "It was given to her with a group of chairs and this was the most comfortable," James Gannon, director of rare books at Heritage Auctions, told Reuters. "She says in her letter that she parked it in front of her typewriter and it stayed there."
Rowling's 1997 "Harry Potter and the Philosopher's Stone" was the first of seven hugely popular books about the boy wizard living in a world of magic. "Harry Potter and the Chamber of Secrets" followed a year later.
According to the auctioneer's website, bidding currently stands at $65,000.
Gannon said the chair itself was not that valuable but its literary association immediately made it more prized.
RELATED: J.K. Rowling Still Adding to Empire As She Turns 50
"She said at the time that it was something you would pick up at a junk shop," he said. "But it's really just the fact that she took the time to decorate it and the fact she actually wrote the books on it that is important."
The chair was last sold at auction in 2009, fetching around $29,000, according to the auctioneer.
The live auction will be held at New York's Waldorf Astoria hotel and online on Wednesday.