Actor Alan Thicke died Tuesday after suffering a heart attack, a publicist for his family told NBC News.
He was 69.
According to TMZ, which first broke the news, Thicke collapsed while he was playing hockey with his 19-year-old son, Carter.
He was transported to Providence St. Joseph's Medical Center in Burbank, California, around noon (3 p.m. ET) and was pronounced dead there, the site reported.
In addition to Carter Thicke, he is survived by his wife, Tanya Thicke, and two other children, Brennan and the pop star Robin Thicke.
In an Instagram post, the "Blurred Lines" singer described his father as "the best man I ever knew," adding: "Let's all rejoice and celebrate the joy he brought to every room he was in."
Thicke, who was born in Kirkland Lake, Ontario, is best known for his role as Dr. Jason Seaver, the lovable dad on the late-'80s-to-early-'90s sitcom "Growing Pains."
"I do get a lot of calls to play dads," Thicke said in a 2010 interview with the entertainment site A.V. Club.
"I was known all those years as Kirk Cameron's father [on 'Growing Pains'], and now I'm known as Robin Thicke's father, so I find myself playing myself a lot, and frankly living up to expectations of what the public's image of me is," he said. "They see me as a family guy."
He also appeared in "The Bold and the Beautiful," "How I Met Your Mother" and "Fuller House."
A manager at the ice rink where the medical emergency occurred said Thicke and others had started a regular twice-a-week pickup game when a couple of people came off the ice and asked that someone call 911.
Thicke was conscious when he was placed on a stretcher and loaded onto an ambulance, Pickwick Ice operations manager Kyle Stavert told NBC Los Angeles, and seemed to be in good spirits.
"He was talking — actually cracked a joke with his son about taking a picture of him on the stretcher," Stavert said.
"We're all saddened to hear the news ... he's a well-known and well-liked guy around here, for sure," Stavert said, adding that Thicke had been coming to the ice rink for years.
Bob Saget, Thicke's co-star on "Fuller House," said Thicke would be "deeply missed."
"Such a good husband, father, brother, and friend," Saget said of his friend on Twitter.
Just hours before his death, Thicke posted about "Fuller House's" coming season, saying, "I even like the ones I'm not in!"
"Alan Thicke was more than just a client to us all," his managers, Nicholas Bogner and Melanie Greene, and agent Nigel Mikoski said in a statement. "He was a friend and will be greatly missed. He remained ambitious to the very end…and his biggest motivating factor was his devotion to his loving family."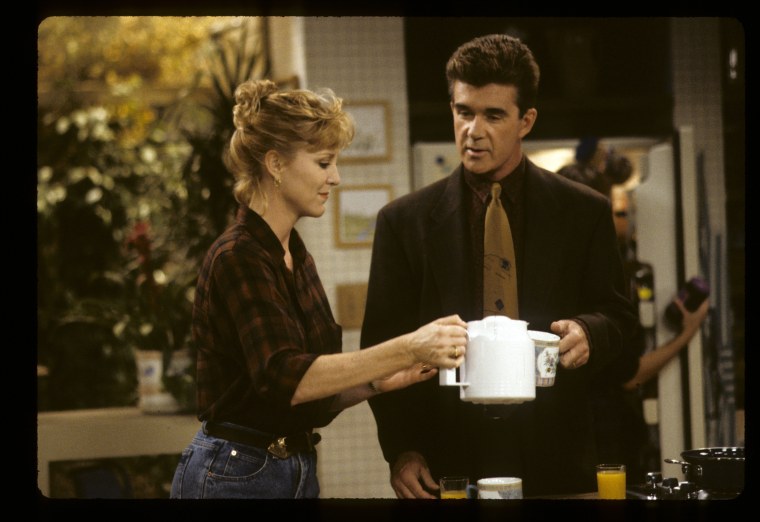 Thicke was nominated for three Emmy Awards as a writer for Barry Manilow's talk show during the 1970s and later for "America 2-Night," the sequel to Martin Mull's talk-show satire, "Fernwood 2 Night."
Even viewers who have never seen Thicke on TV probably know some of his work — he also composed the theme music for several popular shows, including "Wheel of Fortune" and "Diff'rent Strokes."
Thicke also made no secret of his love of hockey, and the National Hockey League tweeted its condolences to his family.