British actor Alan Rickman, a veteran of film and stage known for roles in "Die Hard," "Love Actually" and the "Harry Potter" films, has died. He was 69.
News of his death was confirmed to NBC News by Rickman's agent.
"He was surrounded by family and friends," a statement from his family read, according to Reuters.
Rickman was trained at Britain's prestigious Royal Academy of Dramatic Art and went on to frequently play the bad guy on stage and screen. He earned a Tony nomination for his 1985 performance as scheming French aristocrat Vicomte de Valmont in "Les Liaisons Dangereuses.
His Hollywood star turn came after Rickman played the villain in "Die Hard," and the actor went on to win an Emmy award and Golden Globe in 1996 for his portrayal of Rasputin.
In 2004, he earned an Emmy nomination for an outstanding lead actor for his role in "Something the Lord Made."
Photos: Alan Rickman's Life on Stage and Screen
But millions came to know him from his role as Dark Arts teacher Severus Snape in the "Harry Potter" films, where he played the teenage wizard's nemesis and occasional ally.
"Harry Potter" author J.K. Rowling said on Twitter there were "no words" to express how how devastated she was to learn of Rickman's death.
The Guardian newspaper was first to report news of Rickman's death in London. It said the star had been suffering from cancer.
Rickman is survived by his partner of 50 years, Rima Horton, whom he married recently, according to The Associated Press.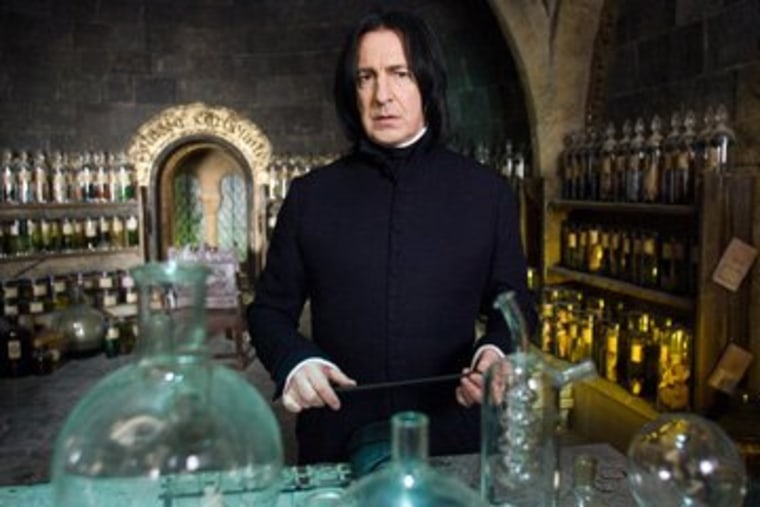 Celebrity tributes poured out after Rickman's death was reported.
British actor and writer Stephen Fry called Rickman's death "desperately sad news."
"A man of such talent, wicked charm and stunning screen and stage presence. He'll be sorely missed," he wrote in a Tweet.
Actor David Morrissey also expressed his shock, calling Rickman "a wonderful actor and lovely man."
Comedian Eddie Izzard wrote on Twitter: "I do not want my heroes to die! Alan Rickman is dead and he was another hero. Alan — thank you for being with us. We are sorry you had to go."