The "War on Terrier" is officially over.
Actress Amber Heard pleaded guilty on Monday to providing a false immigration document when she entered Australia last year with her pet Yorkshire terriers, Pistol and Boo. Two more serious charges of illegally importing the dogs were dropped, and she was slapped with a one-month good behavior bond.
The incident, which gained global attention after Australia's now-deputy prime minister threatened to kill the dogs, reached a fittingly bizarre conclusion with Heard and husband Johnny Depp issuing a filmed apology that has been likened to a hostage video.
"The laws apply to everyone"
The superstar couple, sitting in an undisclosed office setting in front of closed drapes, read a prepared statement that was submitted to the Queensland court on Monday.
"Australia is a wonderful island," Heard says in the video, "with a treasure trove of unique plants, animals and people."
"It has to be protected," a grim-looking Depp says, "when you disrespect Australian law, they will tell you firmly."
Barnaby Joyce, the Australian politician whose overzealous rhetoric sparked the furor last year, said he didn't know how much influence the couple had on the mea culpa, but admitted "I don't think it'd be something that they would've willingly wanted to do."
The drama over the dogs began in May, when Joyce accused Depp of smuggling the terriers aboard his private jet when he flew into Queensland to film the the fifth installment of the "Pirates of the Caribbean" series.
Depp and Heard were given 72 hours to send Pistol and Boo back to the U.S., with Joyce warning dog's would be euthanized. The pups made it out of the country just hours before the deadline ran out.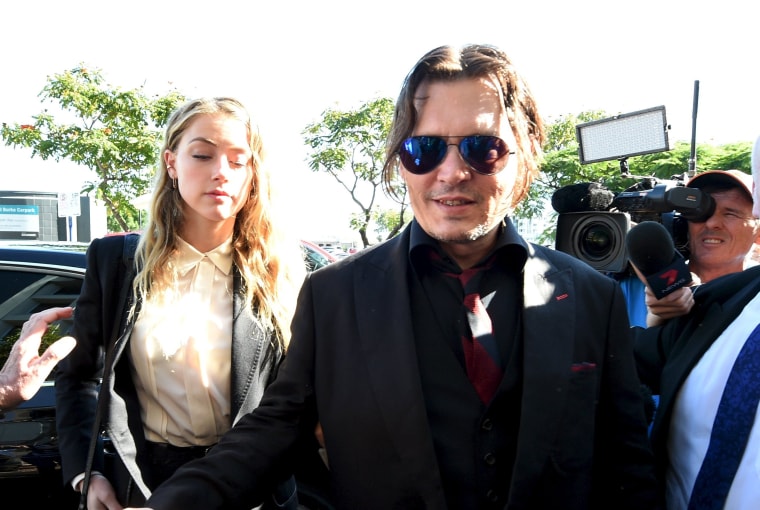 The comments elevated what might otherwise have been a local spat into a global delight for comedians and broadcasters. The Guardian ran a dog death countdown ticker, while comedian John Oliver dedicated a more than 6-minute segment to lampooning the ordeal.
Depp himself poked fun at the drama during a press conference in Venice last year where he was asked if he planned to take the dogs for a gondola ride.
"No," he replied. "I killed my dogs and ate them, under direct orders from some kind of, I don't know, sweaty, big-gutted man from Australia."
When asked why Depp wasn't charged as well, the prosecutor's office said that there had been a "lack of admissible evidence" against anyone except Heard.
Related: Depp's Dogs Face Death After Being Smuggled to Australia
Heard's lawyer, Jeremy Kirk, told the court on Monday that his client never meant to lie on her incoming passenger card by failing to declare she had animals with her. In truth, Kirk said, she was simply jetlagged and assumed her assistants had sorted out the paperwork.
"She has made a tired, terrible mistake," Kirk said.
Prosecutor Peter Callaghan said ignorance and fatigue were no excuse.
"The laws apply to everyone," he said.
Australia has strict quarantine regulations to prevent diseases such as rabies from spreading to its shores. Bringing pets into the country involves applying for a permit and quarantine on arrival of at least 10 days. A conviction on the illegal importation counts could have sent the actress to prison for up to 10 years.