Actress Amber Heard didn't initially report the domestic abuse she claims husband Johnny Depp inflicted on her this month "in an attempt to protect her privacy and (his) career," her lawyers said Tuesday.
But Heard, 30, has since given Los Angeles police a statement about the alleged incident in order to combat the "false and malicious allegations that have infected the media," attorneys Samantha Spector and co-counsel Joseph Koenig wrote in a letter provided to NBC News.
"Amber has suffered through years of physical and psychological abuse at the hands of Johnny," Heard's legal team said.
Heard, who co-starred with Depp in 2011's "The Rum Diary," revealed the Hollywood power couple's allegedly tumultuous relationship in a shocking court filing last week.
She cited irreconcilable differences after 15 months of marriage and obtained an order of protection from the 52-year-old Oscar-nominated actor after she claimed the domestic violence culminated on May 21 — when he struck her in the face with a cellphone.
Heard reportedly began living with Depp in 2012 and they married in February 2015 with a celebration at his private island in the Bahamas.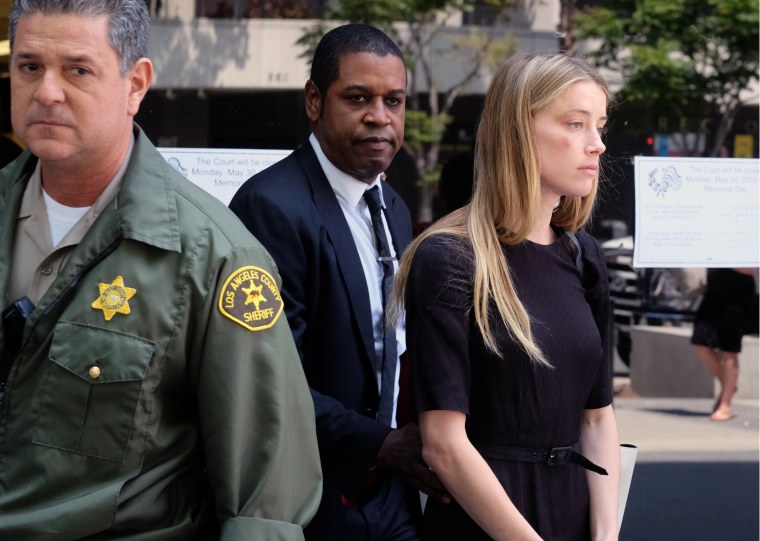 Attorneys for Heard say police were called to the couple's downtown Los Angeles penthouse by a third party after the two began fighting and Depp allegedly threw a phone at her face.
Heard in a sworn declaration last week said that Depp was high and drunk, and that she lived "in fear that Johnny will return to (our house) unannounced to terrorize me, physically and emotionally."
An LAPD spokesperson told NBC News on Friday that no one wanted to press charges when officers arrived, and that they saw no visible injuries so ultimately decided against a criminal investigation.
Two days after the alleged incident, Heard's attorneys filed the divorce petition, but said Depp was not served that same day because it was the Hollywood premiere of his latest movie, "Alice Through the Looking Glass" — and insisted she didn't want the marital abuse troubles to be made public.
"We sent a letter to Johnny's counsel team the next morning making it clear we wanted to keep this matter out of the media," the attorneys wrote. "We then held off requesting a domestic violence restraining order as we knew that Johnny was out of the country."
Depp had been promoting the "Alice" sequel, in which he plays the Mad Hatter, and also performed in Lisbon, Portugal, on Friday night with his rock band, the Hollywood Vampires.
But after Heard's name was wrongly vilified, Heard's attorneys say, they hope police will open an investigation based on her latest statement to the LAPD.
"If that occurs, and the truth is revealed, there is no doubt that Amber's claims will be substantiated beyond any doubt, and hopefully Johnny will get the help that he so desperately needs," the attorneys said.
Depp's attorney, Laura Wasser, declined to comment about the Hollywood breakup when contacted by NBC News last week. A spokeswoman for Depp did not immediately respond to an email seeking comment Tuesday.
The "Pirates of the Caribbean" star has not publicly commented either since the allegations surfaced last week, and a rep told E! News that he will "not respond to any of the salacious false stories, gossip, misinformation and lies about his personal life."
Related: Judge Orders Johnny Depp to Stay Away From Estranged Wife Amber Heard
Depp's friend, comedian Doug Stanhope, wrote Sunday in a guest column on TheWrap.com that Heard was the one who manipulated Depp, and that she was essentially blackmailing him as part of their divorce: "Amber was now going to leave him, threatening to lie about him publicly in any and every possible duplicitous way if he didn't agree to her terms."
Heard's attorneys on Tuesday didn't cite the column specifically, but said her character is being maligned and she is standing up to "Johnny's relentless army of lawyers and surrogates."
"Amber is simply a victim of domestic violence, and none of her actions are motivated by money," they said.
"The Family Law Court is not going to be influenced by misinformation placed in the social media based on anonymous sources," they added. "Amber is the victim. Amber is a hero."