Peaches Geldof, daughter of musician and political activist Bob Geldof, has died at age 25, her father has confirmed.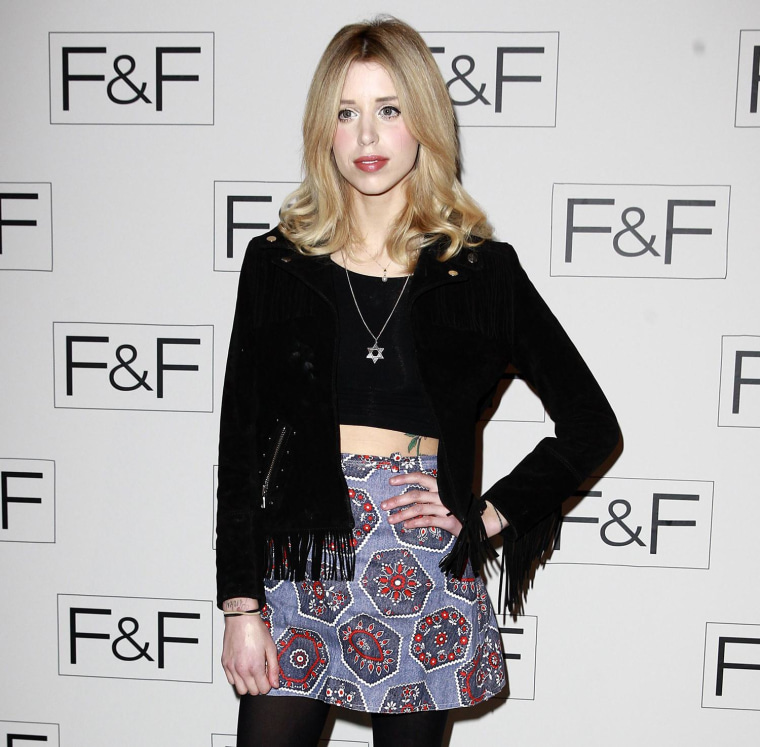 "Peaches has died," Bob Geldof said in a statement. "We are beyond pain. She was the wildest, funniest, cleverest, wittiest and the most bonkers of us all. Writing 'was' destroys me afresh. What a beautiful child. How is this possible that we will not see her again? How is that bearable?"
Geldof went on to say, "We loved her and will cherish her forever. How sad that sentence is. (Husband Tom Cohen) and her sons Astala and Phaedra will always belong in our family, fractured so often, but never broken."
"At this stage, the death is being treated as an unexplained and sudden death," police in Kent, England told NBC News in a statement. "Officers are working to establish the circumstances around the death."
"My beloved wife Peaches was adored by myself and her two sons," Cohen, lead singer of the British band SCUM, said in a statement obtained by the BBC. "I shall bring them up with their mother in their hearts everyday. We shall love her forever."
Peaches Geldof was a prolific user of social media, and often tweeted and Instagrammed photos of her two young sons, Astala, 23 months, and Phaedra, 11 months.
Her final Instagram image, posted and tweeted Sunday, was of Geldof as a young girl being held by her mother, Paula Yates. Yates was herself a British television personality who died of an accidental heroin overdose when Peaches was just 11.
Geldof was just a teenager when she began writing for British publications the Guardian and the Daily Telegraph. She wrote and hosted two TV documentaries, "Peaches Geldof: Teenage Mind" in 2005, and "Peaches Geldof: Teen America" the next year.
In addition to her husband, sons, and father, she is survived by sisters Fifi Trixiebelle and Pixie, and her half-sister Tiger Lily, whose father was the late INXS founder Michael Hutchence.
Friends and fans were quick to remember her on social media.