Hip-hop star Cardi B surrendered to New York City police on Monday morning in relation to a fight at a strip club in late August, police said.
The Bronx native faces misdemeanor charges of reckless endangerment and assault. She showed up to a Queens precinct station house before 10 a.m. while security covered her face with umbrellas. Shortly before noon, the singer re-emerged with her lawyer, Jeff Kern.
"We are not aware of any evidence that she caused anybody any harm at the club that night," Kern told reporters outside the station. "We expect that the matter is going to be resolved expeditiously."
The platinum rapper was at the club on Aug. 29 because her husband and fellow rapper, Offset, and his group, Migos, were performing before continuing the New York City leg of their tour with Drake.
The dispute happened at Angels Strip Club in Queens, where the singer allegedly threw a chair and a number of other objects at an unintended target, according to police. Investigators are also looking into nine or more potential suspects involved.
Joe Tacopina, a representative of the two women who say they were assaulted, told NBC New York, "Cardi B ordered and committed violent assaults against my clients, and is being called to justice for her crimes."
"Apparently, she thinks her celebrity status puts her above the law, since she has bragged to multiple people and on social media that she orchestrated these vicious attacks," Tacopina said in his statement. "But reality is setting in, as justice does not care whether her name is Cardi B or Carly B, and she will now answer for her crimes."
The former reality star, born Belcalis Almánzar, was released on a "desk appearance ticket," issued to suspects charged with misdemeanors in New York City, requiring her to appear for an arraignment at a later date.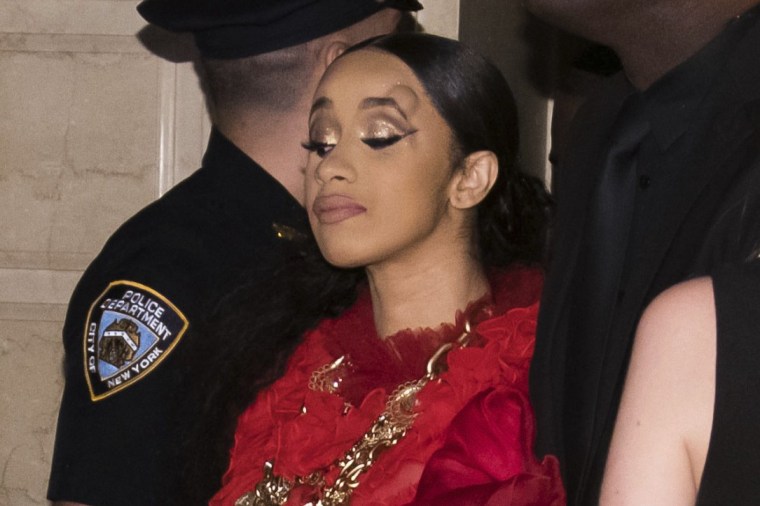 The "Bodak Yellow" and "I Like It" singer, who performed at the Global Citizen Festival over the weekend, was also involved in an altercation with rival rapper Nicki Minaj last month.
That scuffle at a New York Fashion Week party left Cardi B, 25, with a visible lump on her head.