The honeyed voice that urged America to reach for the stars for decades has been silenced.
Casey Kasem, the legendary radio DJ whose syndicated radio show was the most popular radio program in history, passed away Sunday — Father's Day — at 3:23 a.m. in hospice at St. Anthony's Hospital in Washington after a battle with Lewy Body dementia. He was 82.
Sign up for breaking news alerts from NBC News
"Early this Father's Day morning, our dad Casey Kasem passed away surrounded by family and friends. Even though we know he is in a better place and no longer suffering, we are heartbroken," his daughter Kerri said in a statement released on Twitter.
"Thank you for all your love, support and prayers. The world will miss Casey Kasem, an incredible talent and humanitarian; we will miss our Dad. With love, Kerri, Mike and Julie."
During his last days, Kasem was surrounded by loved ones who were able "to touch, kiss and hug him and tell him how much we love him," his sister-in-law Mary Kasem told NBC News.
On one day, the family told Kasem individual stories of how much he had meant to his children, brother and long-time assistant and friend Gonzalo Venecia, who also played recordings of some of Kasem's favorite "American Top 40" programs.
Casey Kasem's 'American Top 40' reached for the stars
Kasem was instrumental in creating a popular music culture that united America long before MTV or the internet revolutionized the way music was experienced. During the '70s and '80s on Sundays, Casey Kasem brought millions of listeners together as a community to wait for the No. 1 song in the country to be announced. The first top tune announced, on July 4, 1970, was "Mama Told Me (Not to Come)."
"If he wanted to tell you something, he knew the right way to do it," said his brother Mouner Kasem, 78, of Michigan. "He always knew the right expressions, the right sounds, and the right things to say. And he was amazing to listen to. He didn't have to think about it. It came easy for him, always did."
Every week on "American Top 40," Kasem would play Billboard magazine's top 40 records — no matter the genre or the political bent. Along the way he offered history lessons, peppering his introductions with chart statistics, anecdotes and the stories of the artists who made them. He even helped listeners cope with major events, such as the death of Elvis and the murder of John Lennon. He united lovers and old friends with his sentimental "Long Distance Dedications," an idea that came to him when he was a DJ in Los Angeles and received a letter from a fan in Oakland.
"It's so simple: what do people love?" Kasem told the New York Times in 1999. "Plato said it best. 'People who tell the stories to rule society.' And we tell the stories, and people love to hear the stories. Of course we've got tremendous responsibility to become accurate with those stories. And in most cases to be wholesome."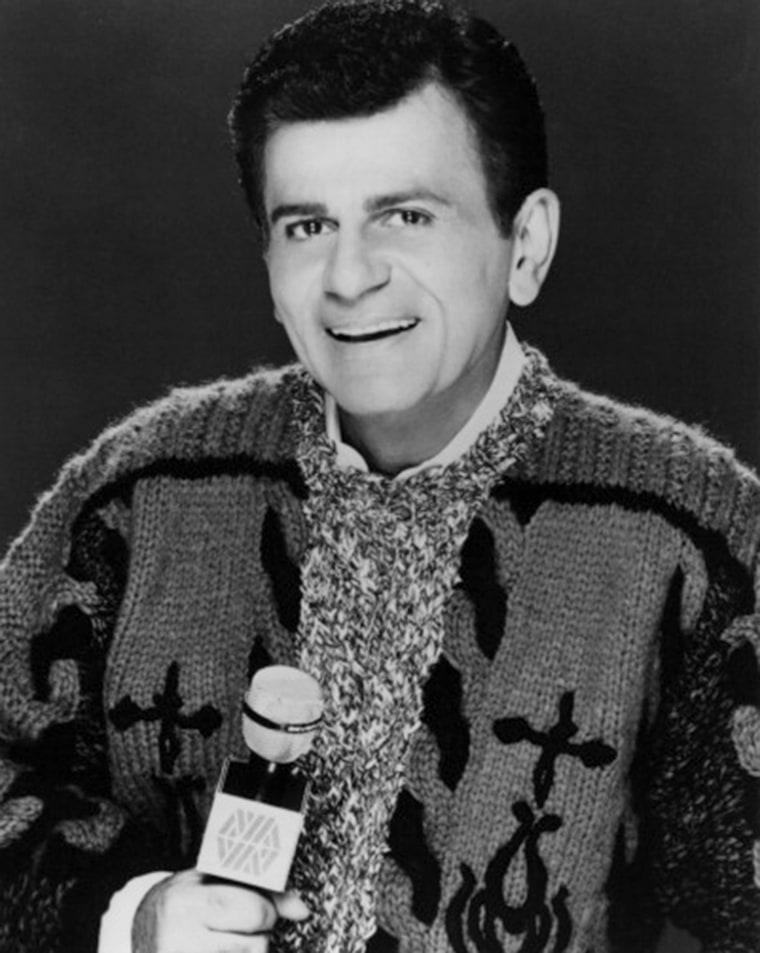 In its heyday, "American Top 40" aired on over 900 stations. By the time he retired in 2009, 350 stations carried the program that somehow managed to stay essentially the same despite major upheavals in the radio and the music industry.
"'American Top 40,' allowed me to be current without my having to force change to keep up with things," Kasem told the New York Times in 2004. "The new songs kept us up to date, so every show sounded fresh."
Kasem was married to "Cheers" actress Jean Kasem for 33 years, and they had a 24-year-old daughter, Liberty Irene. From 1972 to 1979, he was married to Linda Myers, the mother of his other three children Kerri, 41, Mike, 40, and Julie, 38. Kerri and Mike followed in his footsteps — she hosts two nationally syndicated radio shows from Los Angeles and he is a DJ in Singapore. Julie is a licensed physician assistant and mother of two.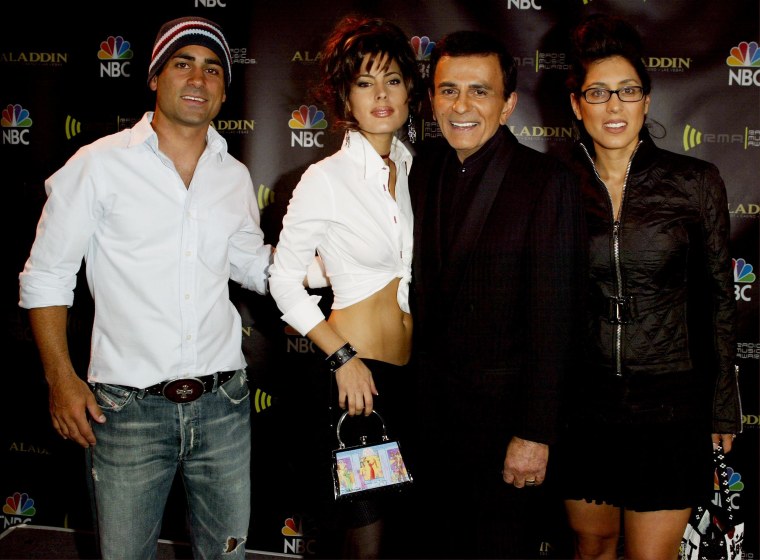 Born Kemal Amin Kasem in Detroit, Michigan, Kasem was the son of a Lebanese immigrant father and a Lebanese-American mother who worked as grocers. His parents divorced when he was young, and his father died in 1955 after a car crash on the way to see him act in a play.
"He was always so close to Momma and me," Mourner Kasem said. "Even when he got bigger and better, he always told us what he was doing. None of his success came as a surprise to me because I felt like I was following along the whole time. He always included us in everything."
After graduating from high school, Casey Kasem worked as a production assistant at a Detroit radio station and held several radio jobs while attending college at Wayne State University. But it's a good thing the budding DJ wasn't easily discouraged — his first professional radio job ended 33 minutes after it started. Working for the Armed Forces Radio Network, he was the morning man on Radio Station Kilroy in Taegu, Korea, entertaining the U.S. troops in the Korean War.
Ryan Seacrest, others mark Casey Kasem's loss as 'sad day' for radio
In a 2003 interview with The Miami Herald, Kasem recalled how he called himself "Crazy Casey" and played bebop music, prompting an officer's request to "Get that maniac off the air. It's too hard to eat breakfast to that stuff."
When his Army stint was over, Casey Kasem spent a decade learning how to be a DJ in Detroit, Cleveland and Buffalo, until finally moving to Oakland, California.
In 1963, he drove to Los Angeles in his '49 Plymouth to begin his first major radio market job. He also became co-host on KTLA's after-school dance show "Shebang" with Dick Clark. Seven years later, "American Top 40" broadcast its first show, with only seven radio stations carrying its first episode. By 1977, the show was offered in 450 markets.
Kasem left "Top 40" during a contract dispute in 1989 and returned in 1998. During those years, Casey and Jean Kasem focused on their other passions, becoming political and social activists for several causes, including animal rights, environmental preservation, homelessness and world peace. He also took Hollywood to task for its negative portrayal of Arabs in motion pictures and television.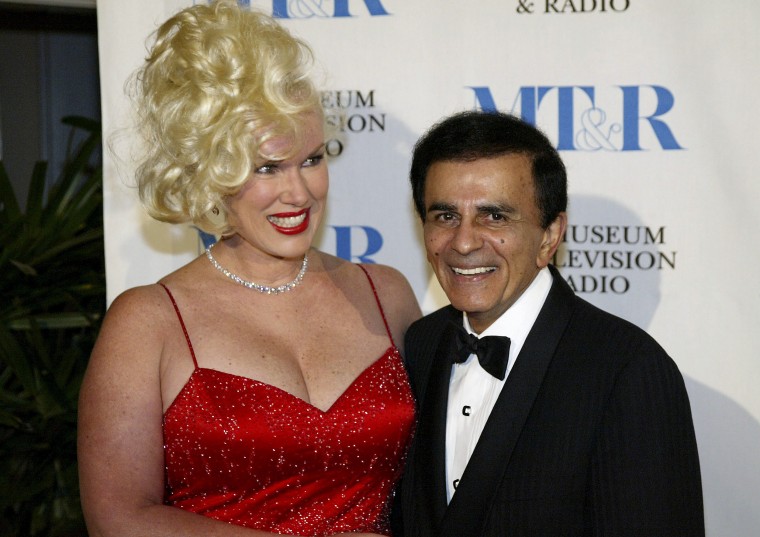 PETA President Ingrid E. Newkirk issued a statement on Sunday morning: "From always touting the importance of going vegetarian to flying to Las Vegas at his own expense to speak out against an entertainer who beat orangutans backstage every night before his act, Kasem was proud to use his distinctive voice to support many social causes, including animal protection."
Even younger generations who have never heard Kasem count down the nation's top songs recognize him — for four decades he voiced Shaggy in the "Scooby-Doo" animated series. Kasem also voiced characters on other cartoon shows, including Robin on "Batman," and did hundreds of commercials.
In 1992, Kasem was inducted into the Radio Hall of Fame. He hosted "American Top 40" until Ryan Seacrest took over in 2004, but continued to host its spinoffs "American Top 20" and "American Top 10" until he quietly retired in 2009.
"American Top 40" posted a special tribute Sunday where fans can hear Kasem's classic highlights and view photos. Digital listening service iHeartRadio also is saluting the radio legend by featuring a collection of his most memorable AT40 countdowns from the '70s and '80s.
"When I was a kid, I would listen to Casey Kasem's AT40 show every weekend, and dream about someday becoming a radio DJ," Seacrest said in a statement. "So when decades later I took over his AT40 countdown show, it was a surreal moment. Casey had a distinctive friendly on-air voice, and he was just as affable and nice if you had the privilege to be in his company. He'll be greatly missed by all of us."
"Success doesn't happen in a vacuum. You're only as good as the people you work with and the people you work for."
After his diagnosis, Kasem stayed largely out of the public eye. But in the last year a tense and public battle between his wife and his three elder children over his medical care and visitation brought him back in the headlines. Predicting that a judge would give control of his healthcare to Kerri Kasem, Jean Kasem removed her husband from the convalescent facility in Santa Monica where he had been admitted since February to a friend's home 1,200 miles away in Washington on May 6. Kasem remained there until he was hospitalized on June 1.
His brother, Mouner, says Kasem would have preferred a quieter and more dignified exit. Even when he signed off the air for the last time five years ago, Kasem did not say goodbye. Instead he imparted a few words of wisdom: "I'd like to share with you something I've learned over the years. Success doesn't happen in a vacuum. You're only as good as the people you work with and the people you work for. I've been lucky. I've worked for and with the very best."
He closed with his signature refrain, a phrase whose origin eludes his little brother: "Keep your feet on the ground and keep reaching for the stars."