Casey Kasem's wife of 33 years has shut out his family, released a distressing cell phone recording of the radio icon moaning and thrown a pound of hamburger meat at his daughter.
But no one knows why.
For most of the year that the Casey Kasem's family has been fighting over his medical care and visitation, Jean Kasem has been tight-lipped, communicating only in court documents or through her lawyers and denying all interview requests.
Jean Kasem's attorney Joel Paget told NBC News on Monday that his client will finally tell her story in court documents he will file on Wednesday in Kitsap County Superior Court. Jean Kasem has not returned several phone calls from NBC News.
"She does have a story to tell and document," Paget said. "The only thing I will say now is that if I were as old as he was and in the condition he was, I would hope to have the care that his wife has been giving him."
Angry over the justice system's intrusion into her family — a Los Angeles judge twice ruled against her, and a Washington judge carried out his wishes that Casey Kasem's eldest daughter be allowed to visit him and take charge of his medical decisions — Jean Kasem released on Friday a disturbing cell phone audio recording of the 82-year-old icon with the legendary voice moaning.
"He's crying. He's a man of very few tears," she said, claiming that in the recording Casey Kasem was upset over the judge's decision. But the man Jean Kasem married in 1980 has been diagnosed with Lewy Body dementia, is unable to speak or move on his own and is being fed through a tube in his stomach. Since he's been in Washington at a friend's home, Casey Kasem has developed bed sores and infections in his lung and bladder, his daughter revealed in court last week.
On Sunday, the 59-year-old former actress threw a pound of hamburger meat at Kerri Kasem when she arrived with an ambulance to pick up her father, who was hospitalized and is in stable condition.
So far, Jean Kasem has only hinted at the problems that led her to stop communicating with Casey's children from his first marriage — Kerri, 41, Mike, 40, and Julie, 38 — and take aggressive actions, such as moving her husband from three different hospitals without informing his family.
"These children falsely claim that their stepmother is wicked and is keeping her husband prisoner in his home behind closed doors and that they no longer have access to him through no fault of their own," states a court affidavit filed on Jean Kasem's behalf in November. "For reasons they know all too well, their presence at this stage would be toxic and extremely distressing for Casey, Jean, and their daughter, Liberty, who have had enough of their cruelty."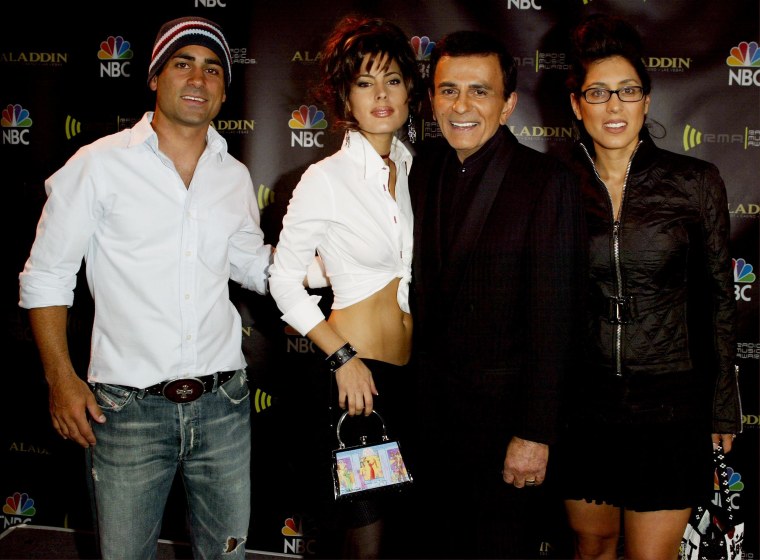 The family says they have no idea what is fueling Jean Kasem's extreme behavior now, but both sides accuse the other of being motivated by greed over Casey Kasem's $80-million fortune. Although they have been outspoken for months, Kasem's children declined to be interviewed for this article, hoping to stay in the L.A. judge's good graces.
"I don't know what's wrong with her," said Casey's 78-year-old brother, Mouner Kasem, who lives in Michigan. "She's got everything she could want. Why she has to be this way, I don't understand that. We've been family."
When Mouner Kasem and his wife, Mary, visited Casey at a hospital in January, his sister-in-law required that they sign a confidentiality agreement and be supervised by a security guard who relayed their conversations via text messages.
"She plays a lot of games," said Mary Kasem, who has been married to Mouner for 21 years. "When this all really started to pump up back in October, my husband weighed 174 pounds. He went down to 143 in a matter of weeks. He had to see a doctor for his stress over all of this. He's heartbroken."
The riskiest, and arguably most dangerous, of Jean Kasem's actions — and the one that most worries the L.A. judge — occurred after Kerri Kasem visited her father upon discovering him at the Berkeley East Convalescent Facility in Santa Monica. On May 6, at 2:30 a.m., against medical advice, Jean Kasem removed her husband from the facility — in his hospital gown, with his stomach feeding tube and IV still in place.
"I am not going to allow anybody to shred my family on unfounded facts and malicious accusations."
They flew on a private jet with their 24-year-old daughter, Liberty, to Washington where a private ambulance picked them up and took them home to the friend's house. An L.A. judge ordered law enforcement to locate the family. They were found on May 13.
"I am not going to allow anybody to shred my family on unfounded facts and malicious accusations," Jean Kasem said at the May 23 conference. "People in Hollywood come to us and ask us for marriage advice. We consider ourselves a Hollywood love story. We're good people. We're charitable people. We're clean people and this has got to stop."
Jean and Casey Kasem's romance began in 1979, six months after Casey Kasem divorced his first wife, Linda Myers. At the time, Jean, who was 24, was trying to break into acting after failing to launch a broadcast journalism career and was recently divorced herself.
A year later, they were married at the Hotel Bel-Air. Casey Kasem was at the top of his game with his syndicated "American Top 40" radio show. Jean Kasem's career never popped in the way she hoped, after getting a small part in "Ghostbusters" and a few TV guest roles, she landed her best known part: trophy wife Loretta Tortelli on the NBC hit "Cheers."
The couple relished their opulent lifestyle, living for years at the Beverly Wilshire Hotel until Kasem bought Jean a 2.4-acre Beverly Hills estate when she was pregnant with Liberty. (The couple had suffered eight miscarriages earlier, she told People magazine).
Despite the home's seven bedrooms, nine bathrooms, and guest house, Casey Kasem's family didn't stay there.
"It's just always been very cold that way," Mary Kasem said. "She's the one that poisoned everybody. She keeps talking about all these toxic relationships but she's the one that made it that way. She's very, very possessive. It's not just the kids he can't see — it's his brother, his cousins, his friends of 40 years."
The rift in his family made Casey Kasem unhappy but he wasn't willing to take drastic measures, Mary Kasem said.
"It stressed him out," she said. "But he would always say he's not going through another divorce. He'd say, 'She's getting better. She's just so insecure.'"
After her acting career fizzled, Jean Kasem opened Little Miss Liberty Round Crib Company in 2004, a luxury children's furniture company that makes round and heart-shaped cribs. But it never took off, and it's unclear if it's still operational.
The battle over her husband's care isn't the only issue keeping Jean Kasem in court these days. In December, Casey Kasem's former caretaker won a $10,000 judgment claiming that Jean Kasem caused her "emotional and mental distress" by accusing her of stealing "food, towels, and toilet paper," according to court documents.
On June 30, Jean Kasem is scheduled to face off in a trial in Santa Monica with the Beverly Wilshire Hotel, who sued her for skipping out on $40,000 of the $1.7 million dollar bill. Jean Kasem has counter-sued the hotel.
"Our biggest concern is that Casey is not getting his proper treatment. That's what we're fighting for..."
"None of us understands why she does what she does," Mouner Kasem said. "Our biggest concern is that Casey is not getting his proper treatment. That's what we're fighting for—and for him to be able to see his children, especially."