LOS ANGELES — R&B singer Chris Brown on Monday was ordered by a Los Angeles judge to remain in jail at least until his April 23 probation violation hearing, related to his 2009 assault of his then-girlfriend, the singer Rihanna.
Brown, 24, was arrested last Friday when he was dismissed from a rehabilitation facility, triggering a violation of the singer's court-ordered treatment. He had spent the weekend at Los Angeles County's aging Men's Central Jail.
Brown was dismissed from the rehab center on Friday for violating four in-house rules, including inappropriately touching a female client on the elbow. Brown also said to a group, "I am good at using guns and knives," which Los Angeles County Superior Court Judge James Brandlin said was troubling.
"I have concerns about his inability to stay out of trouble," Brandlin said before ordering Brown held without bail.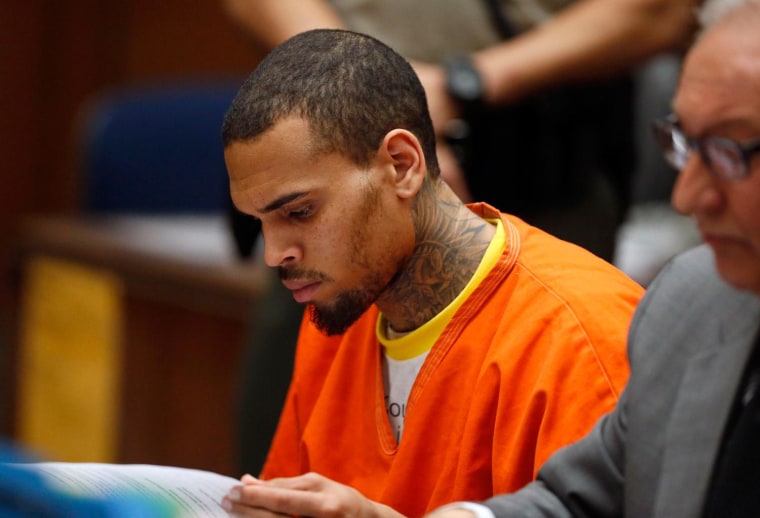 Brown, dressed in a bright orange jumpsuit, was led out of the courtroom in handcuffs as his mother Joyce Hawkins sobbed.
Brown's jailing is another mark on a growing rap sheet for the singer, whose music has so far been able to maintain wide popularity despite a poor image that has included his beating of Rihanna and several altercations.
The singer, who also faces a misdemeanor assault case in Washington, D.C., had been in the Malibu, Calif., rehabilitation center for anger management.
Brandlin had sentenced Brown to 90 days in the treatment program in November following his assault arrest where he allegedly punched and broke the nose of a man who was trying to get a picture with him.
The "Turn Up the Music" singer was ordered last month to stay in the treatment program until his April 17 trial in Washington.
In 2009, Brown was sentenced to five years probation, community labor and domestic violence counseling after assaulting Rihanna, who was then his girlfriend, on the eve of the Grammy Awards in Los Angeles.
— Reuters