Even after his death, the family of Mickey Rooney is still fighting over him. Now, the dispute is about what to do with the late actor's remains.
A Los Angeles Superior Court judge has ordered that Rooney's remains cannot be claimed from Forest Lawn Memorial Park until at least Friday, after Rooney's lawyers filed an emergency request to bar Rooney's estranged wife and his stepson from moving the actor's body.
A lawyer for Rooney's estate asked Judge James A. Steele for the emergency order because he "believes that Janice Rooney and Christopher Aber are attempting to remove the Decedent's body from Forest Lawn Memorial Park against the Decedent's express wishes," according to documents obtained by NBC News. Rooney died in his home on April 6. He was 93.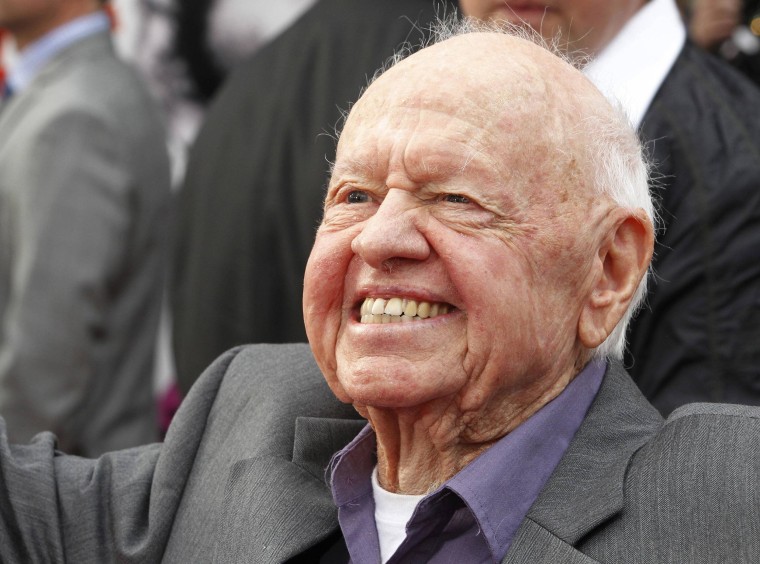 The judge set a hearing for Friday and stated in his hand-written order that none of Rooney's agents or anyone acting on his behalf should make any attempts to remove his remains "until April 11, 2014 or pending further order of the court."
The dispute began after Rooney's lawyers filed a will revealing that the actor left his estate of only $18,000 to a stepson, Mark Aber and his wife Charlene, who had served as his primary caretakers. Rooney was living with them when he died.
The will, obtained by NBC News, disinherits Rooney's wife, Janice, of 35 years, and his nine children. The couple's 2012 marital separation settlement named Janice as the beneficiary of his pensions and Social Security.
In 2011, Rooney sued Chris and Christina Aber (Rooney's wife's biological son and wife) for elder abuse, claiming they stole money and deprived him of food and medications and would not let him leave his home. The couple settled the case in October, after admitting to taking $2.8 million from the actor's accounts.
A visibly shaken and emotional Rooney testified before Congress about the abuse in 2011.