LOS ANGELES — Hugh Hefner, who built Playboy into a multimillion-dollar adult magazine and entertainment empire tied to a Lothario lifestyle of lavish parties and beautiful women, died Wednesday at his home, the iconic Playboy Mansion in Hollywood, Playboy Enterprises Inc. said. He was 91.
Hefner's magazine brought female nudity out of bachelor parties and into living rooms, and it played a leading role in the sexual revolution of the 1960s. His tinseled soirées at his exclusive Los Angeles pad became the stuff of legend, filled with celebrity friends and scantily clad models. Hefner often worked the room in a red smoking jacket with a pipe hanging from his mouth.
"In my wildest dreams, I could not have imagined a sweeter life," he told The Hollywood Reporter in 2011.
Hefner, known to almost everyone as "Hef," is survived by his wife, Crystal, and four grown children: Christie, who was chief executive of Playboy Enterprises for more than 20 years; David; Marston; and Cooper. Memorial plans weren't immediately available, Playboy said.
Cooper Hefner, chief creative officer of Playboy Enterprises, said Wednesday night: "My father lived an exceptional and impactful life as a media and cultural pioneer and a leading voice behind some of the most significant social and cultural movements of our time in advocating free speech, civil rights and sexual freedom.
"He defined a lifestyle and ethos that lie at the heart of the Playboy brand, one of the most recognizable and enduring in history," the younger Hefner said.
Hugh Marston Hefner was born in Chicago, the son of two city schoolteachers. He joined the Army as an infantry clerk after high school and went on to become a copywriter for Esquire magazine.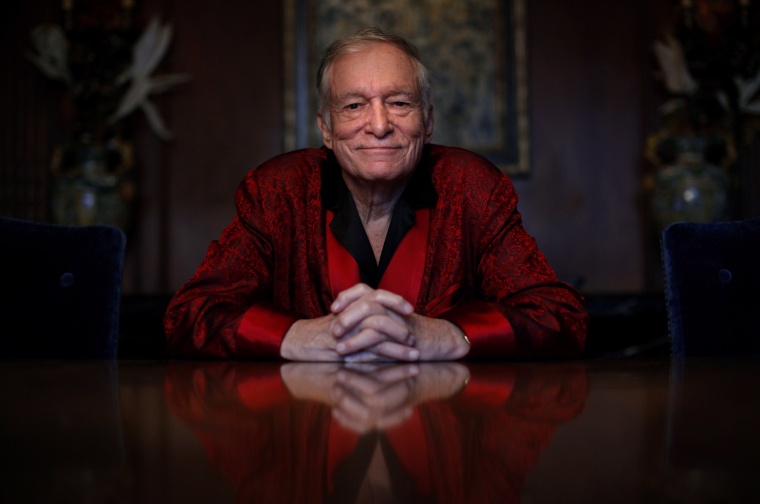 In 1953, he raised $8,000 from friends and family — including his mother — to launch Playboy, featuring photos of Marilyn Monroe from a 1949 nude calendar shoot. (Hefner once said he owed his career to the screen siren and reserved a crypt adjacent to Monroe's at the Westwood Village Memorial Park mausoleum, according to Vanity Fair.)
Photos: Hugh Hefner — 60 Years With America's Urbane, Pipe-Smoking Rake
Turning Los Angeles into his base, he touted Playboy as a place for women — his so-called Playmates — to bare it all and proclaimed that it was ahead of its time, even before America's sexual revolution of the 1960s.
Critics and noted feminists didn't buy it, but Hefner never backed down.
"Playboy fought for what became women's issues, including birth control," Hefner told Vanity Fair in 2010. "We were the amicus curiae, friend of the court, in Roe v. Wade, which gave women the right to choose [abortion]. But the notion that women would not embrace their own sexuality is insane."
He may have been the epitome of bachelorhood, but wedding bells rang three times for Hefner, most recently in 2012 with Crystal Harris — six decades his junior. The pair met around the time he was taping the E! reality show "The Girls Next Door," about his trio of blonde girlfriends.
Hefner, who told Esquire in 2013 that he had bedded "over a thousand" women, said he was happy to have found a partner again "at this stage in life."
"There were chunks of my life when I was married," he said. "And when I was married, I never cheated. But I made up for it when I wasn't married. You have to keep your hand in."
Hefner also played a significant literary role in American culture, giving customers a legitimate reason to say they read his magazine just for the articles.
He published heavyweight authors like Nobel laureates Saul Bellow, Doris Lessing and Nadine Gordimer, along with Arthur C. Clarke, Roald Dahl, Arthur Koestler, John Updike, Kurt Vonnegut, Bernard Malamud, Joyce Carol Oates and Ursula K. LeGuin. Ray Bradbury's dystopian anti-McCarthyite masterpiece, "Fahrenheit 451," which was first serialized in the magazine in 1954.
The Playboy Interview, a several thousand-word-long Q&A that began in 1962 with Alex Haley interviewing Miles Davis, was also often at the forefront of American politics and culture. Vladimir Nabokov defended his controversial novel "Lolita" in a 1964 interview, Timothy Leary rhapsodized about LSD in 1966, and Jimmy Carter almost derailed his presidential campaign in 1976 when he admitted: "I've looked on a lot of women with lust. I've committed adultery in my heart many times."
In 1965, the Rev. Martin Luther King Jr. laid out the principles of his nonviolent beliefs — and he anticipated his own assassination three years later, explaining his philosophy this way:
"If I were constantly worried about death, I couldn't function. ... I must face the fact, as all others in positions of leadership must do, that America today is an extremely sick nation, and that something could well happen to me at any time."
Hefner gave up the reins of running Playboy Enterprises in 1982 to his daughter. The glossy made headlines in March 2016 when it released its first issue with no nudity — a stark change in direction from its founding, when it would eventually become the world's top-selling men's magazine.
But the change didn't work, and less than a year later, Playboy resumed publishing nudes.
"Today we're taking our identity back and reclaiming who we are," Cooper Hefner said at the time.
The famous Playboy Mansion was sold last year to Daren Metropoulos, the co-owner of Hostess Cakes — the manufacturer of Twinkies — but the sale included a provision allowing Hefner to spend the rest of his life there.
In retirement, Hefner continued making cameos as himself in movies and twice helped to save the iconic Hollywood sign. Amazon last year announced a 13-episode docuseries, "American Playboy: The Hugh Hefner Story" — further proof that his legacy will outlive the pages of his magazine.
"I've lived out dreams and fantasies and played some part in changing the world," Hefner once told Vanity Fair. "It's pretty sweet."
Erik Ortiz reported from New York. Alex Johnson reported from Los Angeles.
CORRECTION (Sept. 28, 7 a.m.): An earlier version of this article misstated the author of "Fahrenheit 451." It was Ray Bradbury, not Arthur C. Clarke. The article also misstated the year the novel was published, which was 1953, not 1954. (The novel gained popularity after it was serialized in Playboy in 1954.)