Johnny Depp's estranged wife on Friday obtained an order or protection from the Oscar-nominated actor after she claimed he hit her in the face with a cellphone and has abused her.
"During the entirety of our relationship, Johnny Depp has been verbally and physically abusive to me," Amber Heard declared in a sworn declaration. "He has a short fuse. He is often paranoid and his temper is exceptionally scary for me."
Heard, who began living with Depp in 2012 and married him in February 2015, said the most recent violence happened Saturday when he threw a cellphone at her. She submitted as evidence a photo of a bruise to her face and claimed he pulled her hair, screamed at her and repeatedly hit her.
Related: Amber Heard Files for Divorce From Johnny Depp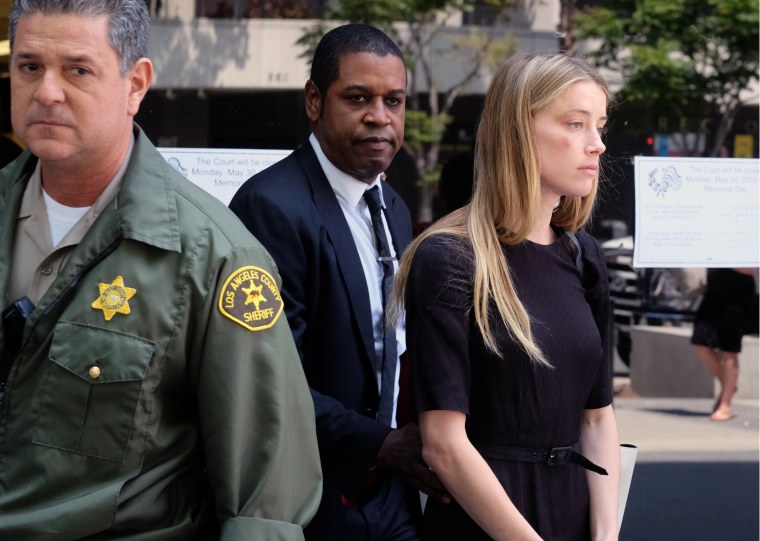 Heard said the actor was high and drunk at the time. "I live in fear that Johnny will return to (our house) unannounced to terrorize me, physically and emotionally," Heard wrote.
Los Angeles Superior Court Judge Carl Moor ordered Depp to stay away from Heard and not try to contact her until after their June 17 hearing.
But the judge rejected Heard's request that Depp attend a year's worth of anger management classes and refused to extend the protective order to the couples' dogs.
A Los Angeles Police Department spokesperson told NBC News Friday that there is currently no criminal investigation into allegations that Depp assaulted Heard Saturday.
Police did respond to reports of a disturbance at the Depp residence in downtown Los Angeles Saturday, the official said. But nobody there was willing to press charges and the officers saw no visible injuries.
"At the time of the investigation, the party didn't want to provide information or make a crime report," the official said.
Heard's filing came five days after she filed for divorce from the "Pirates of the Caribbean" star.
Depp is in Portugal performing with his band Hollywood Vampires. His attorney, Laura Wasser, declined to comment about the Hollywood breakup when contacted by NBC News.
But in a court filing, Wasser said Heard "is attempting to secure a premature financial resolution by alleging abuse." She said Depp, who was in Portugal on Friday, has agreed to mutual stay-away agreements and called the temporary restraining order unnecessary.
Related: Depp and Australia Just Won't Let Sleeping Dogs Lie
In her divorce filing, Heard cited irreconcilable differences and said the pair had separated. She is seeking spousal support from Depp.
"Although Johnny is extremely wealthy, he refuses to provide me with any direct financial support," she wrote in the order of protection request.
Heard is an actress best known for her turns in movies like "Magic Mike XXL," "The Danish Girl" and "Pineapple Express."