"Star Trek: Discovery" star Anthony Rapp appeared to fight back tears as he testified in federal court Friday about the "incredibly frightening and very alarming" moment he said Oscar-winning actor Kevin Spacey allegedly climbed on top of him at a New York City party in 1986, when Rapp was 14 and Spacey was 26.
Rapp, speaking with a pained expression and sometimes closing his eyes as he gathered his thoughts, told jurors that he "knew something was really wrong" when Spacey allegedly grabbed his buttock, lifted him up, put him on a bed and rested his body on top of him.
"I didn't ask for him to do that," Rapp told jurors on the second day of his trial against Spacey. "I didn't want him to do that."
Spacey has denied the allegation, and the "American Beauty" star's lawyers have argued that Rapp fabricated a story about their client to get attention and raise his profile.
Spacey, dressed in a gray suit and red tie, listened intently during Rapp's testimony, occasionally glancing at the younger man's lead attorney, Peter Saghir.
The judge presiding over the case adjourned for the week around 3:30 p.m., meaning that Rapp will continue testifying and then face cross-examination from Spacey's lawyers when the trial resumes on Tuesday.
Rapp, dressed in a navy suit and gray tie, answered an extensive list of questions from Saghir about his upbringing in the Chicago suburbs, his childhood interest in the performing arts and his experiences as a teenage actor learning the ropes in New York.
He described himself as a shy kid who hung around with a "crew of weirdo nerds" who played "Dungeons & Dragons" and created fake magazines. He was interested in creative pursuits from a young age, acting in school plays and musicals like "Li'l Abner."
Rapp said in his lawsuit that he met Spacey in 1986, when the two were performing in separate Broadway shows — Rapp alongside Ed Harris in "Precious Sons," Spacey with Jack Lemmon in "Long Day's Journey into Night."
Rapp testified that he saw the production of "Long Day's Journey into Night" with John Barrowman, a friend and fellow actor who was staying with Rapp and his mother, a registered nurse and single parent.
Rapp and Barrowman went backstage to meet Lemmon. Spacey came in and invited Rapp and Barrowman to dinner nearby. The three then went to an adult nightclub called Limelight at Spacey's suggestion.
Rapp claimed that Spacey later invited him to a party at his apartment. He decided to attend "for several reasons," he told jurors, explaining that he was "honored" by the chance to "join a colleague at a gathering" and eager to show some independence from his mom.
Rapp testified that he arrived at the party on the Upper East Side by himself. He said did not recognize the other guests and felt uncomfortable, so he went into a bedroom to watch television.
Spacey later appeared in the doorway, seemingly inebriated and "unsteady on his feet," Rapp said in his testimony. He said that Spacey approached him, grabbed his buttocks, lifted him onto a bed and briefly lay down on him before he managed to "wriggle out."
"I had to get out of there," Rapp testified. He told jurors that he managed to get to the front door, where Spacey allegedly asked: "Are you sure you want to leave?" Rapp replied yes and walked back to the apartment on the Upper East Side where he was staying with his mom.
Rapp told jurors that his mind was racing after the alleged encounter and he asked himself: "How do I recover from this incredibly upsetting and frightening experience?"
Saghir asked Rapp if he ever contacted the police or told his mom about the alleged incident, and he replied that he did not. Rapp explained that he did not want to worry his mom, adding that he was concerned that she would try to prevent him from attending theater community events in the future.
Saghir told jurors on Thursday in his opening statement that Rapp decided to come forward with his allegations after reading an article about Oscar-winning actor Lupita Nyong'o's sexual misconduct claims against Harvey Weinstein. (Weinstein denies all allegations.)
He first publicly shared his allegations in a BuzzFeed News article published in October 2017, in the early days of the #MeToo movement.
The first witness of the day was Andy Holtzman, who testified that Spacey sexually assaulted him 41 years ago, in 1981.
Holtzman claims that, when he was 27 and running a film division at Manhattan's Public Theater, Spacey entered his office wearing "tight blue jeans," approached him with a "clear large erection," "sort of lifted me up by my crotch" and pushed him against a desk.
"I could feel his erection on my body," said Holtzman, who is retired after a career in the entertainment industry.
Holtzman testified that he "screamed" loudly during the alleged encounter, saying things like, "What are you doing?" Eventually, Spacey "relented" and "stormed out of the office," apparently infuriated that his alleged advance had been rebuffed.
Holtzman said he decided to come forward with his allegations in 2017, sharing his allegations in a Facebook post.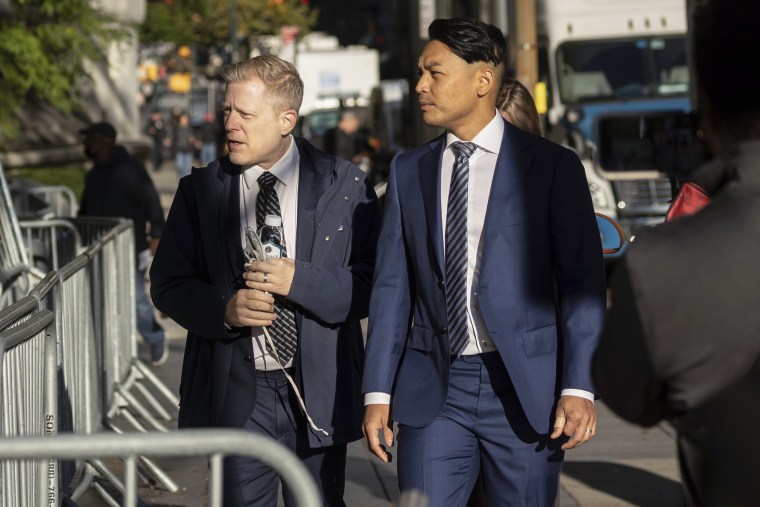 In cross-examination, Spacey's lawyers sought to undermine Holtzman's claims. They submitted as evidence a copy of the program for the Public Theater's production of "Henry IV, Part 1," in which Spacey — then in his early 20s — had a small role.
Holtzman claims he recognized Spacey possibly after seeing his photo in the play's program. But a lawyer for Spacey pointed out that the program does not feature Spacey's picture.
Holtzman testified that he was not certain all of the program's pages were included in the exhibit.
The other two witnesses of the day were friends of Rapp, who claimed he told them about his alleged encounter with Spacey. Christopher Denny, who met Rapp in the early 1990s, recounted his memories of Rapp's version of events.
Denny recalled Rapp explaining that Spacey was "scaring him, making him uncomfortable" during the alleged 1986 encounter.
In opening arguments Thursday, one of Spacey's lawyers claimed the apartment the actor rented in 1986 did not have a bedroom, showing jurors a copy of the floor plan.