This time it was Michelle Obama's turn to look on in awe.
Parker Curry — the adorable little girl whose picture marveling at the former first lady's portrait went viral earlier this year — dressed up as her idol for Halloween, complete with a recreation of the elaborate gown Obama was wearing in the painting.
Parker's mom tweeted out at a picture of her little girl mimicking Obama's pose in the portrait on Halloween — and got kudos from the real deal.
"You nailed the look, Parker!" Obama tweeted Thursday morning. "I love it!!!!"
"My husband and I were in shock when we saw the tweet," Parker's mom, Jessica Curry, told NBC News on Thursday. "It's still kind of surreal."
The Washington, D.C., girl was excited to find out about the tweet when she got home from school. "It made Parker very happy. She had a big smile across her face,' Curry said.
Obama and Parker first crossed paths in March, after a picture of the then-2-year-old standing with her jaw dropped in front of artist Amy Sherald's portrait of the former first lady at the National Portrait Gallery lit up social media.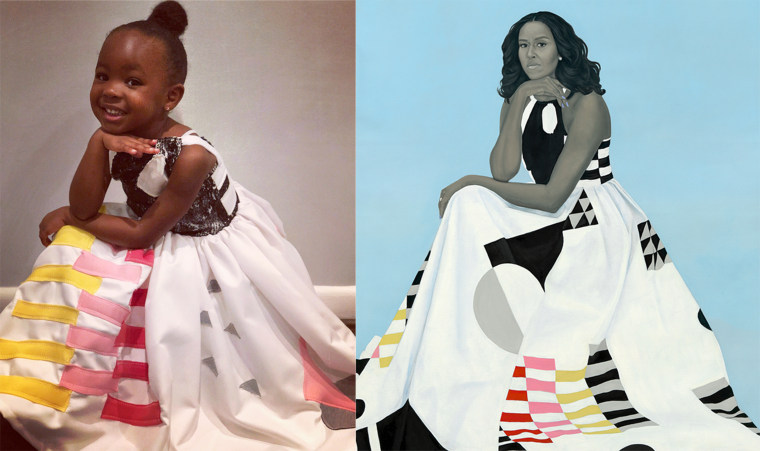 A minister named Ben Hines told BuzzFeed News he'd snapped the photo because it was "touching and uplifting."
The picture was shared with Obama, who invited Parker and her family to come visit her at her her office. She later tweeted out video of her dancing with Parker to a Taylor Swift song.
"Parker, I'm so glad I had the chance to meet you today (and for the dance party)! Keep on dreaming big for yourself . . . and maybe one day I'll proudly look up at a portrait of you!"
The meeting stuck with Parker — Curry said when she asked her now 3-year-old who she wanted to be for Halloween, there was "no hesitation."
"In a second, she said, 'I want be Michelle Obama,'" Curry recalled.
But that left her parents scrambling to figure out how. Then Curry remembered a New York dress maker had offered to make Parker a copy of the dress Obama was wearing when the photo first went viral. Curry said she reached out to the woman, Alisha Welsh from Magnolia Lake Children's Clothing, last week.
"She told me she didn't know she could get it done in time, but she'd try," Curry said.
Halloween morning came, and Curry took her daughter to school dressed in a backup ballerina costume. Then the gown arrived at their home. Welsh "came through," Curry said.
Parker's "jaw dropped" when she got home and saw the dress. "She was smiling and giggly," Curry said, exclaiming, "It's perfect!"
As they trick-or-treated — a first for Parker — she would say, "Hello. I'm Michelle Obama."
"People loved it," Curry said. And it paid off for Parker: "She got a really good haul — a lot of candy."
The mom's tweet of her daughter striking the Obama pose from her @_parkercurry handle also went viral, garnering over 25,000 likes on Twitter. Obama's admiring tweet wracked up over 170,000 likes.
"That so many people said, 'This made my day' is really humbling," Curry said. "It's a nice light moment when times are dark."
As for Parker, she's taking it in stride.
"She's knows people have liked the picture, but she's kind of unbothered and unfazed by it all," Curry said. "It doesn't affect her happy-go-lucky, sweet self."