Mandy Moore says some of her paychecks for her role on "This Is Us" after it went to a streaming platform were for less than $1.
On Tuesday, the actor picked up her protest sign and headed to the picket line as a member of the American actors' union, Screen Actors Guild — American Federation of Television and Radio Artists.
The actor was photographed outside the Walt Disney Studios, standing with fellow SAG-AFTRA members demanding that the Alliance of Motion Picture and Television Producers provide a more equitable division of residuals.
Comcast — the corporation that owns NBC News' parent company, NBCUniversal — is one of the entertainment companies represented by the Alliance of Motion Picture and Television Producers.
In an interview with The Hollywood Reporter, the actor voiced her concerns over the issue of residuals, which are what actors (and others in the entertainment industry) are paid whenever TV shows or movies they've appeared in or worked on are replayed.
"The residual issue is a huge issue," Moore explained. "We're in incredibly fortunate positions as working actors having been on shows that found tremendous success in one way or another … but many actors in our position for years before us were able to live off of residuals or at least pay their bills."
According to the singer and actor, when it comes to the residuals for her work on the successful NBC series, she's received "very tiny, like 81-cent checks" for the show's streaming deal with Hulu.
"I was talking with my business manager, who said he's received a residual for a penny and two pennies," she added. 
Hulu did not immediately respond to a request for comment.
Moore's comments echo those of both SAG-AFTRA and the Writers Guild of America (WGA), which has been on strike since May 2. Each union has cited the changing technology of streaming as cause for additional compensation.
Historically, residuals have allowed non-celebrity union members to afford to live when they are not currently on a project. According to SAG-AFTRA, union members are compensated at a much lower rate for streaming projects, and their pay is calculated differently.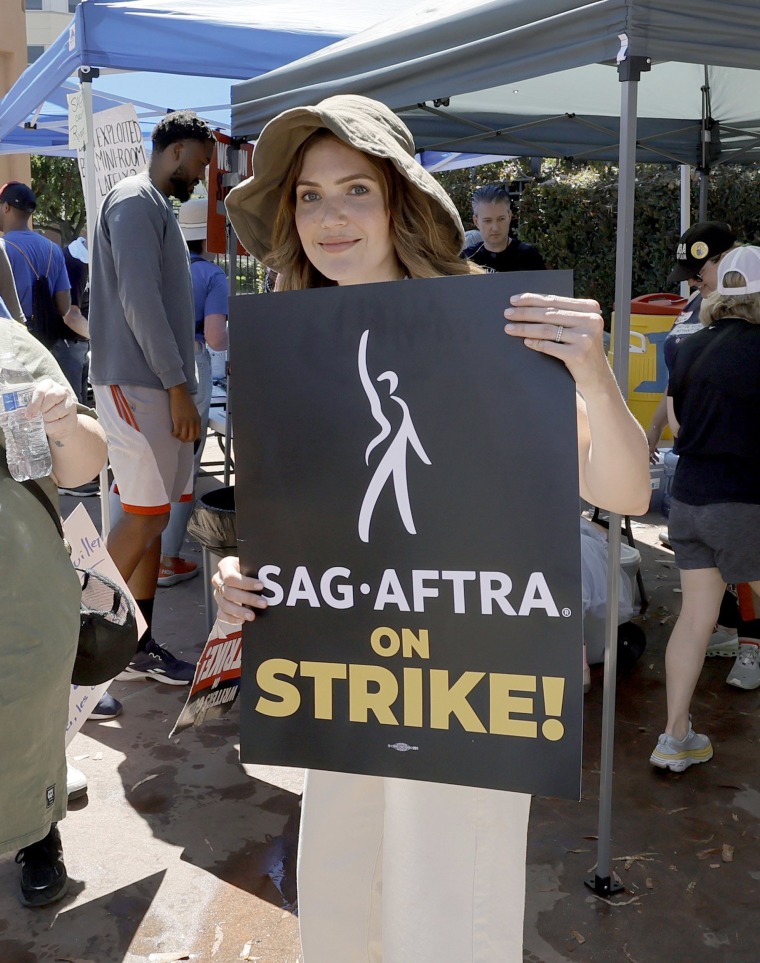 Additionally, the way online streamers make TV and movies — shorter season orders and longer breaks between seasons — has also made it "increasingly difficult for our members to achieve and maintain a middle-class lifestyle working as a performer," Duncan Crabtree-Ireland, the chief negotiator of SAG-AFTRA, and SAG-AFTRA president Fran Drescher, said in a statement previously.
The combination strike of SAG-AFTRA and the Writer's Guild of America is the first time they've been on strike together since 1960, when both unions were dealing with compensation issues surrounding the rise of television. In that fight, they won residuals for TV reruns and re-broadcasting of films on TV.
In addition to the current fight over residuals, shorter seasons and longer breaks, both unions are fighting for fairer deals and contracts and provisions about artificial intelligence.