Mary Tyler Moore, a pop culture icon who became a torch bearer for the changing perception of women in television, died Wednesday in a Connecticut hospital. She was 80.
"Today, beloved icon, Mary Tyler Moore, passed away at the age of 80 in the company of friends and her loving husband of over 33 years, Dr. S. Robert Levine," said her longtime representative, Mara Buxbaum. "A groundbreaking actress, producer, and passionate advocate for the Juvenile Diabetes Research Foundation, Mary will be remembered as a fearless visionary who turned the world on with her smile."
Moore had long suffered from diabetes.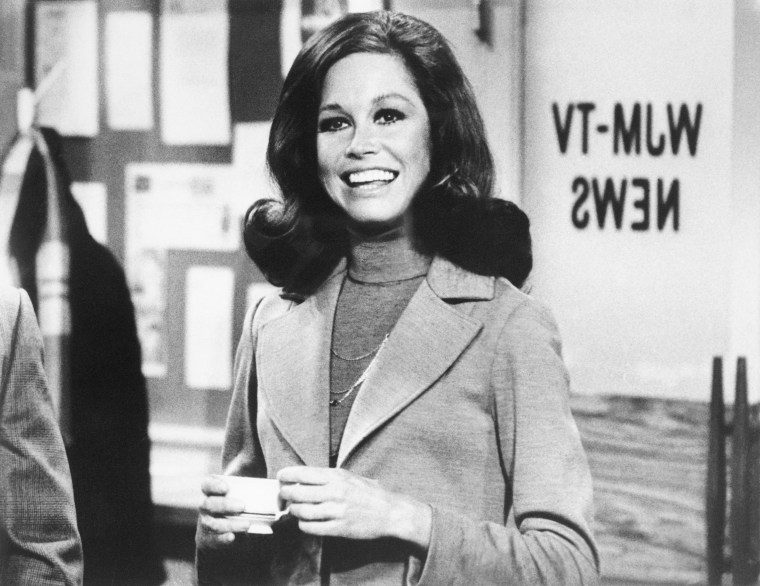 Moore became known for two beloved characters who spurned the traditional view of a women's roles in the home or the workforce, inspiring a generation along the way.
Moore's first big career break came when she portrayed Laura Petrie, a mother who refused to play second fiddle to her husband, on "The Dick Van Dyke Show" in 1961. Later, because of her growing popularity, Moore got her own eponymous show in 1970 in which she played the role of Mary Richards, a tough single woman working her way through a Minneapolis TV station.
In its seven years on CBS, "The Mary Tyler Moore Show" won 29 Emmys, a total that has been surpassed only by "Saturday Night Live," "Frasier" and "Game of Thrones." Moore won seven Emmys and earned an Oscar nomination for her 1980 role in "Ordinary People."
"Mary was and is and now always will be, perfect," said her "Ordinary People" co-star Donald Sutherland. "She was the perfect actor to work with. The performance she gave was perfect, painfully perfect, and the friendship she offered was perfect. I am in her thrall.'"
Other personalities lit up social media to share their sadness over Moore's loss and the importance of her life.
Moore was born in Brooklyn, New York, in 1936 and grew up in Los Angeles. She started her career in showbiz as a dancer for TV commercials before she was discovered by Carl Reiner, creator of "The Dick Van Dyke Show," who said more than two dozen women auditioned for the role of Laura.
Moore then appeared in 1970 on "The Mary Tyler Moore Show," which included the iconic opening sequence of her tossing her hat. Although the show ended in 1977, it has been remembered for its feminist themes that offered a look at a new, modern American womanhood.
PHOTOS: Mary Tyler Moore Turned the World on With Her Smile
At age 33, she was diagnosed with diabetes, which she suffered from for the rest of her life. In recent years, the disease had left her blind, but she nevertheless remained a staunch advocate for diabetes research and the search for a cure. She served as international chairwoman of the Juvenile Diabetes Research Foundation and wrote a memoir titled "Growing Up Again: Life, Loves, and Oh Yeah, Diabetes" in 2009.