Lamar Odom, the former basketball star and ex-husband of Khloé Kardashian, was in unknown condition at a Las Vegas hospital on Wednesday, a day after being found unconscious at a Nevada brothel where he had been "partying" since Saturday.
The owner of the Love Ranch, a legal house of prostitution, told NBC News that the 35-year-old athlete had been using a sex stimulant, but it was unclear if that played a role in the medical emergency.
"He was taking herbal Viagra and he was taking a lot of it," said Dennis Hof, claiming that no illegal drugs were found in the room.
Relatives and former teammates of Odom — who won NBA championships with the Los Angeles Lakers in 2009 and 2010 — were pulling for him to recover.
"I'm praying to God. I'm asking God to please let him survive," his paternal grandmother, Florence, told NBC News.
Odom is famous outside the sports world for having married Kardashian in 2009 in a wedding featured on the E! series "Keeping Up with the Kardashians." They divorced in 2013 after Odom was arrested for driving under the influence.
Hof said that Odom called the brothel on Saturday and said he "wanted to come out and get away."
"He partied all Saturday night and said he wanted to stay for a few days," said Hof, who also owns the famous Moonlite Bunny Ranch featured in the HBO series "Cathouse."
Two of the women who work at the Love Ranch saw Odom at 6 a.m. on Tuesday and he was fine.
"They came back this afternoon at 3:30 to check on him, and he was unconscious." Hof said Tuesday night. "We called 911 and the 911 told my staff what to do — turn him over on his left side.
"There was this terrible foaming stuff coming out of him, he was throwing up, a little bit of blood."
"It's a real shock," Hof added. "It's terrible that our business is being disrupted. Here's a guy who just wanted to have a good time and be private, and it's tragic."
Photos: A Look Back at Lamar Odom's NBA Career
Nye County Sheriff Sharon Wehrly said Odom was treated first at Desert View Hospital in the nearby town of Pahrump. Officials there have not released information about his condition.
He was then taken by ambulance to Sunrise Hospital in Las Vegas, about 60 miles away because he was too tall to fit in a helicopter, authorities told NBC News.
His grandmother said she first learned about his hospitalization on Wednesday and that his father, Joe Odom, was rushing to be by his bedside.
"This really takes me over. Lamar is just 35. It's really shocked me," she said.
"Lamar is special," she said. "He made himself a name all over the world. And he's just a cutie."
Odom played one season at the University of Rhode Island before being drafted in the first round with the No. 4 overall pick by the Clippers in the 1999 NBA draft.
Odom spent the best years of his career with the Lakers, winning the NBA's Sixth Man of the Year award in 2011.
After seven years in purple and gold, he was crushed in December 2011 when the Lakers attempted to trade him to New Orleans in a multiplayer trade for Chris Paul. He eventually went to Dallas in another deal, but was out of the NBA just two years later.
Some troubles that met Odom before and during his career appeared to worsen after he left the league, and included a no-contest plea to drunken driving shortly before his divorce.
Odom was suspended during the 2000-01 season for violating the NBA's anti-drug policy for the second time in eight months. During the 2010-11 season, a cousin he was close to died and Odom was a passenger in a vehicle involved in an accident in New York that killed a cyclist.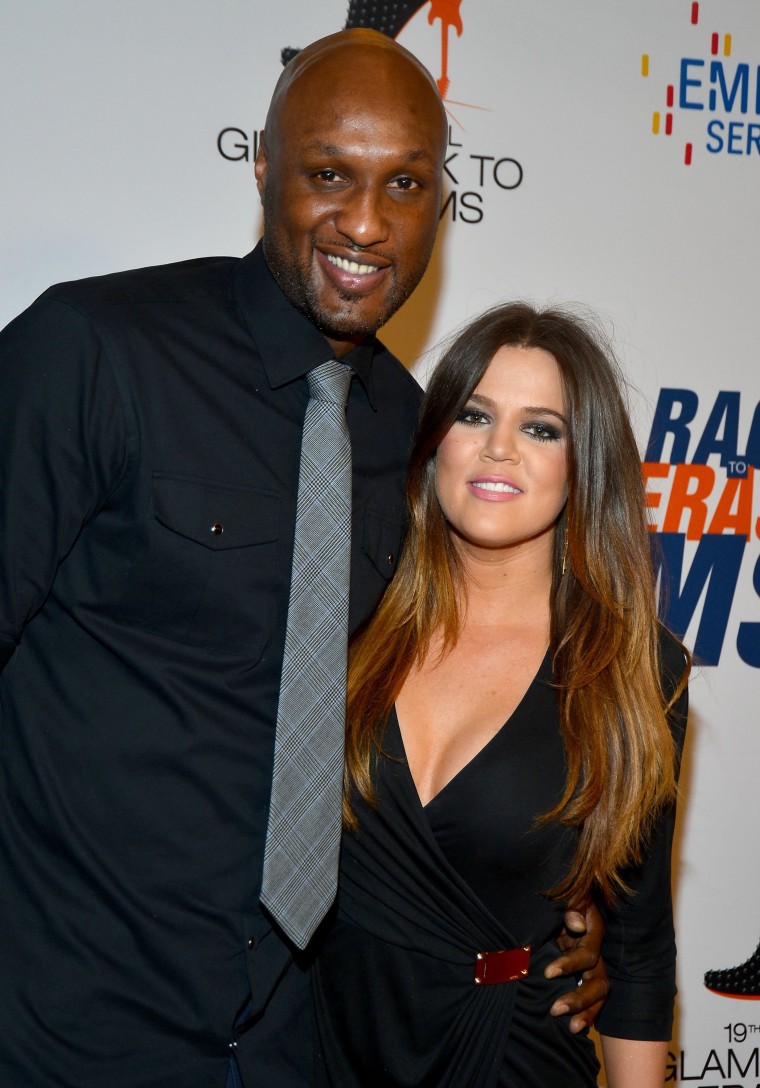 In 2006, Odom's 6-month-old son Jayden died from SIDS while sleeping in his crib in New York.
Odom was raised by his grandmother after his mother died of cancer when he was 12. His father was a drug addict.
He has a daughter, Destiny, and a son Lamar Jr., from a previous relationship.