CAIRO, Egypt — Hollywood actor Omar Sharif who rose to fame for his roles in "Lawrence of Arabia" and "Doctor Zhivago" has died. He was 83.
He passed away in Cairo on Friday afternoon after suffering a heart attack, his agent told NBC News.
He was suffering from Alzheimer's disease. His best friend, Egypt's former Antiquities Minister, Zahi Hawass, described how the illness had taken hold in recent years.
"A year ago when he came to Egypt from Paris, I used to take him out every day," Hawass told NBC News. "He used to tell me, 'There is a man in Egypt I want to see so much, I love him.' 'Who is this man, is it Zahi Hawass?' I asked him, and he said 'Yes.'"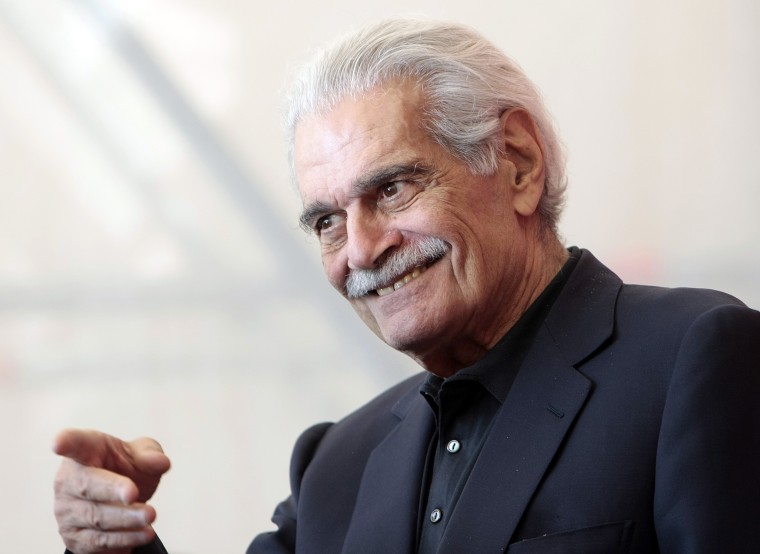 His grandson, Omar Sharif Junior, last week posted a picture of the pair together on his Facebook page with the message: "I love you."
Born in Egypt to a Syrian-Lebanese family, he was nominated for an Academy Award for Best Supporting Actor in 1962 for playing Sherif Ali in "Lawrence of Arabia," a movie that launched him to stardom.
Three years later he starred as the title character in Doctor Zhivago.
He tallied 118 acting credits, according to IMDB, and had been due to appear in a short movie '1001 Inventions and the World of Ibn Al-Haytham.'
He was also an accomplished bridge player and keem gambler, reportedly once winning a million dollars at an Italian casino but also losing a villa in Lanzarote, Spain as a result of a card game in the 1970s.
Sharif was not "Lawrence of Arabia" director David Lean's first choice to play Sherif Ali. the tribal leader with whom T.E. Lawrence teams up to help lead the Arab revolt against the Ottoman Empire. Lean had hired another actor but dropped him because his eyes weren't the right color. The film's producer, Sam Spiegel, went to Cairo to search for a replacement and found Sharif.
He remained a sought-after actor for many years, playing Argentine-born revolutionary Ernesto "Che" Guevara in "Che!", Italian Marco Polo in "Marco the Magnificent" and Mongol leader Genghis Khan in "Genghis Khan." He was also the Jewish gambler Nick Arnstein opposite Barbra Streisand's Fanny Brice in "Funny Girl." The 1968 film was banned in Egypt because he was cast as a Jew.
In his middle years Sharif began appearing in such films as "The Pink Panther Strikes Again," "Oh Heavenly Dog!," "The Baltimore Bullet" and others he dismissed as "rubbish."
He suffered a public embarrassment in 2007 when he pleaded no contest to misdemeanor battery and was ordered to take an anger management course for punching a parking valet in Beverly Hills. He was also involved in a scuffle at a Paris casino in 2003.
Sharif recently spent six months in the Red Sea resort city of Hurghada with his son but was moved to the Behman Hospital, one of Egypt' best private psychiatry hospitals, after becoming very sick. HE was put on a drip after refusing to eat.
"He did not want to put anything in his mouth, even if they force him, he refused completely to eat. He was completely depressed from Alzheimer's. He became very bad from a year ago," Hawass said.
"He was a very healthy man, he was very thin, and walked every day. God loved him to take his life quickly. His son Tarik did his best for him and he loves him so much."
"I think Egypt lost a man who loved his country so much. I have never seen a man who loved Egypt as much as Omar did. Many people attacked him but he always said if I can do anything for Egypt I will do it for free if I can. "
"I am going to lose him as a friend all my life. In Egypt I never went out alone, he was always with me in every place that I go. He was like a brother. Tomorrow and today I lost my brother," said Hawass.
Matthew Grimson and Paul Ziad Nassar reported from London.