The father of late actor Paul Walker has filed a wrongful death lawsuit against Porsche, claiming the German automaker neglected to install safety features that could have saved the "Fast and Furious" star's life.
Walker died on Nov. 30, 2013, when the 2005 Porsche Carrera GT he was riding in plowed into a lamppost and tree in suburban Los Angeles. Walker, 40, and the driver, racing pro Roger Rodas, were burned beyond recognition.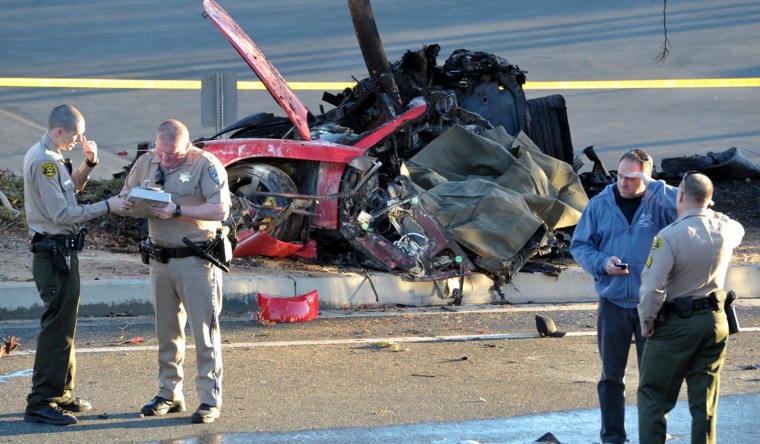 Los Angeles County and state investigators later determined that high speeds — and not a mechanical failure — caused the crash. The Carrera GT can reach a top track speed of 205 mph, according to Porsche.
But in the suit filed Wednesday on behalf of Paul Walker III, lawyers say the car "lacked safety features that are found on well-designed racing cars or even Porsche's least expensive road cars — features that could have prevented the accident or, at a minimum, allowed Paul Walker to survive the crash."
The suit says Porsche failed to install an electronic stability control system, which is meant to "protect against" the swerving actions in hypersensitive vehicles, and the vehicle was built with side-door reinforcements "weaker in strength."
The suit also alleges that the car has a defective seat belt design.
The design supposedly "snapped Walker's torso back with thousands of pounds of force, thereby breaking his ribs and pelvis, flattening his seat and trapping him in a supine position, where he remained alive until the vehicle erupted into flames one minute and twenty seconds later," the suit says.
Related: Paul Walker's Daughter Sues Porsche, Says Father Burned to Death in Crash
Walker's father's lawyers add that the car lacked a breakaway fuel line that would have automatically shut down the fuel flow — and presumably prevented the fire.
The elder Walker is seeking an unspecified amount in damages.
His lawsuit mirrors one filed in September by Walker's daughter, Meadow Walker, 17, who is also alleging Porsche's car design is to blame.
The automaker did not immediately respond to a request for comment Friday, but said in a court filing earlier this month that the Carrera GT that Walker was riding in had been "altered" and "improperly maintained."
"That abuse and alteration proximately caused or contributed to the incident and to Mr. Walker's death," wrote Cranbrook Partners, which is representing Porsche and other defendants.