In October 2004, actor Philip Seymour Hoffman signed a will leaving the bulk of his fortune to his longtime companion and mother of his three children, Marianne O'Donnell.
At the time, Hoffman's now 10-year-old son Cooper was only one, and the Oscar winner also made a peculiar and specific request about where he wanted his son to be raised. It was Hoffman's "strong desire," according to the will, that Cooper "reside in or near the borough of Manhattan in the State of New York, or Chicago, Illinois, or San Francisco, California," according to the document filed Wednesday in Manhattan Surrogate's Court.
"The purpose of this request is so that my son will be exposed to the culture, arts and architecture that such cities offer," Hoffman wrote. O'Donnell and Hoffman also have two daughters, Tallulah, 7, and Willa, 5.
Hoffman died on Feb. 2 from an apparent heroin overdose in his apartment in New York City. The 46-year-old actor was found with a syringe in his arm but more tests are needed to determine what exactly caused his death.
In the will, the actor also set up a trust for Cooper and named O'Donnell as his guardian and trustee of the funds. When Cooper turns 25, he will get half of the money in the trust and the rest at age 30, according to court papers. The money, he wrote, should be used to pay for Cooper's "education, support, health and maintenance."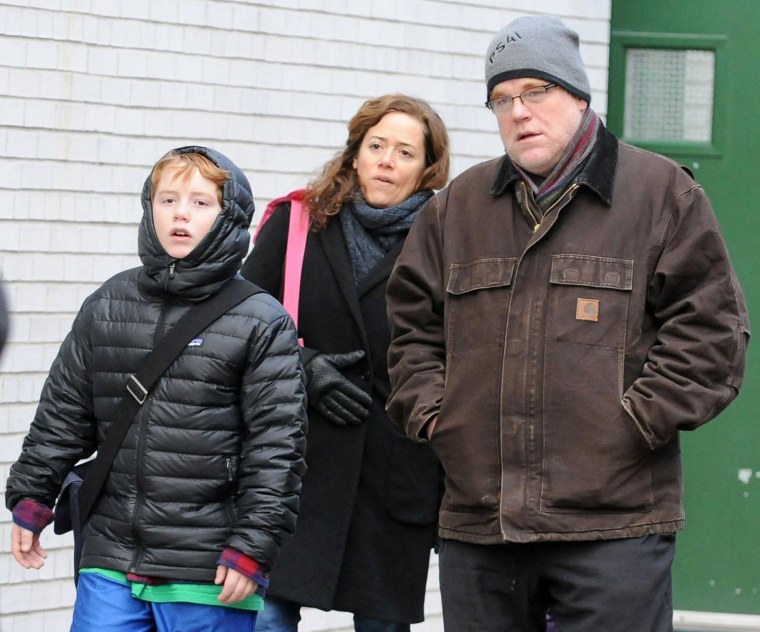 Hoffman's private diaries, collected by police, revealed he was troubled by "demons" and struggled to control them with Narcotics Anonymous meetings, NBC News learned exclusively. He also wrote about drug deals and seemed to have written some of the entries while in rehab recently.
Hoffman spoke openly about his life-long substance abuse battles and admitted to being in rehab for at least 10 days last year. Law enforcement officials told NBC News 49 full bags of heroin, 23 empty bags of heroin, four bags of white powder believed to be cocaine, as well as various prescription drugs, were found in Hoffman's apartment the morning he died.
Mel Bailey contributed to this report.