A photo showing Italian actress Asia Argento alongside an underage actor who has reportedly accused her of sexual assault appears to contradict her claim that the two never had a sexual relationship.
The photo, published on Wednesday by TMZ, purports to show Argento in bed with Jimmy Bennett, the young actor who said in documents obtained by the New York Times that he had sex with the actress in a California hotel in 2013, two months after he turned 17.
The age of consent in California is 18. NBC News has not seen the documents.
The Times has reported that it received documents that included a selfie of Argento and Bennett in bed. The newspaper said three people familiar with the case had said the documents were authentic. It was not clear if the selfie obtained by the Times was the same one published by TMZ on Wednesday.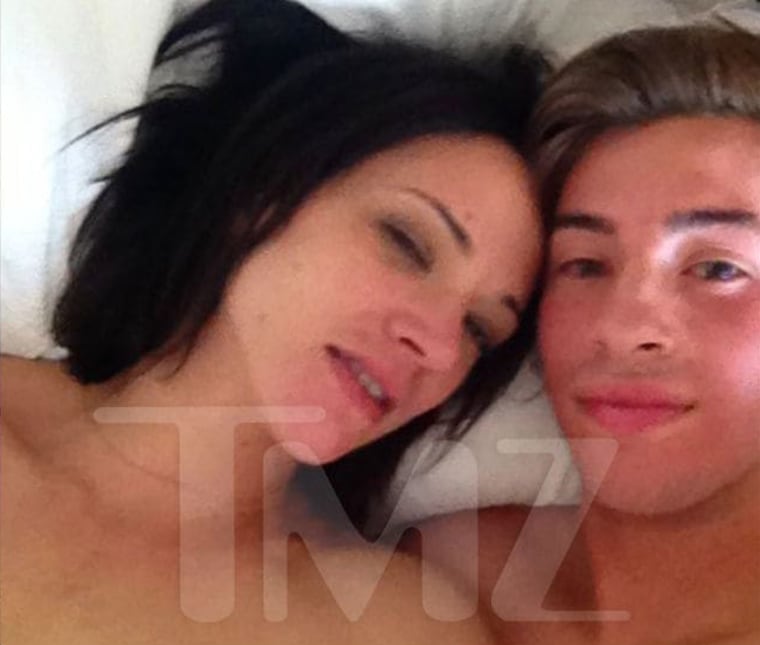 Argento, 42, one of the leading voices of the #MeToo movement, denied the sexual encounter in a statement to reporter Yashar Ali on Tuesday, saying in part: "I am deeply shocked and hurt by having read news that is absolutely false."
TMZ also published screenshots of text messages that it claimed were exchanges between Argento and an unidentified friend following the publication of the Times report on Sunday. In the screenshots, Argento purportedly said: "I had sex with him it felt weird. I didn't know he was a minor until the shakedown letter." NBC News has not verified the text messages.
The Times has reported that Argento settled allegations made in a notice of intent to sue sent by Bennett, who is now 22, for $380,000, months after she accused disgraced movie mogul Harvey Weinstein of rape. But in her statement on Tuesday, Argento claimed the payment was made by her boyfriend, the late celebrity chef Anthony Bourdain, in order to ease what she describes as Bennett's "severe economic problems."
"Anthony personally undertook to help Bennett economically, upon the condition that we would no longer suffer any further intrusions in our life," Argento said.
Bennett released a statement Wednesday afternoon saying he appreciated the "bravery" of the men and women who have spoken about their experiences in the #MeToo movement.
"I did not initially speak out about my story because I chose to handle it in private with the person who wronged me," he said. "My trauma resurfaced as she came out as a victim herself," and added that "tried to seek justice in a way that made sense to me at the time because I was not ready to deal with the ramifications of my story becoming public."
The legal documents obtained by the Times reportedly say his alleged sexual encounter with Argento traumatized him and hurt his career.
Argento has alleged that Weinstein, who has been accused of sexual misconduct by dozens of women, raped her at the Cannes Film Festival in 1997 when she was 21.
Weinstein has been indicted on sex crime charges involving three women, although Argento is not one of them. The Oscar-winning producer has denied all allegations of non-consensual sex.