Popular public radio host Tom Magliozzi, who co-hosted NPR's Peabody Award-winning "Car Talk" for 35 years with his brother Ray, died on Monday of complications from Alzheimer's disease, according to NPR. He was 77.
The Magliozzi brothers became famous as "Click and Clack the Tappet Brothers" on the weekly NPR show "Car Talk," peppering their advice show about car troubles with their wise-cracking banter and raucous laughter. It ran from 1987 to 2012 but still plays in some markets in syndication.
"This is a heartbreaking loss for all of us at NPR, our Member Stations, and the millions of listeners in the public radio family," said NPR President and CEO Jarl Mohn in a statement. "Countless people first discovered public radio by laughing along with Click and Clack every Saturday morning. Through 'Car Talk,' Tom is one of those responsible for transforming NPR into the institution it is today. We extend our deepest sympathy to Ray and the Magliozzi family."
The Magliozzis both graduated from MIT and often talked about their close-knit Italian upbringing in East Cambridge, Massachusetts, on the air. Tom Magliozzi was older than Ray by 12 years.
"We can be happy that he lived the life he wanted to live; goofing off a lot, talking to you guys every week, and primarily, laughing his ass off," Ray Magliozzi said in a blog post.
Indeed, as NPR's obituary also noted, Tom Magliozzi was known for his laugh. In an interview with NPR, Doug Berman, the longtime producer of "Car Talk," described Magliozzi's laughter as "infections" and he recalled the first time he met him.
"Before I ever met him, I heard him, and it wasn't on the air," Berman said.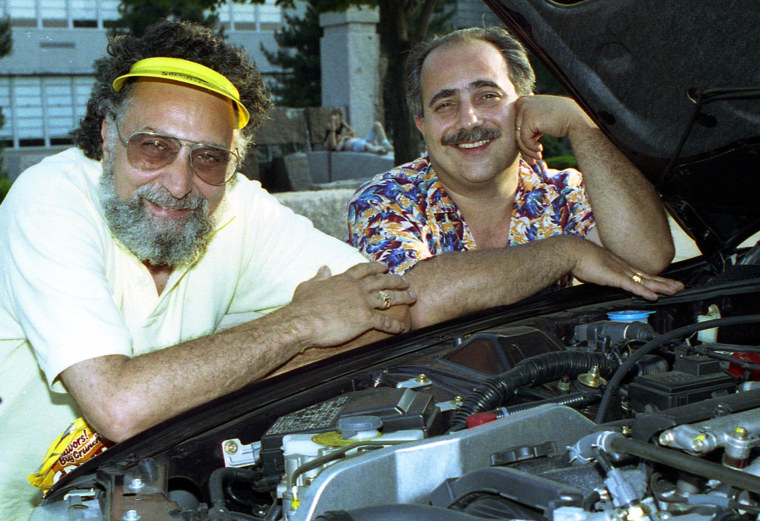 The brothers became radio superstars by a fluke, NPR's Lynn Neary explained. After opening a "do-it-yourself car repair shop" in the early '70s and later a more traditional shop, Ray Magliozzi received a request from a local public radio station for mechanics for a talk show panel. Ray Magliozzi didn't want to go, so Tom went instead.
"Turns out, Tom was the only mechanic dumb enough to show up," according to an NPR biography. "Tom gave out many wrong answers, and misled many callers — but did so with such finesse that he was invited back the following week.
The second time, Ray went with him. Soon, "Car Talk" was born on NPR "Car Talk" debuted in 1977 on Boston radio station WBUR. After several years of doing "Car Talk" for free, the brothers asked WBUR for $25 a week.
"To our shock and amazement, they agreed to it on the spot," Tom Magliozzi said in an interview. "At that moment, we realized that we had obviously asked for too little. We kicked ourselves all the way home. This did, however, mean that we could buy doughnuts and coffee each week."
Susan Stamberg, who hired the Magliozzi brothers at NPR, wrote a tribute to Magliozzi on NPR's site.
"Funny and smart and bighearted, Tom was as warm in real life as he was on the radio," she wrote. "I loved his relationship with his brother. You could imagine him and Ray as kids, sitting at the dinner table, swapping smart remarks and opinions and car obsessions. You knew he'd grown up in a loving place, with parents who got a kick out of him almost whatever he did."
In addition to the radio show, the brothers appeared in the 2006 Pixar film, "Cars." In 2008, they also starred in their own PBS animated series, "Click and Clack's As the Wrench Turns," playing fictionalized versions of themselves.
"He just had such a joyous attitude and approach to everything," Berman told NPR's "Here & Now" on Monday after news of Magliozzi's death spread. "You put him anywhere and everybody around him would be having fun. He was the friendliest anti-authority figure you'd ever meet."