LOS ANGELES — One of Hollywood's enduring real-life mysteries lives on: What happened to Natalie Wood?
Interest in the film legend's final hours has not faded in the nearly four decades since her death — and was reignited Thursday after a report said her husband, actor Robert Wagner, is "more of a person of interest" in Wood's drowning during a boating excursion in 1981.
"I mean, we know now that [Wagner] was the last person to be with Natalie before she disappeared," Los Angeles County Sheriff's Lt. John Corina told CBS' "48 Hours" in an episode scheduled to air Saturday.
A sheriff's department spokesperson told NBC News that Wagner has remained a person of interest, and there has been no change in the status of the case. An investigation into Wood's death was reopened in 2011 after police sought to interview witnesses about claims of foul play, but it was never classified as a criminal case and no one has ever been charged.
Wood's death certificate was amended in 2012 from a cause of death of drowning to "drowning and other undetermined factors."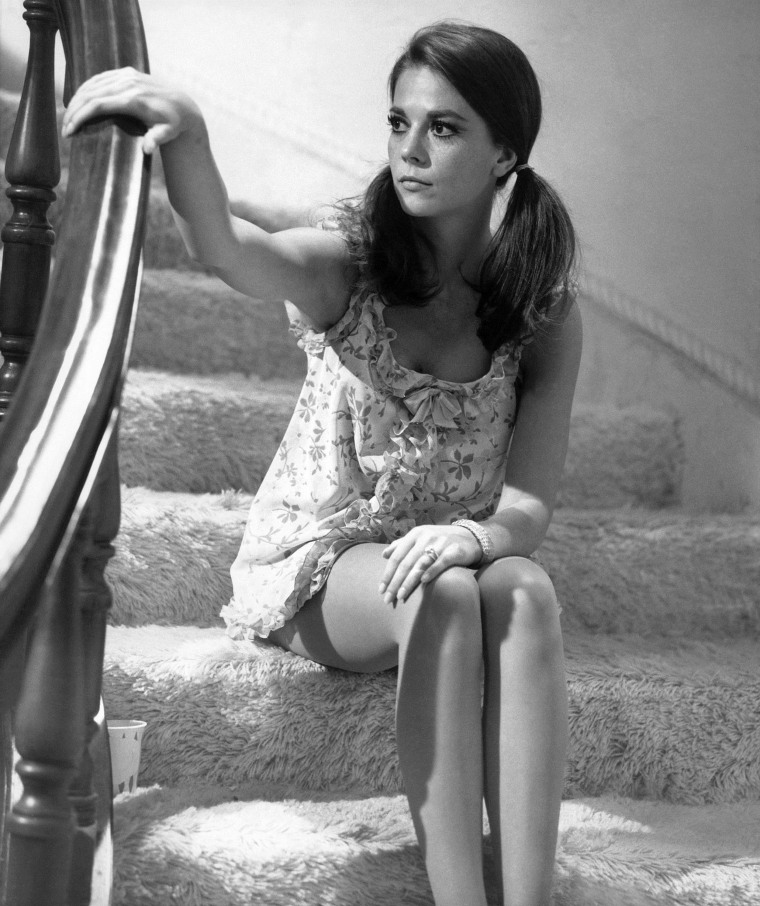 Wagner, 87, has long denied any involvement in Wood's death, telling People magazine in a rare interview in 2016 that "we were all so shattered by the loss." A rep for Wagner said Thursday there was no immediate comment.
A "person of interest" is not the same as a suspect.
Wood was a three-time Oscar nominee who began her career as a child actor, starring in films such as "Rebel Without a Cause," "Splendor in the Grass" and "West Side Story."
Wood and Wagner had divorced in 1962 after five years of marriage, but the Hollywood couple remarried in 1972. They had one child together and also raised another of Wood's daughters from a previous marriage.
Wood, 43, died while on a weekend trip to Catalina Island with Wagner, actor Christopher Walken and the yacht's captain, Dennis Davern. Wood and Walken were shooting the film, "Brainstorm," at the time.
Wagner said he and Wood had gotten into an argument on the boat that November night in 1981, the Los Angeles Times reported. His spokesman at the time said that Wagner had gone to bed and thought his wife had taken off on a small inflatable boat, which she had done before.
But when she didn't return, Wagner went to find her and then contacted Harbor Patrol, his spokesman said. The next morning, the actress' body was found about a mile from the yacht, and the inflatable boat was found beached not far from the scene, according to a police investigation.
Wood's body was found to have a blood-alcohol level of 0.14 percent, and officials said there was much recreational drinking going on that night.
A Los Angeles County coroner first ruled her death an accident by drowning and hypothermia, saying at a news conference days later that she slipped while getting into the dinghy and bruises on her cheek were consistent with falling into the water, the Los Angeles Times reported.
But speculation of a violent crime has long overshadowed the investigation.
A 2000 Vanity Fair report described how Wagner's first interview with police was cut short because he was "in an emotional state." In the second interview five days after her death, police pressed him on what he was talking to Wood about before she disappeared.
"It was about her being away from home and the kids so much ... He missed her being around," police said, according to the magazine.
The police's investigation was reopened in 2011 — two weeks before the 30th anniversary of Wood's death — when it was revealed that the boat's captain made comments suggesting he had new recollections about the case.
In 2011, Davern told "Today" that he lied during the initial investigation and believed Wagner was responsible for Wood's death. He recounted his experience that night in the 2009 book, "Goodbye Natalie, Goodbye Splendour."
"We didn't take any steps to see if we could locate her," Davern told NBC News about the moments after Wood went missing. "I think it was a matter of, 'We're not going to look too hard, we're not going to turn on the searchlight, we're not going to notify anybody right now.'"
Wagner's publicist in 2011 issued a statement saying his family supported the reopened investigation by the L.A. County Sheriff's Department and "trust they will evaluate whether any new information relating to the death of Natalie Wood Wagner is valid."
Wagner wrote about his relationship with Wood in his 2009 memoir, "Pieces of My Heart."
Andrew Blankstein reported from Los Angeles, and Erik Ortiz reported from New York.