Robin Williams' widow and his three children from previous marriages reached a settlement in their legal fight over the late actor's estate, ending a public dispute following the beloved comedian's suicide last year.
Terms of the out-of-court settlement were not disclosed but James Wagstaffe, who is representing Susan Williams, said his client will remain in the San Francisco Bay Area home she shared with Williams and receive living expenses to maintain the home for the rest of her life.
Wagstaffe said she also will receive a watch Robin Williams often wore, a bike bought on their honeymoon, and their wedding gifts.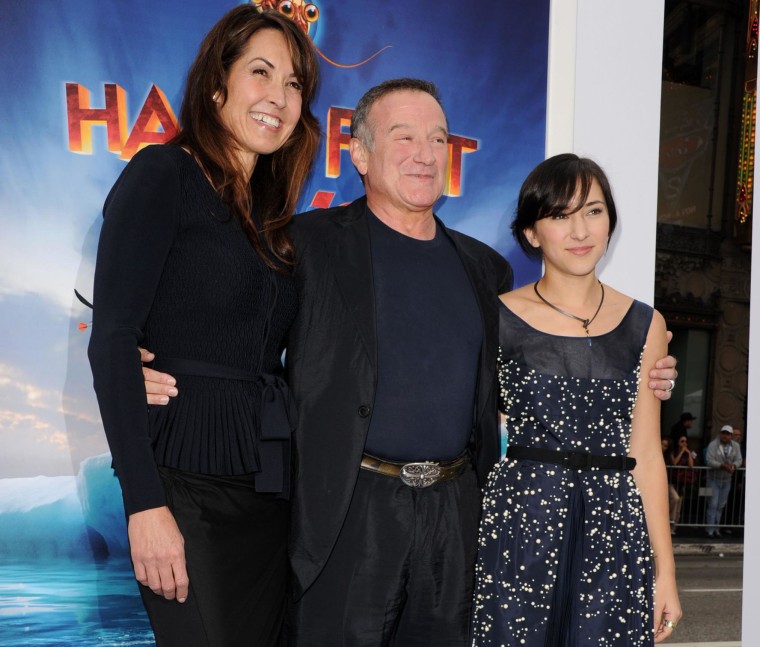 Both sides expressed satisfaction over the settlement, which remains subject to court approval. Wagstaffe and Meredith Bushnell, who represents three adult children from previous marriages — Zachary, Zelda and Cody— said they expect the judge's approval.
"Susan gets to enforce Robin's wishes. She gets to stay in the house as Robin wanted, with the trust being created to pay the expenses," Wagstaffe said.
Meredith Bushnell, who represents the three children said, "I think they're just very happy to have this behind them."
Susan Williams filed a court petition in December, saying the contents of the Tiburon home she shared with Robin Williams should be excluded from the items the actor left to his children.
She also claimed some of her husband's personal items were taken without her permission.
Williams' three children countered that Susan Williams was "adding insult to a terrible injury" by trying to change the trust agreement and deprive them of items that their father clearly intended to leave to them.
Among the items in dispute were watches, memorabilia, the tuxedo he was married in and photographs taken on his 60th birthday, according to court documents and previous statements by attorney Wagstaffe.
The dispute resulted in several court appearances before a San Francisco judge and mediation.
Trustees for Williams' estate filed a petition Friday with San Francisco County Superior Court stating the parties had reached a settlement on Sept. 25 and asking to dismiss Susan Williams' petition to have the court provide guidance in the dispute. The judge had encouraged both sides to settle out of court.