Actress Rose McGowan accused Harvey Weinstein of raping her, she wrote in a series of tweets Thursday that followed outcry from her supporters after she was temporarily suspended from Twitter.
In a tweet directed at Amazon chief Jeff Bezos, McGowan said she told the "head of your studio that HW raped me," but that he responded "it hadn't been proven."
"I said I was the proof," she tweeted.
McGowan didn't specifically name the Amazon studio head. She also did not provide the details of what she said occurred with Weinstein and it is unclear if she reported the alleged assault to authorities.
McGowan has emerged as an outspoken voice about sexual assault and harassment in Hollywood after news reports that Weinstein, a powerful film producer, stands accused of sexual misconduct by more than two dozen women, including herself, over decades.
In response to Twitter temporarily deactivating her account, McGowan tweeted her support of the hashtag #WomenBoycottTwitter.
Those rallying around it have agreed not to use the social media platform at all on Friday, including McGowan's "Charmed" co-star Alyssa Milano, model Chrissy Teigen, Amber Tamblyn and Terry Crews, who detailed his own sexual assault experience as an actor in Hollywood.
Before signing off at midnight, McGowan asked of men who do use Twitter to "call on your brothers to be better, go after ones who won't."
McGowan was first mentioned in a New York Times report last week that said in 1997 she reached a previously undisclosed settlement with Weinstein "after an episode in a hotel room during the Sundance Film Festival."
A legal document reviewed by The Times said the $100,000 settlement was "not to be construed as an admission" by Weinstein, but was meant to avoid litigation and "buy peace." McGowan, who starred in the 1996 slasher flick "Scream," which was released by Miramax, a film studio Weinstein co-founded, didn't comment to the newspaper.
Related: Why Did Twitter Suspend Rose McGowan?
But as accusations began to mount against Weinstein — including from high-profile actresses such as Ashley Judd, Angelina Jolie and Gwyneth Paltrow — McGowan has used her Twitter account to also call out men who know the movie mogul and have stayed quiet about his alleged misconduct.
Weinstein's representatives have said in a previous statement that "any allegations of non-consensual sex are unequivocally denied" by him and that he did not retaliate against women who rejected his advances.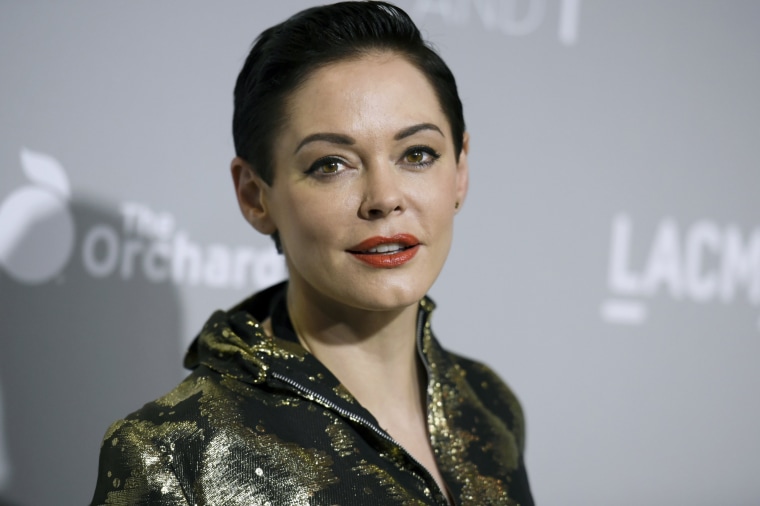 On Thursday, McGowan shared on Instagram that Twitter had placed a temporary lock on her account — upsetting her supporters who believed Twitter was trying to silence her.
A spokesman for the social media company told NBC News that the action was in connection with a tweet by McGowan that included a private phone number, violating the platform's terms of service. Twitter said that once the tweet with the phone number was deleted, her service and access were fully restored.
Related: Harvey Weinstein's Brother Calls Him 'Very Sick Man'
Once back on Twitter, McGowan sent her string of tweets to Bezos.
In addition, Amazon told CNBC on Thursday it was putting Amazon Studios chief Roy Price on a leave of absence.
While an Amazon spokesperson didn't provide a reason for Price's removal, it followed an online report by The Hollywood Reporter in which a female producer on the Amazon show "The Man in the High Castle" said Price sexually propositioned her in 2015.
A spokesperson for Price declined to comment to The Hollywood Reporter. Neither Price nor the producer, Isa Hackett, could immediately be reached for comment Friday.
Amazon also said it was reviewing any projects it has with The Weinstein Co., the production company co-founded by Weinstein in 2005 and which fired him Sunday.
McGowan in her tweets to Bezos asked him to "stop funding rapists, alleged pedos and sexual harassers." Bezos did not immediately respond on Twitter.