EDITOR'S NOTE (Jan. 4, 2021, 7:00 p.m. ET): Due to incorrect information distributed by a publicist for the actor Tanya Roberts, NBC News published in error an obituary for Roberts on Monday morning, written by Variety. As this article explains, Roberts is hospitalized but is alive.
A spokesman for the actor Tanya Roberts, known for her roles in the 1985 James Bond film "A View to a Kill" and "That '70s Show," put out a false report of her death on Sunday, leading NBC News, Variety and several other publications to publish her obituary in error.
The spokesman, Mike Pingel, told NBC News on Monday that he'd alerted media outlets of her death on Sunday after employees at Cedars-Sinai Medical Center in Los Angeles — where Roberts was admitted after collapsing on Christmas Eve — told her husband, Lance O'Brien, to come to the facility and say his final goodbyes. O'Brien then told Pingel that Roberts had died, Pingel said.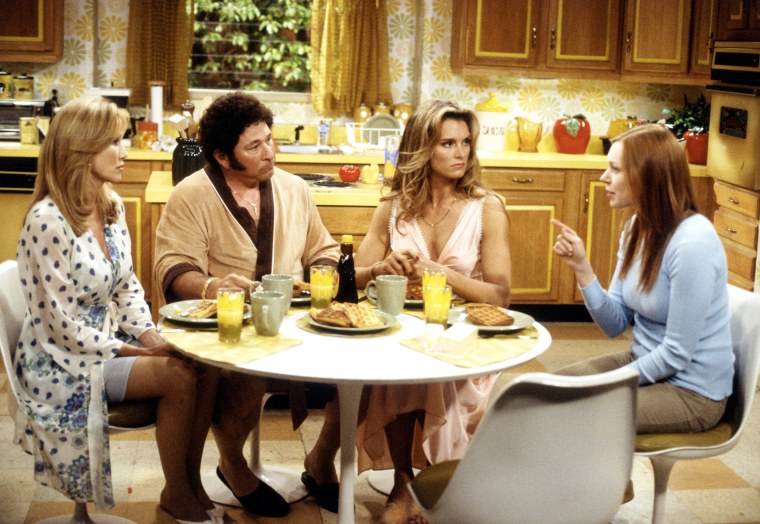 While O'Brien was being interviewed by the syndicated television show "Inside Edition," the hospital called him, interrupting the interview to tell him she was still alive.
"Now you're telling me that she's alive?" O'Brien can be heard saying on the show. "Thank the Lord. Thank God."
Roberts, 65, was out walking her dogs when she collapsed. Pingel did not address the nature or severity of her illness, though he said it is not due to Covid-19.
Born Victoria Leigh Blum, Roberts had a successful modeling career and appeared in some off-Broadway roles. She made her film debut in 1975 with "The Last Victim." Thereafter, she appeared in a series of films that attained cult status, including "The Beastmaster" (1982), "Sheena: Queen of the Jungle" (1984), "Body Slam" (1987) and "Night Eyes" (1990).
On "That '70s Show," Roberts played the laidback hippie mother of Donna Pinciotti (Laura Prepon). While she left the show in 2001, she returned in 2004.
Roberts' most recent onscreen appearance was in the television series "Barbershop" in 2005.