Haters gonna hate — but it turns out people would love to live next door to pop singer Taylor Swift.
The singing sensation was voted the most desirable neighbor in Zillow's ninth annual "Celebrity Neighbor Survey" released Tuesday. Swift beat out her competition with 12 percent of the votes — up from last year's 7 percent, when she came in third place.
The pop star was especially favored by millennials in the survey, receiving 17 percent of their share of the votes, according to Zillow. The survey polled some 1,000 people.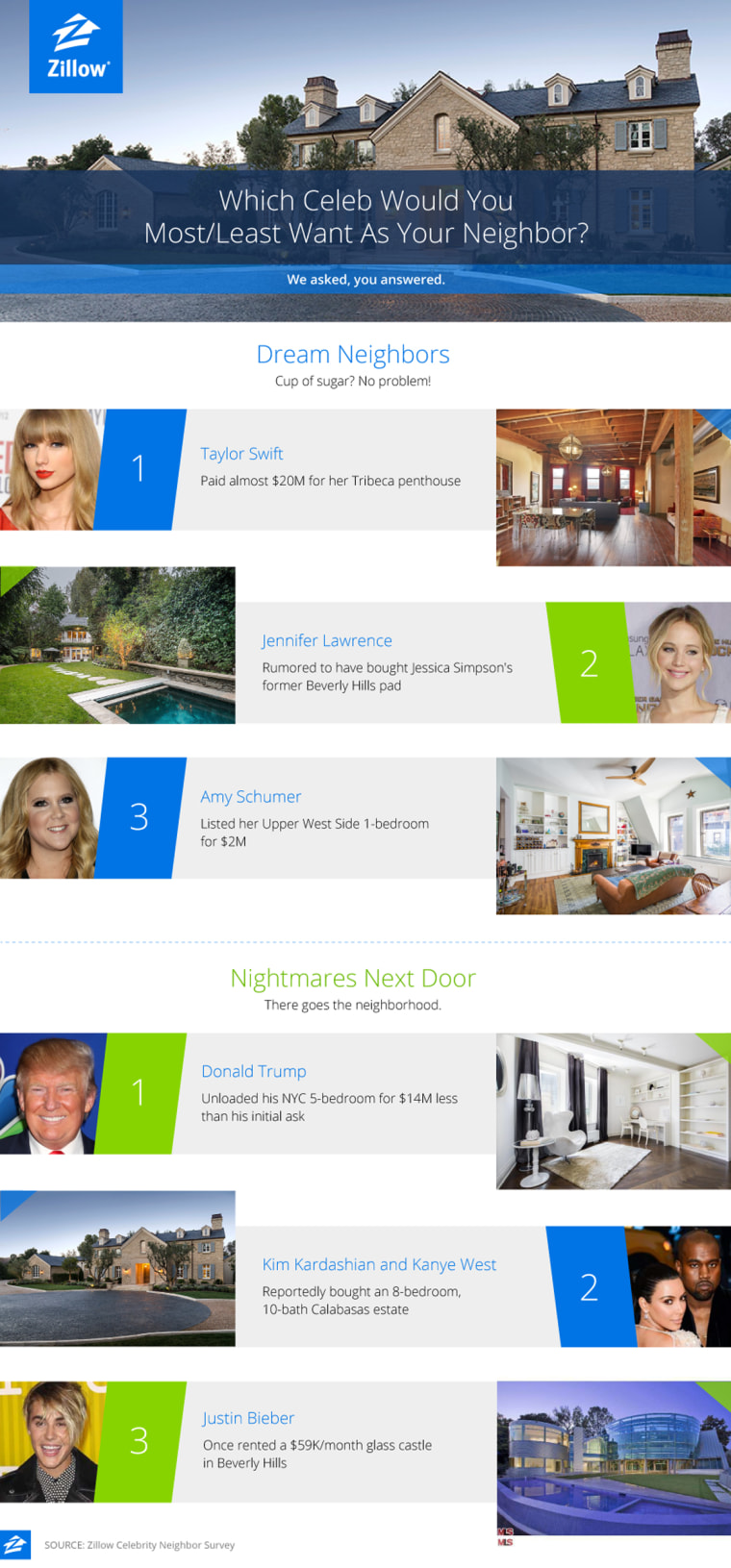 "2015 was a landmark year for Taylor Swift, from her highly successful 1989 World Tour, to being named the youngest female ever on Forbes' 100 Most Powerful Women list — it's no surprise America picked the down-to-earth singer-songwriter as 2016's most desirable neighbor," said Jeremy Wacksman, Zillow's chief marketing officer.
The online real estate database company reported that Swift owns a 7-bedroom, 5.5-bath loft in the chic Manhattan neighborhood of Tribeca that she bought for nearly $20 million last year.
Related: Taylor Swift visits young fan with cancer for Christmas
Presidential candidate and real estate mogul Donald Trump — who technically has a lot of neighbors — was voted 2015's worst neighbor. Twenty-four percent of those polled said they wouldn't want to live near Trump ... but it's worth noting that he also appeared on the desired neighbor list in fourth place, with 7 percent.
He wasn't the only presidential front-runner on the most desirable neighbor list. Hillary Clinton came in seventh place, with 5 percent.
And yet Clinton also made the worst neighbor list with 11 percent, along with Kim Kardashian and Kanye West, who weren't far behind Trump.
Eighteen percent of people said they wouldn't want to live anywhere near Justin Beiber, who earned the worst neighbor honor in 2014. But maybe the Beibs' luck will change next year. Never say never.