ROME, Italy — U2's lead guitarist The Edge became the first rock star to play in the Sistine Chapel on Saturday, performing an unplugged set with the backing of a young Irish choir.
The musician, whose real name is David Evans, was invited to play in the 15th century chapel for the participants of a conference on regenerative medicine, which took place inside the Vatican.
"When I was asked to perform in the Sistine Chapel I didn't know what to say, because usually there's 'this other guy' who sings," The Edge told the audience, referring to U2's lead singer Bono. "So it took me at least, well, 30 seconds to agree to it."
He played a cover of Leonard Cohen's "If It Be Your Will," and unplugged versions of the U2 songs "Yahweh," "Ordinary World" and "Walk On." He sang the tunes with the help of the Irish choir.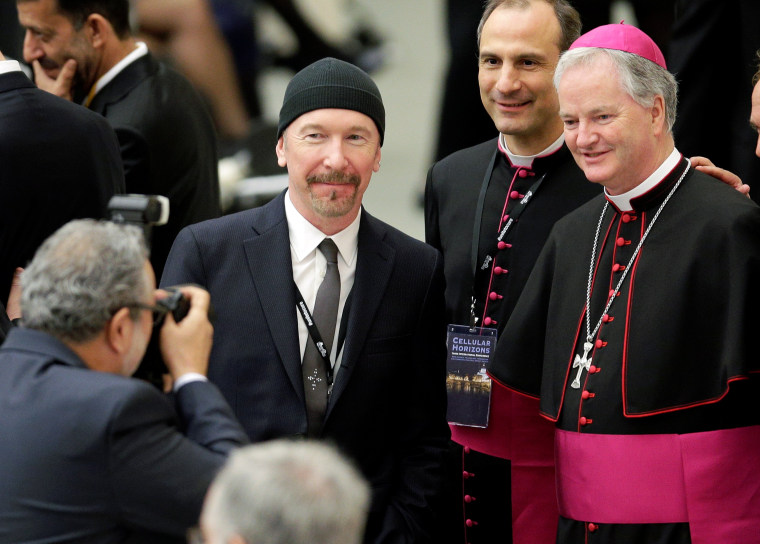 The Edge has been on the board of the Angiogenesis Foundation since 2007, after his daughter was diagnosed with leukemia the year before. Angiogenesis refers to the body's growth of new blood vessels.
"Usually when I mention angiogenesis people's eyes glaze over. But you all understand what I am talking about," he told the crowd at the Vatican.
Pope Francis was not among the audience in the Sistine Chapel, but The Edge got a chance to meet him briefly on Friday, during the conference.
"My special thanks go to him," The Edge said before the concert. "To the people's Pope."
Vice President Joe Biden, who lost is son Beau to brain cancer last year, spoke to the conference on Friday about the need to fund vital cancer research.