World Wrestling Entertainment Inc. cut ties Friday with wrestling champion Hulk Hogan after two publications reported he had been videotaped using racially offensive language. Hogan has apologized.
In a statement on its website, WWE said it had terminated its contract with Hogan, whose real name is Terry Bollea. The website appeared to be scrubbed of Hogan references and images.
"WWE is committed to embracing and celebrating individuals from all backgrounds as demonstrated by the diversity of our employees, performers and fans worldwide," the statement said. It did not specifically provide a reason why the WWE Hall of Famer was booted.
A joint report from The National Enquirer and Radar Online published Friday said Hogan was on a sex tape, filmed in 2008, using the N-word and saying he is a racist.
The tape is currently the subject of an invasion of privacy lawsuit brought by Hogan against the website Gawker, which published part of the tape in 2012.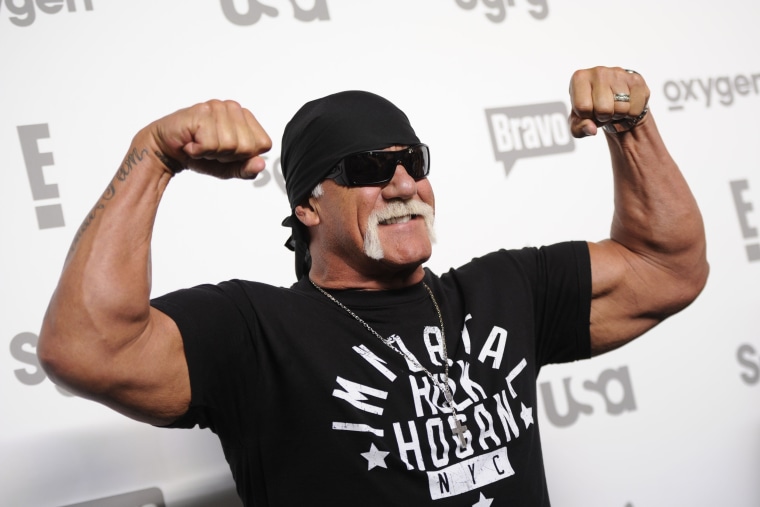 Hogan said in a statement Friday that he resigned from his contract with the WWE because "eight years ago I used offensive language during a conversation."
"It was unacceptable for me to have used that offensive language; there is no excuse for it; and I apologize for having done it. ... I am disappointed with myself that I used language that is offensive and inconsistent with my own beliefs," Hogan said in the statement to E! News.
The context in which Hogan made the "offensive" remarks was not immediately clear.
Hogan is currently seeking $100 million from Gawker for posting part of the sex tape of him with Heather Cole, the ex-wife of Hogan's one-time friend and radio show host Bubba the Love Sponge Clem, according to The Associated Press.
Gawker, which took down video under a court order, said it had the right to publish the edited video because Hogan talked in detail about his sex life before the video's release, which made the story newsworthy, according to the AP.
Hogan, 61, has won six WWE championships and was inducted into the WWE Hall of Fame in 2005 by Sylvester Stallone.