She had a mind-boggling number of husbands, enough scandals to fill several books, and a propensity for being over-the-top — in every aspect of life.
When Zsa Zsa Gabor burst onto the scene of the staid 1940s and 1950s Hollywood, she established herself as the prototype celebrity for those who are famous for being famous — setting the stage for future starlets such as Kim Kardashian, Paris Hilton, and Anna Nicole Smith to do the same.
"It's the same formula: She had lots of relationships, she had a good share of scandals and controversy, she was beautiful to look at."
But Gabor's tabloid-making antics were done without the assistance of Instagrammed selfies or attention-grabbing tweets, and at a time when private lives, even those of well-known actresses, weren't always public.
"Zsa Zsa Gabor proves that even before the Internet, you could do the kind of things the Kardashians do today," Bob Thompson, pop culture expert at Syracuse University, told NBC News. "She said things and behaved in a way that most of us could not get away with."
Related: Socialite, Hollywood Glamour Queen Zsa Zsa Gabor Dies at 99
Gabor savored her well-publicized socialite status. A Hungarian-born beauty queen, she sang and acted in Europe before following her sisters Eva and Magda to Hollywood, where she secured a string of mediocre cinema roles, as well as a string of lovers.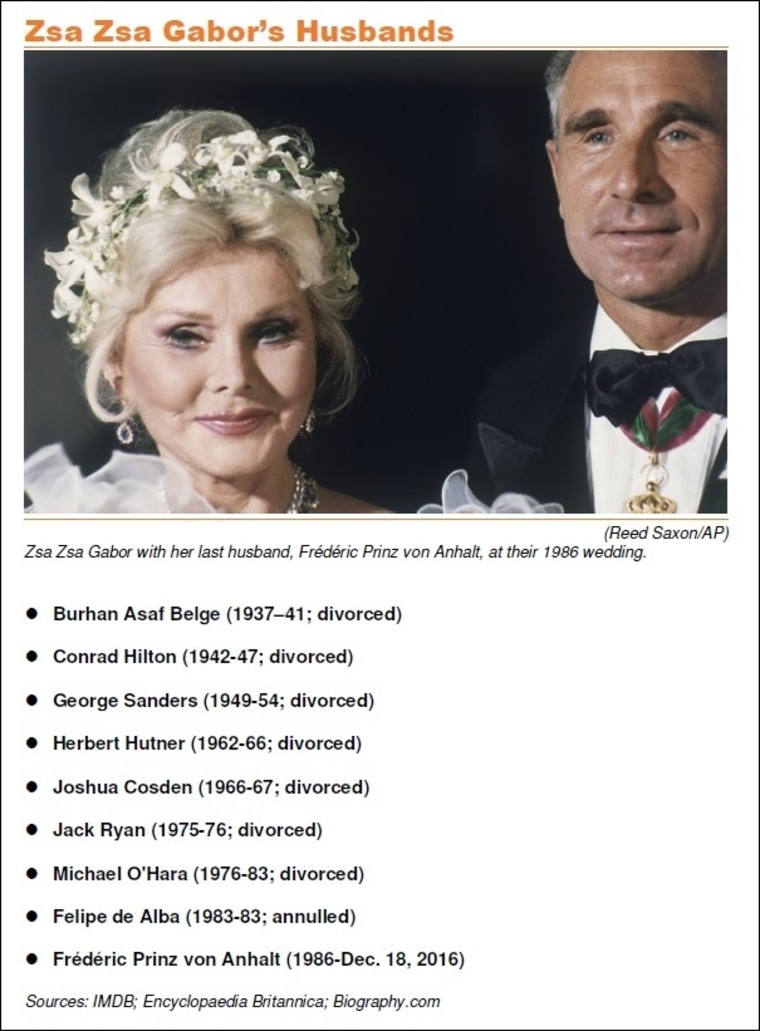 "I never hated a man enough to give him his diamonds back," she explained frankly in 1957.
Her glamour and guile made her the stuff of tabloid editors' dreams. She called everyone "dahling" in her thick Hungarian accent and had more drama in her real life than in the movies that she appeared in — often as herself.
"She did all the same things that today's celebrities that are in the same category are doing, except she didn't have all the channels that they do," such as 24/7 cable outlets and social media, branding expert Karen Post told NBC News. "But it's the same formula: She had lots of relationships, she had a good share of scandals and controversy, she was beautiful to look at."
Outside of her colorful love life, Gabor's more infamous acts included punching a Spanish police officer in the 1960s, then slapping a Beverly Hills officer in the 1980s; for the latter incident, she allegedly insisted on washing her face with bottled Evian water during her three-day jail stint.
Photos: The Life of Glamour Queen Zsa Zsa Gabor
Between her willingness to be trailed by the press and her outsize personality, Gabor perfected a recipe for getting the world to go gaga over Zsa Zsa. And others haven't been shy about copying it.
"I believe Ms. Gabor was ahead of her time," Post said. "[Celebrities] decide in their mind who their brand is, and that includes the personality and the persona and the tone of their voice and presence, so to feed into that just makes them a more distinct and more unique brand where they don't blend in with the competing celebrities."
But Gabor took offense to the notion that she was the original Kardashian, or the first Paris Hilton.
On Hilton — whose great-grandfather, Conrad, was among her many husbands — Gabor once said, "She's rather silly."
"She does too much for publicity," Gabor added.
After her death Sunday, her longtime friend and former publicist Edward Lozzi told NBC News that he too scoffed at comparisons of the three Gabor sisters to the three Kardashian sisters.
Related: With Lamar Odom Crisis, a Public Family Pleads For Privacy
"I hate it when there's been comparisons [of] when the Gabors were at their peak — quoted everywhere and in photos with kings and queens and international playboys — and then there's comparisons to the Kardashians," Lozzi told NBC News, adding that it "makes me sick."
In all fairness, there is one key difference between Gabor and those she's compared to, said Thompson, the pop culture expert. Gabor did have a career in addition to being famous for being famous.
"She did have some presence in Hollywood. She was in an Orson Welles film, she was in 'Moulin Rouge.' And she was in a lot of TV shows. So she was always this kind of peripheral celebrity presence," he said.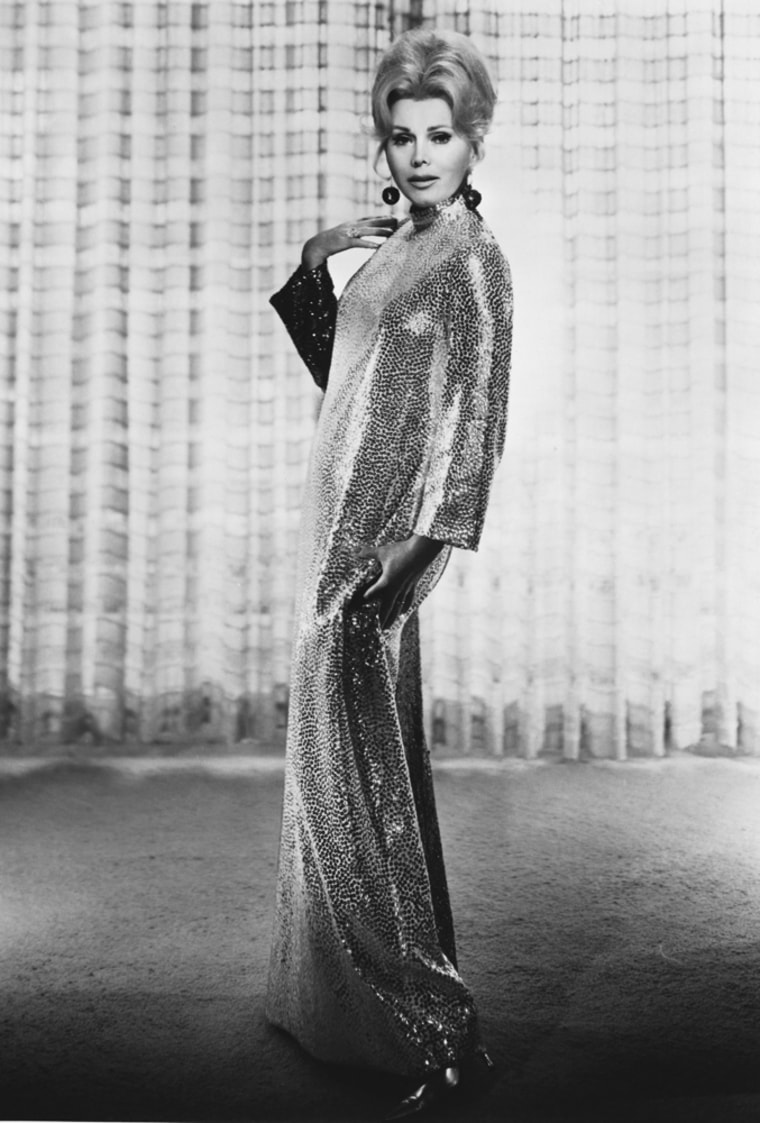 Gabor died at age 99 after a heart attack, following years of health problems, including a stroke and leg amputation that left her confined to a wheelchair. In her final years, she withdrew from the spotlight that she once welcomed.
""She wants people to remember her as she was years ago," Frédéric Prinz von Anhalt, husband number 9, told TODAY in 2011.