Actress Annabella Sciorra sat across from Harvey Weinstein, a once-powerful movie producer, on Thursday as she recounted to a jury in vivid detail how during one winter about 27 years ago, he stopped by her New York apartment uninvited and forced himself on her.
Her voice quivered on the witness stand as she described that night: After going out to dinner with Weinstein and others, he dropped her home at her Manhattan apartment. Later, after getting dressed in a cotton white nightgown, she heard a knock on the door. It was Weinstein. He pushed the door open, she said, and the rest unfolded quickly.
"I was wearing that nightgown and he, as I was trying to get him off of me ... I was punching him, I was kicking him, and he took my hands and put them over my head," Sciorra told a New York State Supreme Court jury in Manhattan, where Weinstein's trial opened Wednesday.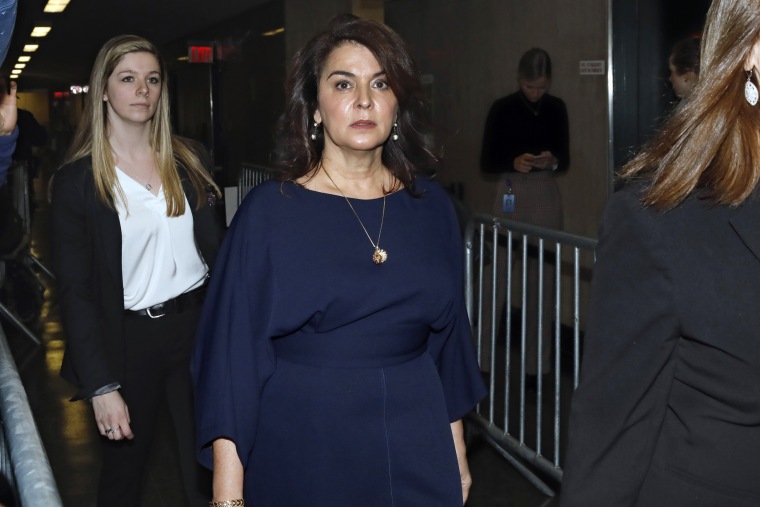 Sciorra then held her hands over her head, faced the jury of seven men and five women, and clasped her wrists. As the sexual assault continued, she said, Weinstein grabbed her in the chest and took her to a bedroom, where she "couldn't fight anymore because he had my hands locked."
"He got on top of me," she said, "and he raped me."
"It was just so disgusting that my body started to shake in a way that was very unusual," Sciorra added. "I didn't really even know what was happening. It was like a seizure."
Sciorra's dramatic and emotional account of the night Weinstein allegedly raped her is meant to bolster the case against the Oscar-winning Hollywood mogul, who is accused of raping a woman in a Manhattan hotel room in 2013 and performing a forcible sex act on another woman in 2006.
Sciorra, who earned an Emmy nomination for her role in "The Sopranos," is one of six women who are being allowed to testify in connection with those cases, although Weinstein, 67, is not standing trial for the alleged incident that the actress described Thursday.
He also faces a sex crime case in Los Angeles, where he is charged with raping one woman and sexually assaulting another in separate incidents on two consecutive days in 2013.
In all, more than 80 women have accused Weinstein of sexual misconduct, ranging from rape to sexual assault and harassment, going back decades. The allegations became part of a wider societal reckoning known as the #MeToo movement, which has upended the careers of dozens of powerful and wealthy men.
Weinstein pleaded not guilty ahead of his long-awaited criminal trial in New York, and has denied all allegations of nonconsensual sex.
At the time of the alleged rape involving Sciorra, she was a 33-year-old actress who had made a name for herself with her roles in "Jungle Fever" and "The Hand That Rocks the Cradle." She had first met Weinstein in the early 1990s at a party in Los Angeles, she said.
She testified that she was too petrified to go to the police after the assault, which she said happened in either late 1993 or early 1994, and began cutting herself and consuming alcohol to cope. "I wanted to pretend it never happened," Sciorra said.
She also said that at the time, she "didn't understand that was rape."
Prior to the alleged assault, she had come to know Weinstein when he cast her in Miramax projects he was producing, but said she never considered having a romantic relationship with him. He gave her gifts to help her relax, she said, including a box of chocolates in the shape of penises.
"I thought it was disgusting and inappropriate," she responded to prosecutor Joan Illuzzi-Orbon during her testimony.
Weeks after the alleged rape, Sciorra said she ran into Weinstein at a restaurant.
"I confronted him about what happened in my apartment," she said.
"I told him how I woke up, and he said, 'That's what all the good Catholic girls say,' and he leaned in and said 'This remains between you and I,'" she added.
The harassment continued, she testified, when in 1997, while promoting her movie "Cop Land" at the Cannes Film Festival in France, Weinstein appeared at her hotel room door in his underwear, holding a bottle of baby oil in one hand and a videotape in the other.
"I got scared and backed into the room and pushed all the service buttons," she said, prompting Weinstein to leave.
Sciorra remained silent about what she allegedly endured until 2017, as other women came forward publicly to claim that Weinstein sexually assaulted them and threatened to destroy their careers if they spoke out.
During cross-examination, defense attorney Donna Rotunno attemped to poke holes in Sciorra's testimony, pointing out her inability to remember when the alleged rape took place or whom she had been out to dinner with that night.
Rotunno also suggested that Sciorra, as a professional actress, knows how to play a part and make herself believable to audiences.
Weinstein's legal team has said it has "dozens and dozens and dozens" of "loving" emails written by witnesses who accuse him of sexual misconduct, and it intends to make that a central part of his defense.
The defense did not disclose who wrote the "loving" emails.
The emails, defense attorney Damon Cheronis has said, "undercut" prosecutors' arguments that Weinstein was a serial sexual predator.