SAN DIEGO — Weaving through throngs of TwitchCon attendees last weekend, Clara Sorrenti appeared to be on edge. Trailed by a security staffer provided by the livestreaming convention, Sorrenti glanced over her shoulder and scanned the crowd every few steps. 
For months, Sorrenti, a Canadian trans woman and streamer known as Keffals, has been the target of a vicious harassment campaign amid a meteoric rise in online fame this year. The three-day event held at the San Diego Convention Center marked one of her first public appearances as a Twitch creator.
She had just tweeted a selfie announcing that she would be at the convention's main floor, and invited fans to say hello. After spending two months "effectively in hiding," Sorrenti said it was time to return to living her life. 
"I am being escorted by security please do not worry. things are chill," she wrote in another tweet, responding to followers who were concerned about her safety. 
The harassment campaign against Sorrenti, 28, culminated in August, when police in London, Ontario, arrested her, repeatedly misgendered her and detained her for hours over a false threat. The incident prompted the streamer to spend the next few weeks on the move, living out of "three different bags" and bouncing from hotel to hotel in Canada to evade her harassers. She eventually fled to stay with her friend and channel moderator Ellen Murray in Northern Ireland. Murray, a creator known as EllenFromNowOn, was also in San Diego for the convention.
In Northern Ireland, Sorrenti spearheaded the campaign to take down the online forum Kiwi Farms, which has long organized attacks against her and other trans creators by doxxing them, or maliciously leaking personal information. Under pressure from Sorrenti and her supporters, the internet security vendor Cloudflare blocked Kiwi Farms on Sept. 3, citing "imminent threats to human life that were posted to the site."
Revealing her whereabouts remains a massive risk, and she still takes extreme precautions to maintain her safety — when she and Murray discussed dinner plans Saturday, they wouldn't say the restaurant's name out loud out of concern that an eavesdropping attendee would leak it online. But Sorrenti said that attending TwitchCon to meet the community that had supported her was worth it, and the additional security detail provided by Twitch bolstered her confidence. 
"They're just posting male face swap photos of me and saying like, 'This is your true face,'" Sorrenti said while scrolling through her Twitter replies, which were overrun with transphobic comments. "It's just crazy. I deal with this every day." 
Sorrenti built a following for her political commentary streams before taking down Kiwi Farms. Over the past few months she has become an even greater inspiration to many online, especially within the smaller community of trans streamers and viewers. But she's still adapting to being in the public eye, while fending off the ongoing hate from countless anonymous accounts that populate her mentions more quickly than she can block them. 
When Murray arrived at the convention center with a backpack full of equipment for a mobile livestream, Sorrenti visibly brightened. Interacting with her fans through her stream's chat assuaged her anxiety, she said. Once they were live, the two meandered through the convention center booths, taking Sorrenti's viewers along for the ride.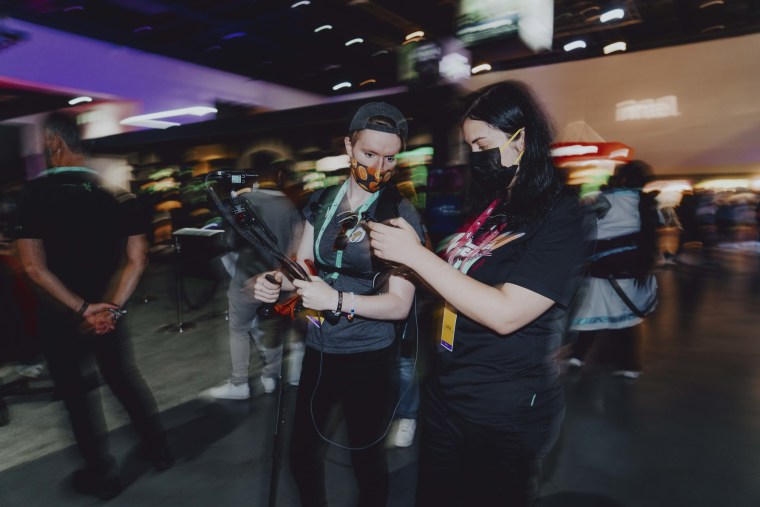 "It's hard to register it in my brain, that there are hundreds of people who are fans who really appreciate what I'm doing," Sorrenti said after taking a selfie with another TwitchCon attendee. "Because the hate is the loudest thing. It's what I see every day. So actually seeing people who appreciate me, it makes me feel really good. It reminds me why I'm doing this in the first place."
A career switch, from politics to Twitch
Sorrenti credits her knack for engaging her followers to her short-lived career as a politician. Galvanized by the 2016 election of President Donald Trump, Sorrenti became an organizer for Canada's Young Communist League, running for provincial office in 2018 and for a federal position in 2019 as a member of the Communist Party. She lost both elections, and ended up cutting ties with the Communist Party in 2020 after disagreeing with its stances on international issues. 
"I'm grateful for the experiences I had," she said. "I feel like getting to go knock on hundreds of doors and talk to people I wouldn't ordinarily talk to helped me be more able to easily reach across the aisle when I need to." 
Burned out by politics after falling out with the Communist Party of Canada, she avoided discussing current events online for nearly a year. Sorrenti began streaming on Twitch in 2021, "mostly just playing video games and watching funny videos on YouTube." She said that she averaged 20 or fewer viewers each stream. 
The onslaught of legislation targeting trans rights across the United States pulled Sorrenti back into the political space; she started discussing the issues on her channel in February. With each stream analyzing anti-LGBTQ measures, hundreds of new viewers listened. 
Streamers of marginalized identities — especially trans streamers — continue to be targets of swatting and doxxing, despite Twitch's policy updates addressing off-platform behavior. Sorrenti weathered the bigoted comments, but said the harassment against her became noticeably more violent after a public feud with Steven Bonnell, a streamer known as Destiny, who had harassed other trans people.
That "set off" his followers, Sorrenti said.
"I ended up getting posted to his Kiwi Farms thread, which led to Kiwi Farms figuring out who I was," Sorrenti continued. "I haven't forgotten the night that the threads started, because I knew they would start going through all my stuff looking for everything that they could. I stayed up literally all night locking accounts and deleting things. It wasn't that I had anything to hide, but that I wanted to restrict their access to information about me." 
In an email statement on Wednesday, Bonnell said that online, he has "fought with all sorts of people, not just trans people."
"I do political content online so of course it brings me into disagreement with tons of people," he said.
"The idea that I'm responsible for her [Sorrenti's] thread being posted on KF [Kiwi Farms] is unbelievable to me."
He said he's been harassed by Kiwi Farms for years, and described them as transphobic. "Many of their attacks against her [Sorrenti] are transphobic," he said.
"But there are plenty of trans people, and trans activists, on Twitch and YouTube who don't catch their attention. The only reason Sorrenti is noticed so much is because of her insanely aggressive behavior online."
"When I first started actually doing these kinds of streams, they were like, 'Woah, Keffals has legs.'"
clara Sorrenti, known as keffals
Sorrenti said shortly after Kiwi Farms users turned their attention to her, her brother asked the London Police Service to place their family on a no-swat list. As her audience grew, the threats against Sorrenti and anyone close to her escalated.
Streaming, Sorrenti said, has provided her with a sense of normalcy throughout the past few months. Between packing up and moving to new locations, she continued to go live — though not as often as she used to before the swatting.
"When I first started actually doing these kinds of streams, they were like, 'Woah, Keffals has legs.' Like they're not used to seeing me go out and about," Sorrenti laughed. "I think it's important — even if it doesn't do the best in terms of engagement, just being able to make streamers seem more human."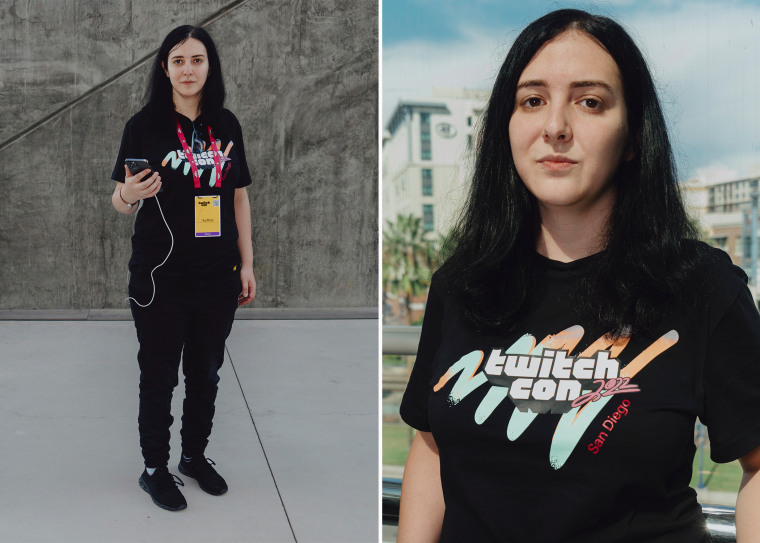 Trans streamers say Sorrenti's activism matters
As Sorrenti and Murray explored the convention center, they met up with other streamers who had supported Sorrenti throughout the Kiwi Farms campaign. 
Gwen "Schmoople" Montgomery, a streamer who describes her platform as an "LGBTQ+ safe space," befriended Sorrenti through Twitch and met her for the first time in person during the convention. She made an appearance on Sorrenti's stream when they ran into each other at the convention's marketplace, known as Artist Alley. 
"It was really tough," Montgomery said of seeing what Sorrenti had gone through over the past few months. "I couldn't imagine a stronger person to go through it ... And I'm so proud of her for being able to do that." 
Murray likens Sorrenti's campaign against Kiwi Farms to her past experience working in international human rights law. Sorrenti's team spent weeks collecting evidence, archiving "everything as soon as it was posted" and documenting the threats "in a way that a court would accept it." 
"It was interesting seeing the front of my apartment building on 4chan," Murray added. 
Other victories followed Cloudflare dropping Kiwi Farms. The internet archive site Wayback Machine removed Kiwi Farms from its records, and Google delisted it from search results. The security service hCaptcha also dropped the site. After Cloudflare stopped servicing it, Kiwi Farms moved to Russian servers, where it was quickly shuttered again when web-hosting provider DDos-Guard also terminated services. 
"There's a chilling effect on these kinds of sites ... If they ever get too cocky, people will start speaking up about them," Sorrenti said. "And we know now that service providers do not want to host these kinds of sites. It's terrible publicity for them to keep up."  
I don't feel like I'm that big of a streamer ... but then in the sphere of trans streamers, I'm one of the biggest ones."
-clara sorrenti, known as keffals
Kiwi Farms has struggled to maintain relevance since, and on Sept. 18 sputtered to a halt again, when the site was hacked. In a message on the site, Kiwi Farms founder Joshua Moon told users to assume that their passwords, emails and any IP used on their Kiwi Farm accounts had been leaked. Moon said that his own admin account was compromised in the breach. 
Though Sorrenti's viewership is a fraction of other major streamers, the Kiwi Farms harassment and her propensity for confronting conservatives online has boosted her as one of the most well-known trans creators on Twitch. 
"I don't feel like I'm that big of a streamer — I look at people like Hasan [Piker], or any of the bigger politics streamers. Like, I'm tiny," Sorrenti said. "But then in the sphere of trans streamers, I'm one of the biggest ones, which is both cool but also, in a way, kind of sad because the bar is very low."
Sorrenti's platform may be smaller than any mainstream Twitch partner's, but her impact is felt within the realm of trans creators. 
Early into her stream at TwitchCon, Sorrenti stopped by the Trans Lifeline booth, where the organization's charity stream coordinator Amanda Stevens told viewers about micro grant programs to provide trans feminine people with gender-affirming care. 
"It's really huge," Stevens said of Sorrenti's appearance at the booth. "I take the opinion that any streamer of any size is really important. Especially right now, where Keffals has a lot of eyes on her. It's so important to be able to collaborate with other trans streamers of that size."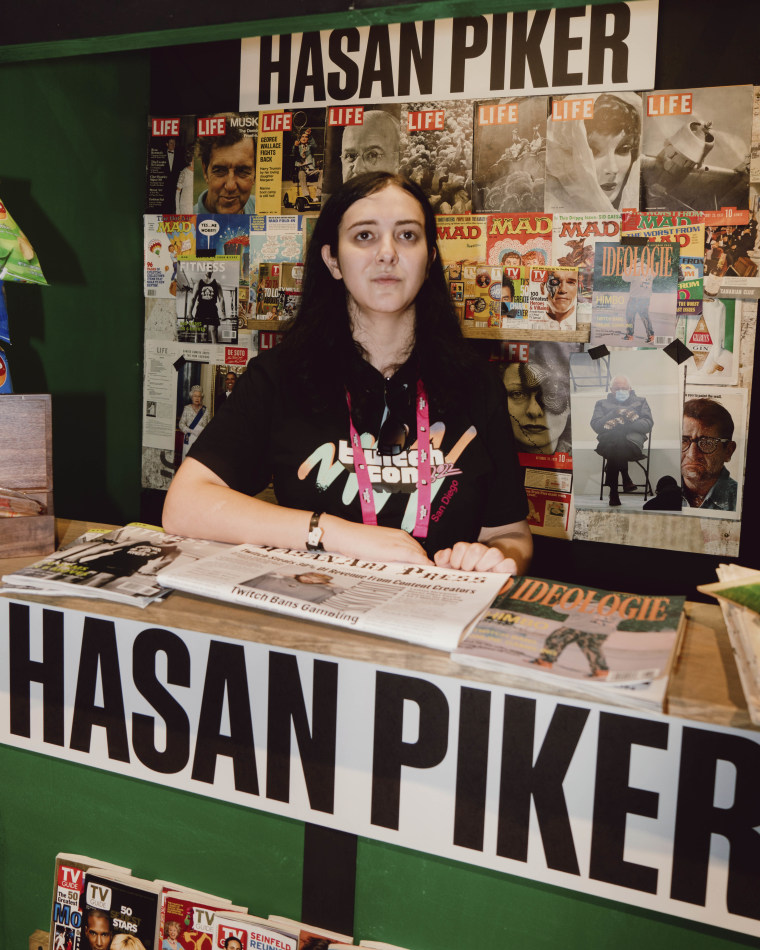 Annie Roberts, a Twitch ambassador, noted the increase of the trans streamers on the platform in recent years. Five years ago, she said, trans creators were harassed off the platform entirely. Though many trans creators still face disproportionate harassment now, the trans community has blossomed online.
"When I first started streaming three years ago, trans representation was kind of dry," Roberts said after taking a photo with Sorrenti. "And that's kind of the reason I got into streaming a little bit. So it's really cool that you can be a mainstream streamer and still be trans and it's like, not a big deal." 
Navigating life after blowing up online
The weeks following the August swatting incident have been a "whirlwind," Sorrenti said.
In the midst of the harassment, Sorrenti and her then-fiancé ended their relationship. Their separation was "unrelated" to the doxxing and swatting attempts, but Sorrenti said the threats against the couple severely affected her ex's mental health.
"It was actually really relieving for me, because anyone who is closely associated with me has to do the same sort of things I do," Sorrenti said of the breakup. "And it's not fair. It's really painful, that just being associated with me means you have to take all these precautions, and you can't just live like a normal person."
The immense scrutiny she was under was isolating, Sorrenti said, and the fact that so few could relate to her only compounded the loneliness. She became even closer to the creators who moderate her channel and make up her executive staff, because they too were doxxed by Kiwi Farms users for working with her.
When her campaign to take down Kiwi Farms started gaining traction, Sorrenti came under fire for her social media posts, which some Twitter users criticized as ableist and microaggressive.
She was widely criticized for making a crass joke earlier this year, which some users said was offensive toward autistic people. The tweet was taken out of context, Sorrenti said, and fueled accusations of predatory behavior and being a "groomer." The term implies that a person is a pedophile, and has been used in homophobic rhetoric in conservative spaces to associate LGBTQ people with being a danger to children.
Aaron Barnett, a streamer known as Enny who also works on Sorrenti's executive team, described the criticism as disproportionate to Sorrenti's actual viewership.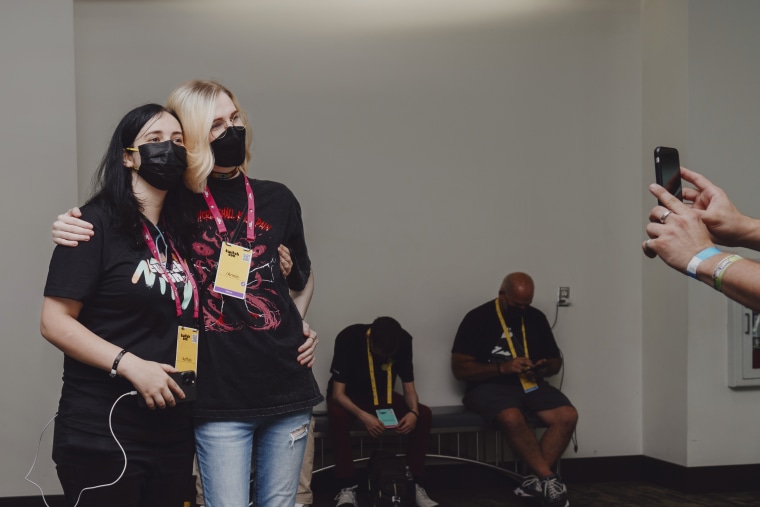 "Her rise has been in the last four months or so," they said. "So to see the level of attention put on her be comparable to somebody who averages 30,000 viewers and is a mainstay in Twitch popular culture, the proportion just doesn't add up."
Sorrenti's afternoon stream at the convention center ended with about 600 viewers, for example. 
Sorrenti added she understands why Kiwi Farms users and "people on the far right" try to paint her as a "pedophile to encourage dehumanization," she said, but is especially frustrated that some LGBTQ circles are conflating her careless tweets with abusive behavior. She said she has difficulty differentiating between constructive feedback and bad faith harassment.
She received backlash for centering herself in a recent tweet about Elijah McClain, a 23-year-old Black man who died in 2019 after he was forcibly restrained and injected with ketamine during a confrontation with police officers. Hearing from other activists and political organizers, rather than faceless trolls, made her reconsider her approach.
"I made a tweet trying to share my sympathies, especially coming out of the swatting incident and knowing how terrifying it is, being on the receiving end of the police when they're actually allowed to show force," Sorrenti said. "I think I realized ... I didn't need to do that to show that I cared. I realized I have to word things carefully." 
Nearly all of her content in the last eight weeks, from the videos she posted on YouTube to her Twitch streams to her tweets, revolved around her crusade to take down Kiwi Farms. She's "planning on taking a break," since "being a lightning rod for online bigots is incredibly exhausting." Sorrenti has had to significantly scale back on the frequency and length of her streams in recent months between moving and working on the Kiwi Farms campaign, so resuming the relationship she had with her viewers is a priority.
As soon as the convention wraps, Sorrenti said she plans to return to her new apartment in Canada, where police in Ontario have since drafted a new policy to ensure that officers will be "sensitive to human rights, privacy issues and use stated gender identification preference of the individual being searched."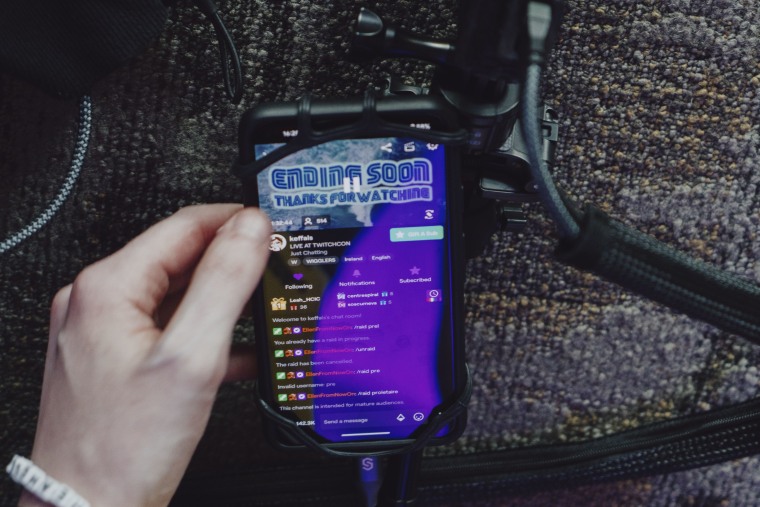 Though she wants to take a long enough break to settle into her new home after months abroad, Sorrenti plans to stream as much as possible ahead of the upcoming U.S. midterm elections. 
She's still deciding on the kind of content she wants to create for her channel. In recent weeks, she used the platform "in a similar way" as a political organizer, educating viewers and sharing resources for the Kiwi Farms campaign. 
During a more lighthearted livestream, Sorrenti addressed the allegations of ableism and, at the urging of her Twitch chat, took an online questionnaire typically used as a screening tool for undiagnosed autism. (She "scored pretty high.")
"I feel like I'm at this weird crossroad, because as a streamer I'm also an entertainer. I'm trying to entertain an audience," Sorrenti added. "But I'm also an activist, and I feel like I'm juggling between having a platform that people follow because I'm serious, and trying to make people laugh."
Sorrenti doubts that she'll ever run for office again, but is sure that she's "always going to be involved in politics one way or another." 
In the meantime, she's figuring out how to relax after months of keeping her guard up. Sorrenti works "almost all day" between streaming, managing her team and organizing the Kiwi Farms campaign. She said she's learning how to disconnect from the internet. 
While in Northern Ireland, she started taking walks without her phone, a luxury she wants to continue indulging in when she returns to Canada. 
"Honestly I'm thinking of getting a bike and going on some cycling trips when I get back," Sorrenti mused. "That sounds really nice."