Ramen is quickly becoming one of America's favorite comfort foods, and probably even one of yours. But before you give yourself a healthy pat on the back for trading in your economy-sized box of instant ramen noodles for the real deal, consider this: Those steaming, delicious bowls of fresh noodles, soft boiled eggs and exotic veggies at your local ramen joint may look healthyish, but the sodium, fat and calorie content lurking beneath the surface is anything but.
Bonnie Taub-Dix, RD, nutritionist and BETTER contributor warns us not to be "fooled by the seemingly healthy broth because some varieties contain 10 to 15 grams of fat, which is equivalent to the calories in two to three pats of butter." And the nutritional hits don't stop there: A single restaurant serving of ramen can contain half of your recommended sodium limit for the day — yikes!
Hack Your Ramen
So, what's a ramen lover to do? The answer's simple: Make it at home. You control the salt, protein and vegetable content, but keep that signature umami taste we all know and love. "Since the restaurant versions don't come with food labels, it makes sense to go the do-it-yourself route with a base of low-sodium chicken broth, lots of veggies, whole wheat or vegetable noodles and then make it a meal by adding chicken, fish, seafood, egg or lean meat," says Taub-Dix. Here, are five of our favorite blogger recipes to inspire you, plus easy tips on how to make each bowl of ramen even better: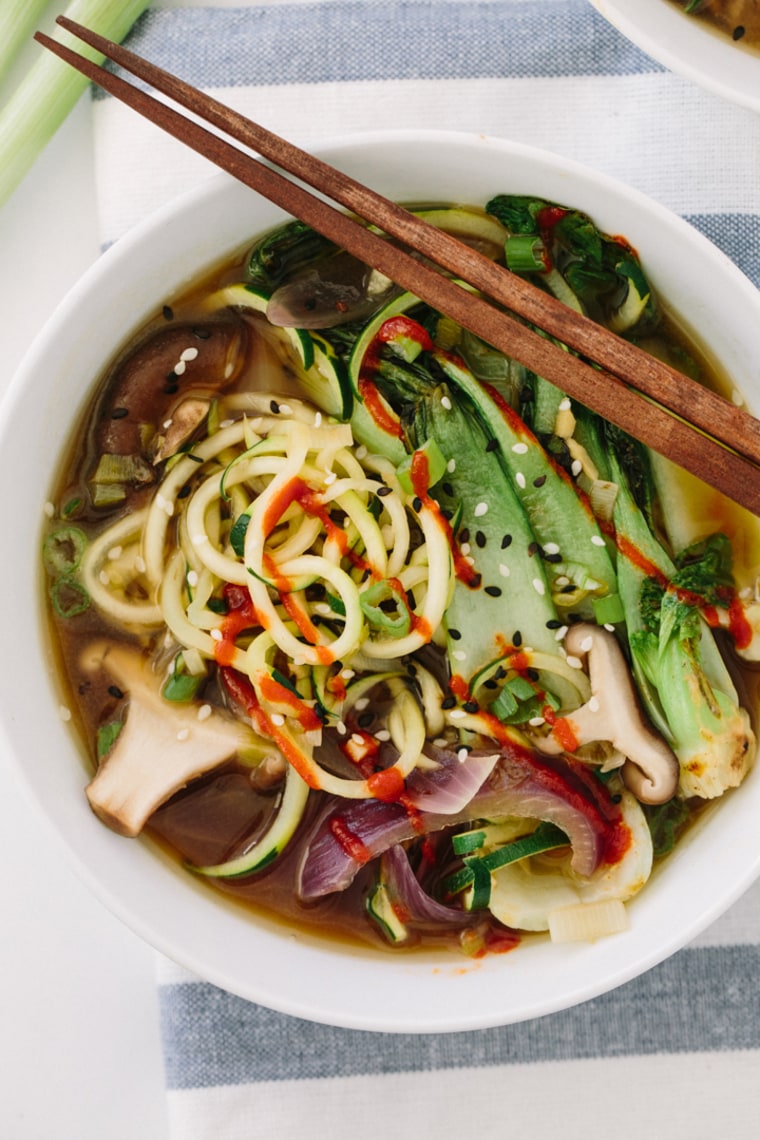 Calling all low-carb, Paleo and plant-based fans! If you're eschewing wheat or meat, this is perfect soup to sip on a cold, blustery day. Swapping out ramen noodles for zucchini ribbons, or zoodles, is a great way to up your veggie intake and slash calories in one easy-to-eat meal. To keep sodium levels in check, replace the miso paste with a low-sodium broth vegetable broth and limit the soy sauce to one teaspoon.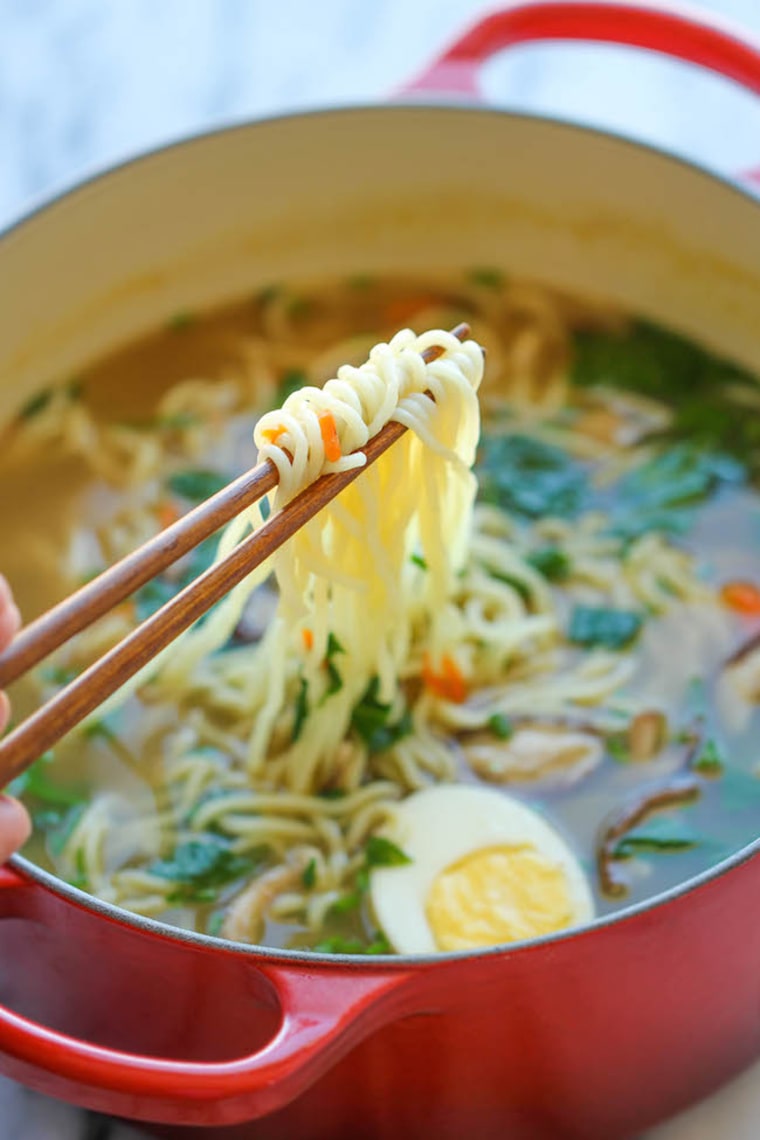 This 30-minute meal from Damned Delicious can be on the table faster than you can order delivery from your favorite Japanese place. The trick here is to use refrigerated ramen noodles, but ditch the powdered seasoning packet that comes with it for a low-sodium chicken stock instead. Then you simply layer on healthy veggies like spinach, carrots, chives and mushrooms (or whatever you have lurking at the bottom of the fridge). To reduce calories, ladle on lots of broth and vegetables and stick to 1/2 cup of ramen noodles per serving.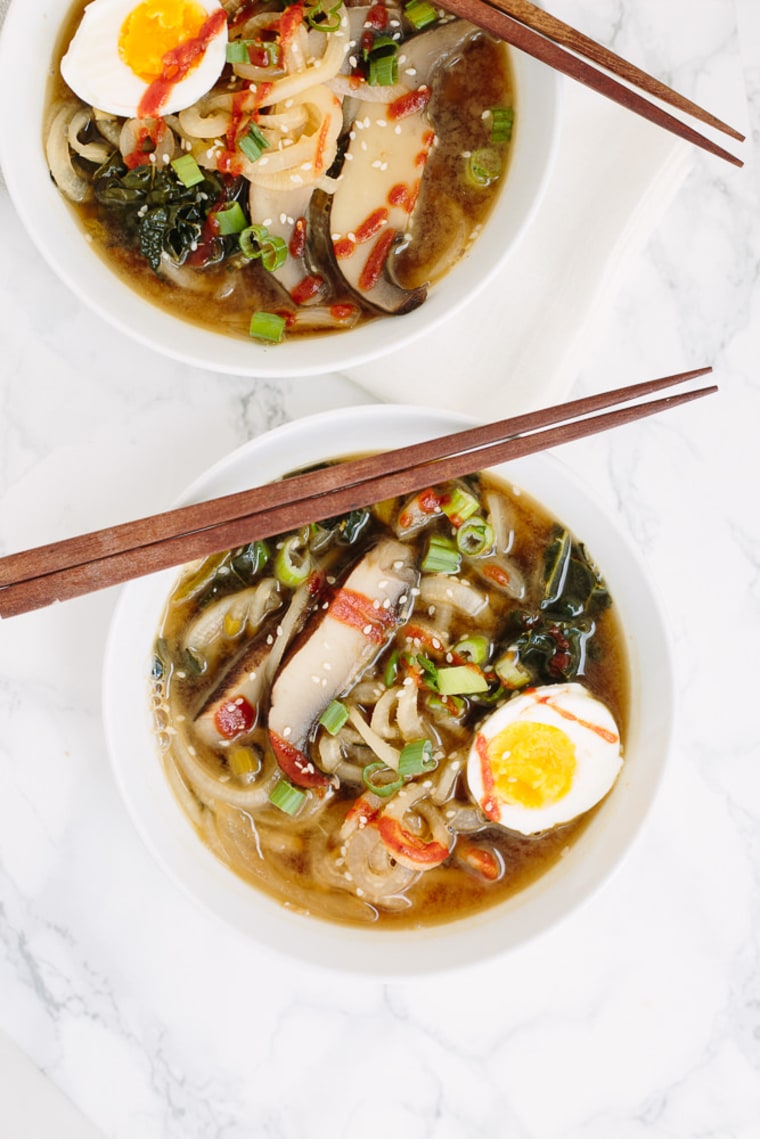 This soup from Inspiralized takes daikon, a firm, slightly bitter Asian radish, from a ramen add-on to a hearty noodle substitute. What makes this recipe simple is that it uses the mushrooms and veggies in the soup to make the stock, saving you both time and money. As the broth develops, use a small amount of soy sauce to give it just enough flavor without overdoing it on the sodium. A squeeze of Sriracha at the very end gives it a spicy kick so you'll never miss the extra salt!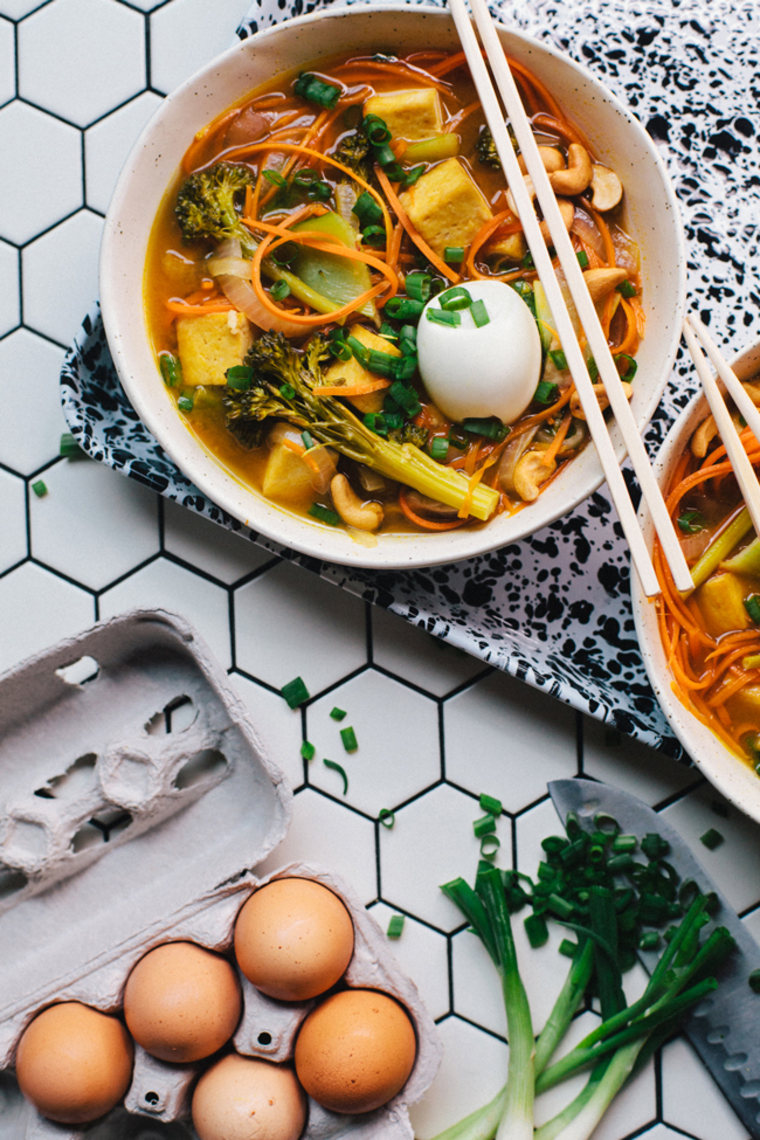 Carrot-Noodle Vegetarian Ramen
Let's call this an everything-but-the-kitchen sink soup. It gets its brightness and pep from miso and apple cider vinegar and its nutritional power from everything from carrots to broccolini to cashews. Add a perfectly soft boiled egg to the top and you've an Instagram-worthy meal that'll wow your friends and family.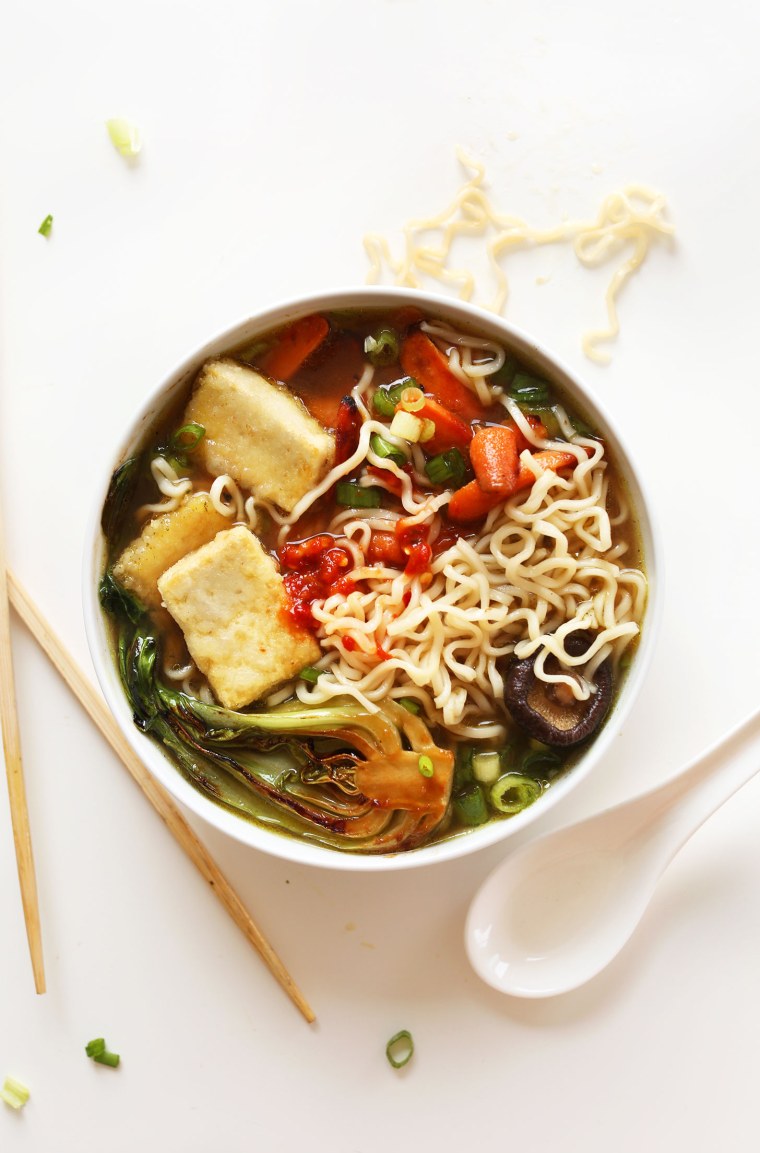 The Minimalist Baker knows how to celebrate Meatless Monday in style with this ten-ingredient vegan soup that's bursting with ginger, garlic and soy, along with hearty veggies like carrots and bok choy. To make this a nutritional star, go easy on the soy and miso paste (that sodium again!) and swap out the flash-fried tofu (bye, bye added fat) for firm tofu cubes instead. You won't miss a thing.
WANT TO EAT BETTER? TRY THESE SIMPLE SWAPS:
Want more tips like these? NBC News BETTER is obsessed with finding easier, healthier and smarter ways to live. Sign up for our newsletter and follow us on Facebook, Twitter and Instagram.