A sunflower garden, a caviar pool and a psychedelic laundromat are among the many Instagram-ready experiences that have taken over vacant studio spaces and abandoned buildings across the country, luring in the hashtagged obsessed.
These interactive pop-up exhibits in New York, Los Angeles, Chicago and other major cities charge people $18 to $45 to capture their experiences in immersive "Instagram playgrounds," many of which lead to thousands of posts on the social media platform.
"It's meant to feel like a dreamscape, a little oasis away from the chaos of the city," said Michelle Price, on-site brand manager of The Egg House, a pop-up exhibit that started in New York and is currently in Shanghai, attracting over 16,330 Instagram followers.
The Egg House revolves around an egg named Ellis who, Price said, was brought to New York to attract people and take them on a journey through "his Big Apple dreams."
While the installations' visual appeal helps the exhibits attract visitors, abstract narratives like Ellis' engage visitors.
"Every installation is meant to be interactive," Price said. "Usually when you go to an art exhibit they're more passive, you have that sense of separation."
But with these exhibits, "there's no rope," she said. "There's no velvet rope, separating you."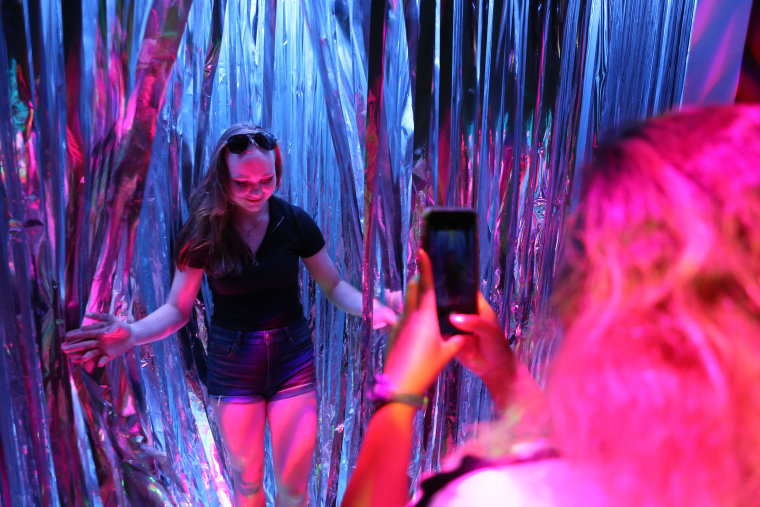 The Happy-Go-Lucky exhibit in New York, which closed last month, featured dreamlike installations, such as The Diamond Room, one of many viral photo spots at the pop-up.
After moving to New York from Taiwan, Cynthia Huang, the Happy-Go-Lucky's marketing director, said she lost herself in the fast-paced city.
"You just forget who you are," Huang said. "Every New Yorker, deserves a place where they just have fun and enjoy."
Caroline Lampinen, 31, a Happy-Go-Lucky visitor, said: "It's great if you know what you're getting into and want to take Instagram photos. If you don't know that, then it's just a bunch of backdrops."
For some, a quality photo moment is exactly what they're looking for.
"Our attendees are just loving Instagram," Huang said. "They go on and see what pose is the best. They will try to capture the best angles to take their photos."
Visitors see the pop-ups as a place to boost their social media game, but for some artists, it's about more than a filtered photo.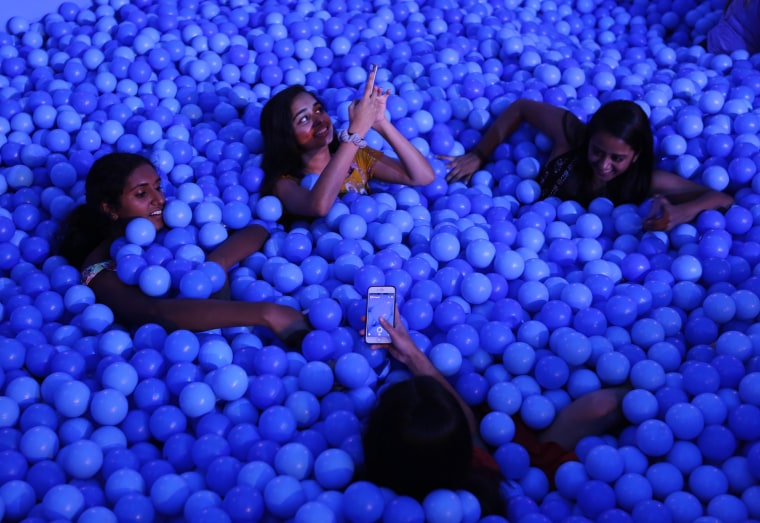 Jackie Sorkin, co-founder of Candytopia, hopes her Candyland-esque installation in Los Angeles, with more than 80,000 followers, will be more than "just another instagrammable pop-up."
"Life now has become people going to places to stand in front of it and take a picture. They don't even go inside and experience it — they just leave," Sorkin said. "I think that is a statement of the world we live in today."
Pop-up exhibits like The Egg House use specific lighting techniques and color schemes to ensure their largely millennial visitors look their best.
"Millennials' favorite colors are pink and yellow," said Chloe Vheo, a representative for the exhibit. "It really grabs the attention of social media and really stands out when people have such short attention spans."
Price said: "I think it goes without saying. We know millennials are the people who will make it instagrammable — they're the driving force behind that."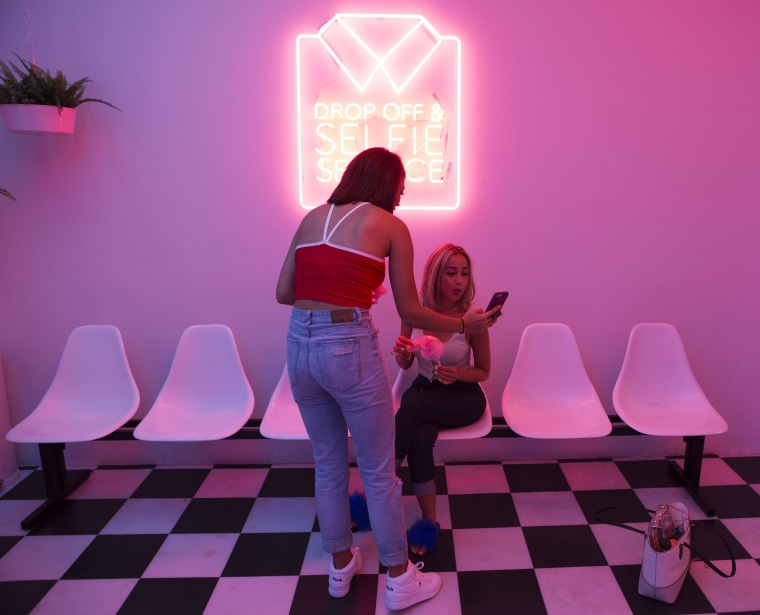 Paige Solomon, CEO of the Brooklyn-based exhibit Dream Machine, views social media as an effective marketing tool.
"If they share it, then more people see it. Then they want to come and capture their own moments," Solomon said. "There are so many businesses right now that couldn't have survived 15, 20 years ago without social."
Dream Machine, which closes Sept. 9, has nearly 51,185 followers and 130,000 tagged photos on Instagram under #dreammachine.
Solomon, who has a background in pop-up experiences for brands like Uber, Netflix and Sony, wanted to create something that would attract an audience already deep in their phones.
"You can huff and buff all you want and say, 'I can't believe how self-obsessed people are', but if you're not designing things in 2018 with the hope that it is shared on social," Solomon said, "then I feel like you're doing a disservice to yourself as a creative, an artist, a business owner."