Miss Teen USA is making a modern swap to its storied pageant.
Instead of a swimsuit part, contestants will now be judged in an athletic wear competition, the Miss Universe organization announced Wednesday.
"Pageant organizers have long said swimsuit portions were intended to show off the athleticism of the competitors. But Miss Teen USA's transition to athletic wear reads as less exploitative and more focused on the importance of physical fitness for its younger participants, mirroring the rise of athleisure with the demographic that Miss Teen USA is aimed towards and populated by," the organization said in a statement.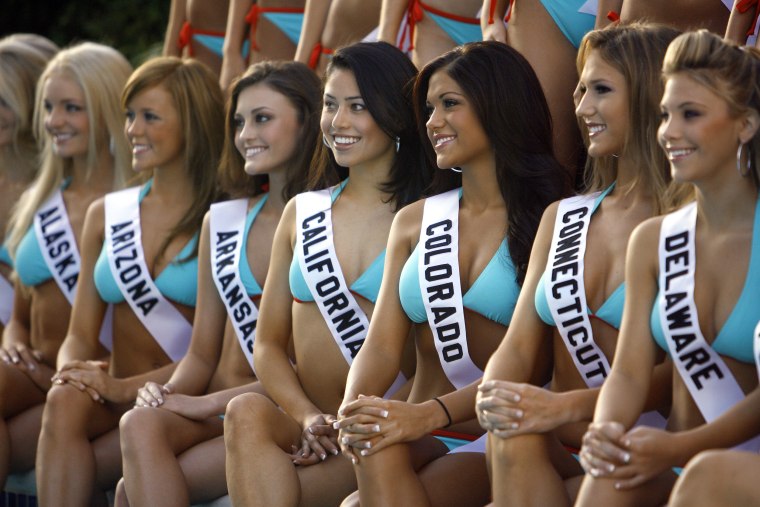 Reigning Miss Teen USA Katherine Haik praised the move.
"I have been an athlete my entire life. As a member of a softball team and a competitive dance team, I spend a lot of time in athletic wear," she said, according to the Miss Universe statement. "This new direction for Miss Teen USA is a great way to celebrate the active lives that so many young women lead and set a strong example for our peers."
The competition, which features contestants from the 50 states plus Washington, D.C., has trended away from its traditional roots in many respects recently, as have the other pageants. This year's Miss America contest will feature Erin O'Flaherty, Miss Missouri, who will be that pageant's first openly gay contestant.
The swimsuit competition has long been a point of scorn for women's rights activists and others who feel it's unnecessary for competitors who are ages 15 to 19.
Julianne Hough, the host and creative producer for this year's Miss USA events, said the pageant could possibly ditch bikinis eventually, as well.
In an interview with USA TODAY, which first reported the change to Miss Teen USA, Hough said, "In the next few years we may grow from that, but let's see where this year goes."
According to Marie Claire, "athleisure" entered the fashion lexicon a few years ago. It has since become a hot fashion trend, with celebrities such as Beyoncé creating their own activewear lines.
The Miss Teen USA pageant will take place July 30 in Las Vegas.