The third day of Paul Manafort's federal trial for bank and tax fraud charges brought with it evidence of the defendant's lavish expenses and fashion taste, which menswear editors and writers find "ludicrous."
"I think the kind of stuff he's been buying and the tailors he's been going to are for men who have everything but style and taste," Jay Fielden, editor-in-chief of Esquire told NBC News on Thursday.
During the closely watched trial, which is being prosecuted by special counsel Robert Meuller as part of his investigation into Russian interference in the 2016 presidential election, prosecutors highlighted the former Trump campaign chairman's spending habits, including hundreds of thousands of dollars on suits and home renovations — via wire transfers from foreign bank accounts.
Fielden says Manafort's fashion choices remind him of the notorious villains in the "James Bond" franchise.
"This clothing says 'I'm not just rich, but I'm really rich,' and the president dresses very similar," Fielden said. "This is a message to other men who share the same thing, saying 'I am one of you.'"
Manafort's $15,000 ostrich jacket made the biggest splash. Style feature writer for GQ, Cam Wolf, said it's not as crazy a price point as the other clothing items mentioned during the first days of the trial. A similar jacket at high-end men's fashion house, Bottega Veneta, was going for a cool $27,000.
Wolf said the spending choices are, nonetheless, bizarre and not worth the price. "They are terrible, uniformly bad and over the top ostentatious," Wolf said.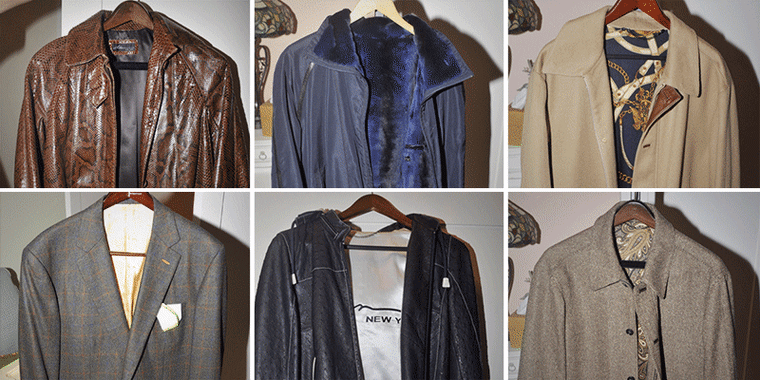 Manafort spent $1.3 million on clothes, including nearly a million dollars on custom suits between 2010 and 2014 alone, Politico reported. The two most popular brands included Alan Couture, a luxury menswear store in New York and the House of Bijan, a high-end fashion house headquartered in Beverly Hills.
In the menswear world, suits made to order are called "bespoke," and Fielden said that the suit and fashion brands that dressed Manafort aren't the high quality makers in Milan and Paris.
"In the bespoke world there are tailors that you go to when you don't really know any better and they often get taken advantage of that ignorance," Fielden said. "They play on the psychology of a guy who wants to look so rich that he'll pay almost anything. Its excess, not elegance."
According to Wolf, some of the most expensive brands make off the rack suits that run up to around $7,000
"These prices are dictated by what a designer wants to set them, if the market bears it you can charge it," said Jacob Gallagher, men's fashion editor for The Wall Street Journal. "If Paul Manafort is willing to pay this price, then that is how much he is going to get charged."
Wolf said that this type of spending is really about bragging rights. "The House of Bijan calls themselves the most expensive store in the world," he said. "It comes with the territory of trying to convey this wealthy image of working in Washington and running in a circle with Donald Trump."
CORRECTION (Aug. 2, 2018, 11:44 a.m.): An earlier version of this article misstated the kinds of suits that usually cost nearly $7,000. That's the price for the most expensive off-the-rack suits, not the most expensive custom-made suits.