From the pristine beaches of Thailand to the remote reaches of Iceland, tourism booms inspired by hit movies, popular television shows and chart-topping music videos are threatening to destroy the environment.
Thailand's Maya Beach, a gleaming shoreline featured in a Leonardo DiCaprio thriller, 2000's "The Beach," is closed until 2021 after travelers spoiled its coral reefs and white sand.
Iceland's Fjadrárgljúfur canyon, a vulnerable landscape where Justin Bieber shot the music video for "I'll Show You," is sealed off after swarms of visitors descended on it.
Scotland's mountainous Isle of Skye, the setting for Harry Styles' "Sign of the Times" video and parts of the fifth "Transformers" movie, faces infrastructural issues amid an influx of sightseers, including severe wear-and-tear on roads and paths.
"I think travelers are becoming increasingly aware of this issue, and I think this will get worse until destinations take action and set limits," said Samantha Bray, the managing director of the Center for Responsible Travel (CREST), a Washington-based nonprofit that advocates for sustainable tourism.
But the wave of global tourism — enabled in part by cheaper airfare, easy online bookings, and enticing Instagram Stories — doesn't appear to be slowing. International tourist arrivals were up 7 percent as of 2017, surpassing experts' projections, according to the United Nations' World Tourism Organization.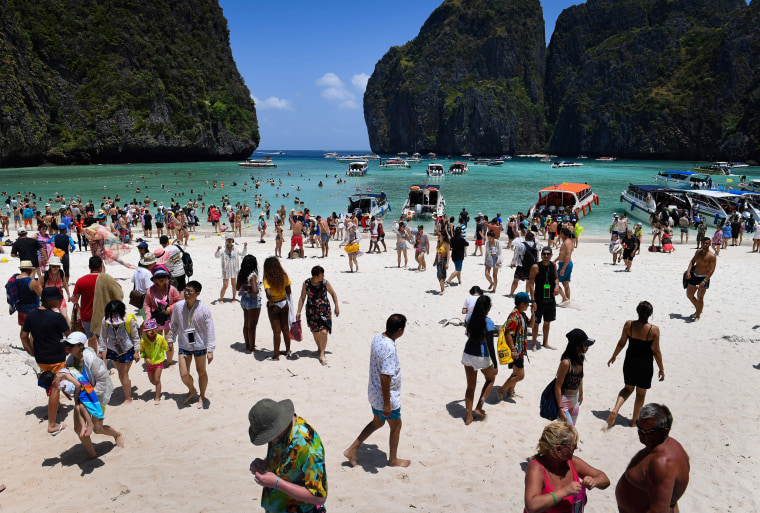 "It has been lovely and everything is very beautiful, but there are so many tourists and there is not the infrastructure to deal with that," Scottish tourist Claire Anderson told the BBC about the Isle of Skye in August 2017. "Unless they manage it in some way, I fear that the prettiness is going to get damaged by all of us trudging through."
Bray said that several travel destinations — including many of the Northern Ireland areas used as backdrops on "Game of Thrones" — rely on tourism revenue to boost the local economy. But even with that economic stimulus, Bray asked, "how much is too much of a good thing?"
As for what public officials can do about the deluge, Bray pointed to the example of Dubrovnik, a coastal resort town along the Adriatic in southern Croatia that doubles as the fictional city of King's Landing on "Thrones."
Dubrovnik's mayor, Mato Franković, successfully pushed for restrictions on cruise ship travel into the city's Old Town, a UNESCO World Heritage Site that boasts stunning views of Gothic, Renaissance and Baroque churches. Dubrovnik's "Respect the City" plan caps Old Town tourism at 4,000 people at any given moment.
Franković, for his part, apparently doesn't put all of the blame squarely on the HBO phenomenon: "Some are coming because of 'Game of Thrones,' of course, but mainly they're coming because of the beauty that this city has. It is a really ancient city with a rich history," he told CNN in October 2018.
No matter the inspiration, some concerned citizens are taking matters into their own hands.
In the spring of 2017, Belfast-based activist Jonathan Hobbs and his family visited Dark Hedges, a picturesque avenue of beech trees an hour away from their home. He was alarmed by what he saw — traffic-choked roads, an endless procession of cars, armies of tourists who threatened to damage the trees' roots.
The reason for the flood of visitors? "Game of Thrones" had cast Dark Hedges as the Kingsroad, the pathway that winds across the fictional land of Westeros.
"It would be a shame if the thing that made the destination popular was also the thing that killed it off," Hobbs, 40, said in a phone interview.
Hobbs tweeted his dismay around the time of his family visit:
The mounting criticism of the tourist crunch ultimately helped lead to a ban on vehicle traffic in the tunnel of trees that passed near the end of 2017 and apparently will soon take full effect.
"By letting tourism run wild, these trees won't be here for future generations," Hobbs said. "That's a real shame."