In a close battle between favorites for the best picture Oscar, it's the World War I epic "1917" that has stormed to front-runner status this award season. But another consensus contender, the South Korean genre-twisting drama "Parasite," seems to have been steadily leaching votes over the past few weeks.
There will be suspense as the final envelope is opened on Sunday, but both films deserve the most important honor in the film industry — for different reasons.
Inspired by the war stories director Sam Mendes' grandfather told him as a child, "1917" follows two British soldiers as they make their way across enemy lines to prevent an ambush of their fellow troops. "Follows" is the operative word as cinematographer Roger Deakins' camera marches with the protagonists in lockstep through every explosion — as if it were filmed in just one single shot. That it was actually done in a series of seven- or eight-minute takes over 65 days is no less a cinematic feat.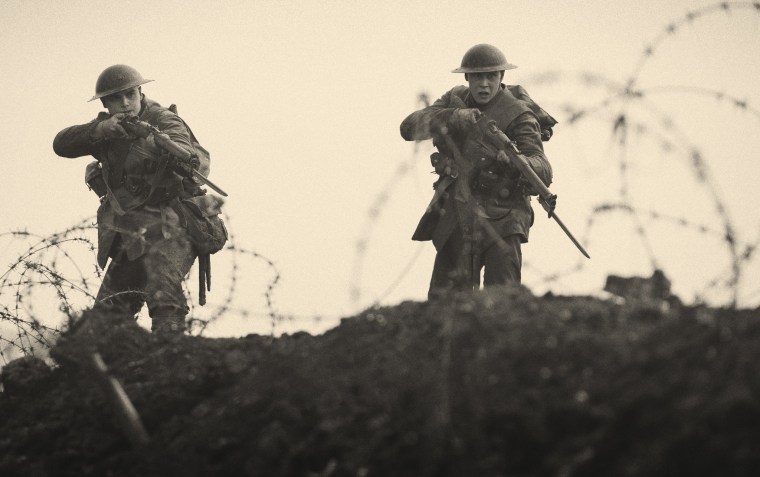 "It's an incredible technical achievement," said Shekhar Kapur, himself a veteran director of several big period films including "Elizabeth." "You can't completely design the shot, so much has to do with the cinematographer and the camera operator having an eye and understanding (in the moment)."
It took an army to film that war movie, said Kapur. An assistant director would have to keep track of the legion of extras as they charged in and out of scenes. The camera operator would have to adjust on the fly if an actor fell or accidentally changed the choreography. And stars George Mackay and Dean-Charles Chapman may not have gotten acting nominations, but they fought honorably in the trenches.
"The camera is on the actors second by second and they have to keep going," said Kapur, who did not work on the film but is a big fan. "It's not like standing and emoting. It's much harder to be moving and emoting. They have to keep their concentration for so long.
"In that sense, this collaboration between the (cinematographer), the camera operator, the production designer and the actors, that's what so amazing about this technical achievement."
Fresh off wins from the Producers Guild of America, Directors Guild of America, and the British Academy of Film and Television Arts, "1917" has the momentum.
The Academy of Motion Picture Arts and Sciences "has been hungry for an epic to win, because that's what the Oscars have always represented," said Sasha Stone, founder and editor of Awards Daily. "It also made a lot of money. That's impressive."
"Parasite," about a poor family of grifters who worm their way into the lives of a rich but naive household, a roller-coaster ride that veers from comedy to drama to horror, also has impressed Hollywood. On Sunday it could become the first foreign-language film to win best picture in the 92-year history of the Oscars.
"It's a timely movie with a political message about class, but it's also a crowd-pleaser," said Joyce Eng, senior editor at Gold Derby, an awards season news site. "It's universal in a way that 'Roma' last year was not."
With a surprise best ensemble win at the Screen Actors Guild, "Parasite" has clearly won over many in the largest voting bloc in the Academy. (Actors account for 1,324 out of the 8,469 Oscar voters.)
Eng said the preferential ballot system that the academy uses in Oscar voting could help, by pulling the most second- or third-place votes from voters who pick another film for best picture.
"Right from the moment it premiered at Cannes, there was no doubt that it was a special movie," said Ira Deutchman, an independent producer and professor at Columbia Film School. "By the time the film showed in Toronto, the word of mouth was already incredible."
Kapur watched "Parasite" twice, once with American pals and once with friends from India, and noticed the same reactions from the audience both times. "The last foreign film that I saw have this kind of universal resonance was 'Slumdog Millionaire,'" the 2009 best-picture winner, he said.
As for the rest of the pack?
"Once Upon a Time ... in Hollywood" seemed to have all the pieces in place for a fairy tale ending: a chance for academy voters to honor director Quentin Tarantino before he retires; a star-studded cast that earned their own Oscar nominations in Leonardo DiCaprio and Brad Pitt; and a glorification of the Hollywood mystique. Perhaps because it was released earlier in 2019 than other best picture nominees, however, the clock seems to have struck 12.
Another early favorite going into awards season, director Martin Scorsese's mob biopic "The Irishman," faded a lot quicker than its three-and-a-half hour running time, coming up empty at the major guild awards. A high wattage cast that includes Robert De Niro, Al Pacino and Joe Pesci isn't overcoming the stigma of its Netflix pedigree — the Oscars being a celebration of the theatrical film business.
"Sometimes it's not that there's something wrong with the film. It's just as simple as there's something else that people like more," Deutchman said.
It's an honor for "Marriage Story," "Ford v Ferrari," "Jojo Rabbit," "Joker," and "Little Women" just to be nominated, as far as prognosticators are concerned.
If last year's win for "Green Book" taught insiders anything, however, it's that anything can happen. And this year's historically short award season has made it even harder for experts to predict.
Stone suggested that Oscar viewers watch for reactions from the crowd inside the Dolby Theatre during the early awards for clues. She points out that two years ago, there were signs that "Moonlight" would later be the surprise best picture winner over the favored "La La Land" because of the lukewarm applause for the latter's early wins.
This year, there is a similar potential for "1917" and "Parasite."
"It's one of the things where you have no way of knowing until you walk into the theater and sense the vibe in the room," said Stone.