It's become a running joke: Academy Award voters aren't impressed when veterans of "Saturday Night Live" make the jump to the big screen.
In the 44-year history of the NBC sketch comedy series, with its long lineage of cast members that have gone on to movie stardom, none of them have gone on to win an Oscar. The streak will stay alive for at least another year as two "SNL" veterans considered contenders for nominations this year were shut out on Monday.
Prognosticators had predicted that Adam Sandler (on "SNL" from 1990-95) had the best shot in years to reverse that streak with his turn as a sports-gambling-addicted jeweler in "Uncut Gems"; Eddie Murphy (1980-84) was also seen as having a serious shot at a nomination for "Dolemite Is My Name."
Part of the problem, Hollywood observers say, is that comic actors tend to be under appreciated when turning to drama — even in serious turns like "Uncut Gems."
"The Oscars so rarely reward comedy performances, regardless of career trajectory of the actors," said movie historian Leonard Maltin, "I've given up second-guessing the motives of Academy members."
Sandler, in particular, is often associated with past goofy comedies such as "The Wedding Singer" and "Happy Gilmore," which sold plenty of tickets but turned off critics. That has made it harder for him to earn respect for dramatic roles such as 2002's "Punch-Drunk Love."
But the Safdie Brothers, the writers and directors of "Uncut Gems," took notice of those performances.
They said there was no one else they wanted to play Howard, the New York jeweler in the midst of a downward spiral, which is why they spent seven years trying to sign Sandler and reportedly eschewed Oscar nominees Harvey Keitel and Jonah Hill for the part.
If there were any doubts, the Safdies knew they found a gem once they watched Sandler in action researching the role with real jewelers in New York's Diamond District.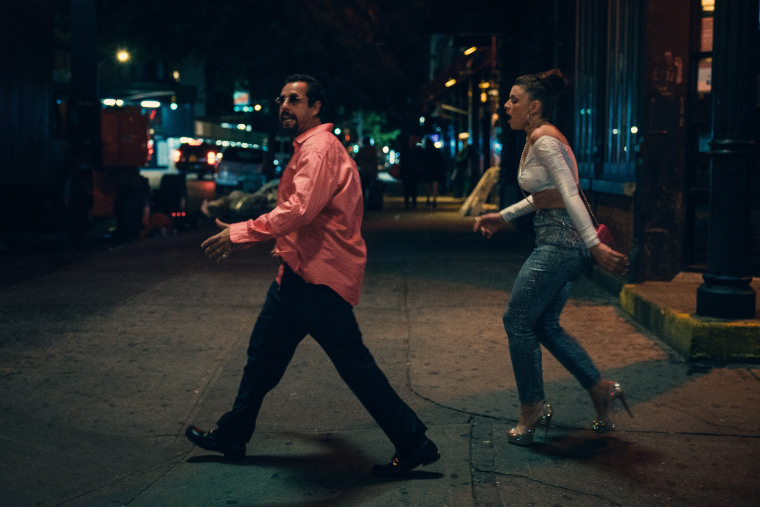 "Adam was observing how they talk, how they sell, how they look at things, how they hold the loop, how they hold a piece of jewelry," Benny Safdie, who co-wrote and co-directed the movie with his brother, Josh, told NBC News before the nominations were revealed.
"Then Adam would look over at us and nod his head towards us. This is Howard. It was the smallest little tic that he recognized needed to be part of the character. He was just so aware and the work ethic was so amazing, we knew it was going to work even before we started shooting."
Josh Safdie says that comedians make great dramatic actors because "they have an incredible sense of timing that's a given, but they also have an incredible sense of awareness of their surroundings."
Tell that to the Academy of Motion Pictures Arts and Sciences, who have showed less awareness. Performers from "Saturday Night Live" have been slighted by those voters over the years — aside from original music director Howard Shore's three Oscars for scoring "The Lord of the Rings" movies.
Prognosticators had predicted that Bill Murray, a mainstay on "SNL" from 1977 to 1980, would break the dubious streak at the 2004 Academy Awards after being nominated for best actor for "Lost in Translation." Sean Penn took the Oscar home instead for "Mystic River."
Joan Cusack (1985-86) was nominated for best supporting actress twice, for "Working Girl" in 1988 and for "In & Out" in 1997; Dan Ackroyd (1975-79) picked up a best supporting actor nomination in 1989 for "Driving Miss Daisy"; Robert Downey Jr. (1985-86) notched a best actor nod for "Chaplin" in 1992 and for best supporting actor in "Tropic Thunder" sixteen years later.
"SNL" stars have been nominated — but ultimately haven't won — for other categories as well. Kristen Wiig (2005-12) was nominated for best original screenplay for 2011's "Bridesmaids," while Michael McKean (1995-96) received a best original song nomination for the tune, "A Kiss at the End of the Rainbow," from 2003's "A Mighty Wind." Former "SNL" writer Adam McKay did win an Oscar for best adapted screenplay for "The Big Short" in 2016.
Then there's Murphy, once a favorite to win best supporting actor in 2006 for "Dream Girls," before losing in an upset to Alan Arkin for "Little Miss Sunshine." Many conspiracy theorists wondered if the vote was revenge for Murphy's on-stage diatribe over the representation of African Americans in Hollywood while presenting the best actor award during the 1988 ceremony.
The real problem for Sandler and Murphy may have been an especially competitive year for actors.
"It already is musical chairs for best actor, and some deserving people are going to fall out of the voting," said movie critic Thelma Adams. "This is the monster category of all the categories."
It's hard to find fault with the Academy's choices: Antonio Banderas ("Pain and Glory"), Leonardo DiCaprio ("Once Upon a Time ... in Hollywood"), Adam Driver ("Marriage Story"), Joaquin Phoenix ("The Joker") and Jonathan Pryce ("The Two Popes").
Still, many critics believe Sandler belonged in that company with his manic, nuanced performance in "Uncut Gems."
"If he won an Oscar, it would feel like we live in a just world," Benny Safdie said of Sandler. "His movies have made a lot of money at the box office because he connects with people."
Just not with Academy voters, apparently.