Forty-nine years after the mysterious car crash in Chappaquiddick, Massachusetts, that left a woman drowned in a pond and nearly sank the political career of Sen. Ted Kennedy, Hollywood is plumbing the murky depths of the scandal for the first time.
It remains to be seen whether "Chappaquiddick," which opened Friday, will attract an audience beyond the people who long ago condemned the late Massachusetts senator for his actions in the hours before and after the death of 28-year-old Mary Jo Kopechne.
"For me, the truth has no political party, and this movie shows that was true in 1969 and that's true today," said Taylor Allen, who co-wrote the screenplay with Andrew Logan. "It's important to evaluate how the people ended up on the pedestals in our two-party system."
Director John Curran, an avowed liberal, worried that the subject could alienate a large segment of the movie-going population when he first read the script. The 2016 presidential primaries were taking place at the time, and Curran said the partisan bickering made him think it was necessary for him as a lifelong Ted Kennedy supporter to confront his hero's biggest failing.
"I realized I can't have this blind spot for Teddy Kennedy," said Curran. "I appreciate his greater legacy but this is part of it." He added: "It's very hypocritical to cast aspersions only across the aisle."
Just making a movie about what happened then, however, is argueably a right-leaning political statement.
"By the nature of the events, I don't see any way [Kennedy] could be portrayed in a sympathetic light," said Kennedy historian Laurence Leamer.
Film critic Christian Toto writes about pop culture from a conservative point of view."When I first heard about the movie ... as a person of the right, I wondered, 'How will Hollywood spin the story?' Because it seems on the surface one that's so devastating to Kennedy," he said.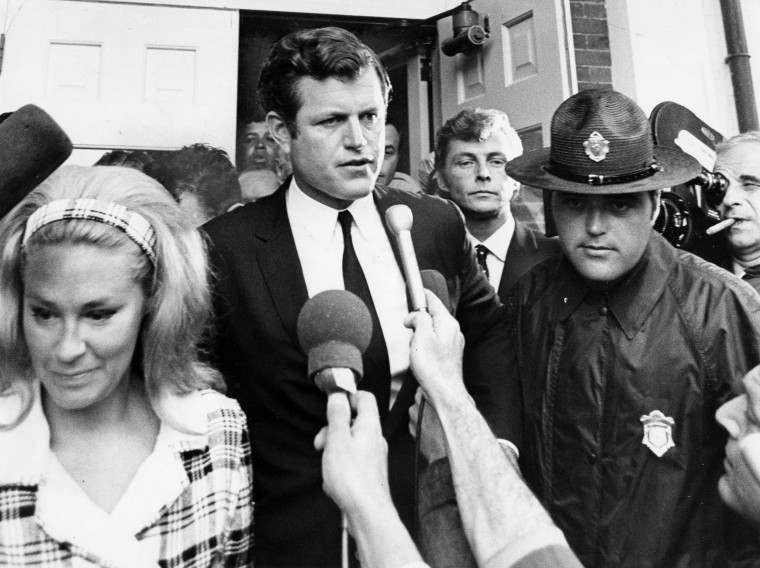 "With a project like 'Chappaquiddick,' if it's sugarcoated in any way, you're going to alienate a lot of people," Toto said. "But any movie named, 'Chappaquiddick,' is also not going to be catnip to any fans of the Kennedys."
Some facts, though, transcend partisan interpretation: On July 18, 1969, Sen. Ted Kennedy and his cousin, Joe Gargan (played by Ed Helms in the film), hosted a party in a rented cottage on Chappaquiddick Island for six women who had worked on his slain brother Robert's presidential campaign.
At some point after 11 p.m., the 37-year-old Kennedy took Kopechne (played by Kate Mara) on a drive, ostensibly to catch the last ferry back to Martha's Vineyard. Instead, the heir to the Kennedy political dynasty took a wrong turn and drove his black Oldsmobile off a wooden bridge in the dark.
He emerged from the water. She didn't.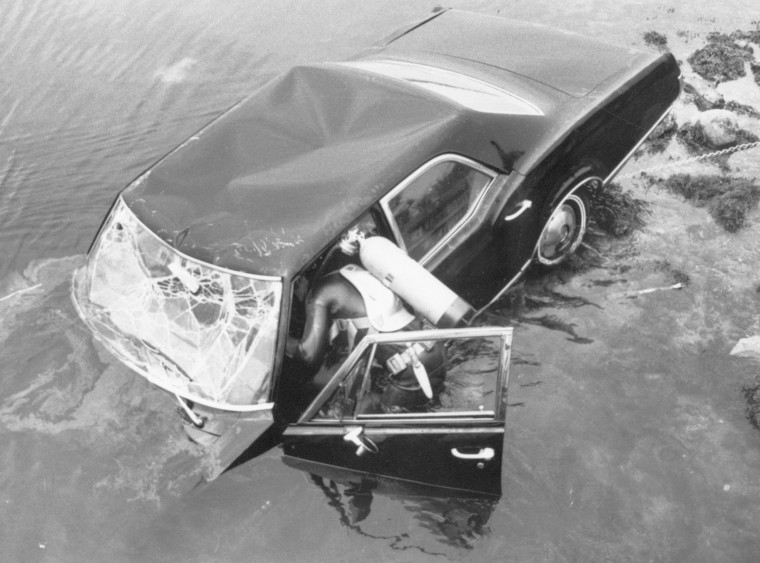 It took 10 hours for Kennedy to report the accident, by which time Kopechne's body had already been discovered by local police. The scion of the political family had an inconsistent account of his actions during that time, including why he swam back to the mainland and returned to spend the night in his hotel.
Kennedy made a plea deal less than a week later and received a two-month suspended sentence for leaving the scene of an accident.
Logan and Allen assembled their account from the testimony at an inquest six months later, as well as Kennedy's memoirs and a book of letters from Kopechne. Their biggest takeaway from the research is that history has been most unkind to the victim.
"Her name has been dragged through the mud for almost 50 years. People thought she was a floozy, that she was only a 'boiler room girl,' but they haven't given her credit for being the smart political operator she was," said Allen.
The ensuing scandal didn't sink Kennedy, who went on to serve 40 more years in the Senate, until his death in 2009. Partly that's because the media frenzy was eclipsed by the Apollo 11 mission to the moon, which dominated major newspaper headlines that week.
But Kennedy was also aided by a team of Democratic advisers, who successfully spun the crash as the latest tragic chapter for a family that lost eldest son Joseph Jr. in World War II, and middle sons John and Robert to assassins' bullets.
The youngest Kennedy brother, however, did not emerge from that pond unscathed.
"If not for [the crash that killed Kopechne], he probably would have gone on to be president of the United States," said Leamer, author of the books "The Kennedy Men" and "The Kennedy Women."
"And if Ted Kennedy had become president we might be living in a different country right now. Chappaquiddick, however, remained the first paragraph of anything written about him afterwards. He knew that shadow was always upon him."
And all these years later, the story of a prodigal son struggling under the impossible expectation of three dead older brothers and a domineering father makes for a Shakespearean-like drama.
Growing up in Dallas, where John F. Kennedy was assassinated, the screenwriters were well versed in the political family's mystique, but Logan, 35, and Allen, 34, were born after the Chappaquiddick had faded into history. They only knew Ted Kennedy as the elder statesman of the Senate. It wasn't until they were watching a 2008 episode of "Real Time with Bill Maher" and the host referred to the surviving Kennedy brother's decision to endorse Barack Obama over Hillary Clinton for the Democratic presidential nomination.
"He said, 'Ted Kennedy may have changed the course of the presidency for a second time' and that he would have been president in 1972 if not for Chappaquiddick," Allen said. "[After learning more about it] we said, 'Oh my God, this should be a movie.'"