LOS ANGELES — China's theatrical box office overtook North America to become the biggest in the world in the first quarter of this year.
Gross theatrical revenues in China amounted to 20.2 billion yuan, also known as the renminbi (RMB), in the three months to the end of March, according to data assembled by Variety from official and industry sources.
Using a conservative exchange rate of RMB 6.30 to the U.S. dollar, that equates to $3.17 billion. In comparison, North American theaters (comprising those in the U.S. and Canada) enjoyed aggregate revenues of $2.89 billion in the same period, according to data tracking and consultancy service ComScore.
It has frequently been predicted that the film business in China would overtake North America's. But forecasters got their timing wrong when more than a decade of unbroken Chinese growth stalled between mid-2016 and mid-2017.
The Chinese data for January to March point to a 39% bounce compared to the first quarter of 2017. However, that surge is unlikely to be sustained through the whole year. Chinese government sources have pointed to a 15% to 20% growth rate as more likely for 2018.
China's box office in 2017 was RMB 55.9 billion, which was reported as $8.6 billion using end 2017 exchange rates. The recent weakening of the dollar against the Chinese currency makes the Chinese figures bigger still.
Patriotic war action film "Operation Red Sea" was the top-scoring film in China in March, with close to $175 million (RMB 1.1 billion) earned in the month. Released at Chinese New Year in February, "Operation Red Sea" has a cumulative total in China of $574 million, according to Chinese data service Ent Group.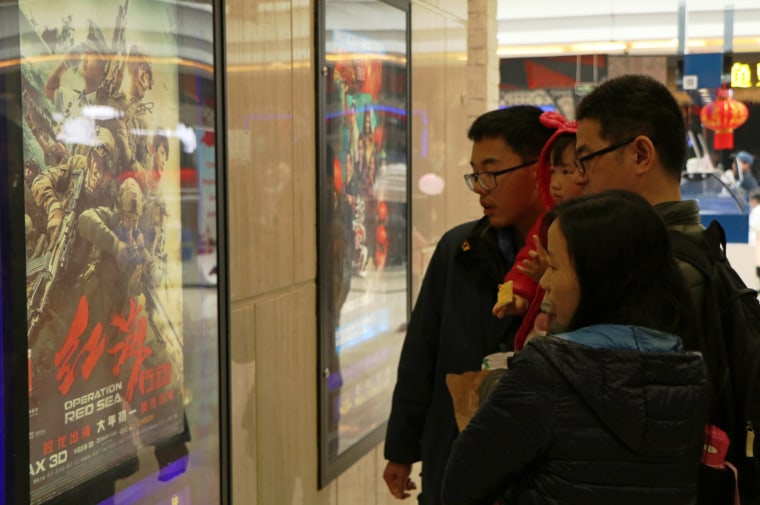 Disney's "Black Panther" was second in March in China with $105 million (RMB 659 million). It was followed by "Pacific Rim: Uprising," a Hollywood sci-fi fantasy produced by China's Dalian Wanda group.
ComScore showed that North American box office this year dropped by 3.7%, from $3 billion in the first quarter of 2017. That is despite the huge success of "Black Panther," which recorded $651 million in the quarter, streets ahead of the $380 million of "Beauty and the Beast" in the equivalent period last year.
"The importance of China as a movie market cannot be overstated," said Paul Dergarabedian, senior media analyst at ComScore.