Hollywood icon Debbie Reynolds and her actress daughter Carrie Fisher will be have a joint funeral and be buried at the same cemetery, a family member said Friday.
Reynolds, who shot to stardom after her role in "Singin' in the Rain," and Fisher, known worldwide for her role as Princess Leia in the "Star Wars" franchise," died one day apart this week.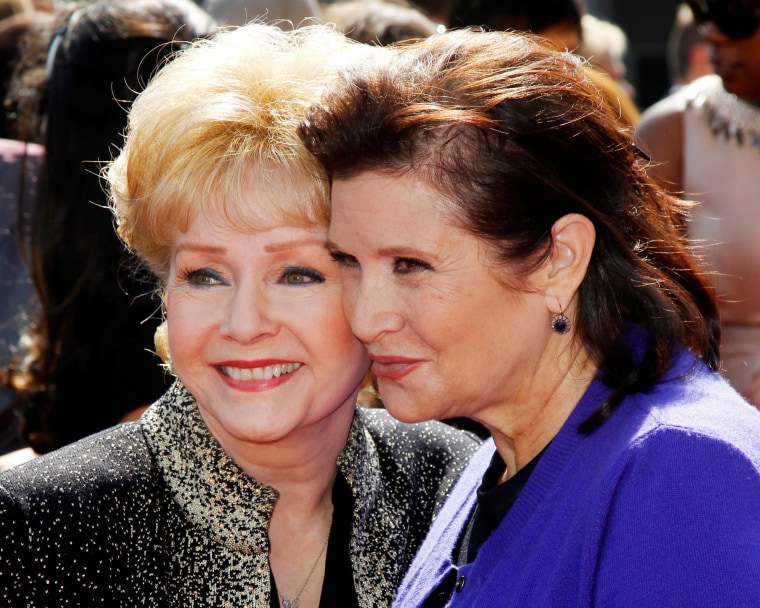 After the joint funeral they will be interred at Forest Lawn-Hollywood Hills, Reynolds' son and Fisher's brother, Todd Fisher, told The Associated Press.
The cemetery is the final resting place of numerous celebrities, including Dick Van Patten, Liberace, Florence Henderson, David Carradine and Bette Davis.
A date for the funeral has not been set but will be private, he said.
Carrie Fisher died Tuesday at the age of 60, days after suffering a heart attack on a flight from London to Los Angeles.
Her mother Reynolds died a day later at the age of 84, after being taken to the hospital earlier in the day.
Todd Fisher in an interview with ABC's "20/20" that his mother didn't die of a broken heart and wasn't inconsolable. "She just left to be with Carrie," he said.
Todd Fisher told the program Reynolds said she didn't get to see her daughter when she came back from London, and then said how much she loved her.
"She then said that she really wanted to be with Carrie, in those precise words, and within 15 minutes from that conversation, she faded out, and within 30 minutes, she technically was gone," he said.
Todd Fisher told ABC that while the family is broken-hearted by their deaths "We also are happy that they're together."