A veteran screenwriter filed a federal lawsuit Tuesday accusing Disney of stealing his idea for the hit animated film "Zootopia."
Gary Goldman alleges that Disney took character designs, themes, lines of dialogue, and even the name "Zootopia" from a project that he first developed in 2000. He alleges that he twice pitched the project to Disney executives, in 2000 and 2009, and was rejected. The lawsuit accuses Disney of a long history of stealing ideas from others, and contends that "Zootopia" is only the most recent example of an embedded corporate practice.
"Although The Walt Disney Company rigorously enforces its copyrights, it has developed a culture that not only accepts the unauthorized copying of others' original material, but encourages it," Goldman alleges. "Instead of lawfully acquiring Goldman's work, Defendants said they were not interested in producing it and sent him on his way. Thereafter, consistent with their culture of unauthorized copying, Defendants copied Goldman's work."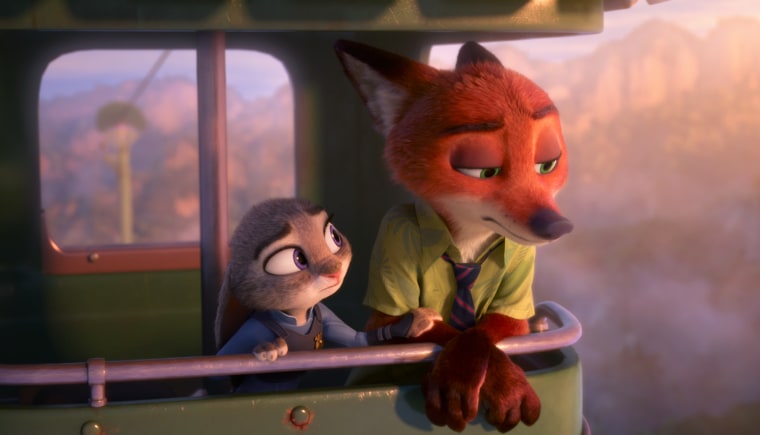 A Disney spokesman flatly rejected the claim.
"Mr. Goldman's lawsuit is riddled with patently false allegations," the spokesman said. "It is an unprincipled attempt to lay claim to a successful film he didn't create, and we will vigorously defend against it in court."
Goldman alleges that he registered a treatment for a live-action film called "Looney" with the Writers Guild of America, West, in August 2000. According to the suit, "Looney" was to be the first installment in a "Zootopia" franchise that would also include an animated "Zootopia." Goldman's concept included a human animator who creates a cartoon animal world meant to reflect a complex human society. According to Goldman, the society included class and power structures based on the characteristics of different species.
Goldman hired an animator to develop characters, which he alleges are strikingly similar to those in Disney's "Zootopia."
Goldman's version features a squirrel named Mimi, who is cute and optimistic, but is not taken seriously and is discriminated against. Goldman alleges the character bears a strong resemblance to Judy, the bunny cop in "Zootopia." Goldman also developed a hyena character named Roscoe, who is a cynical outcast from society, which he alleges is similar to Nick, the fox in "Zootopia."
In Goldman's version, the cartoon world was led by Griz, a dominant grizzly bear which Goldman says is similar to Bogo, the police chief in the Disney "Zootopia." Goldman also claims that Gazelle in the Disney version is based on his own Cha, a cheetah.
"Both are Latin female characters, in the bodies of African animals, who are ostensibly attractive and function as performers and sex symbols. Males fall for them even though they are unattainable," Goldman alleges.
The lawsuit alleges that both projects advance similar themes, including achieving one's dreams and overcoming stereotypes.
Goldman also claims that "Zootopia" replicates the plot of his own project almost beat for beat.
"The heroes work to achieve a career dream that their parents specifically discourage. They go to academies where they excel, achieve recognition for their work, and earn the opportunity to go to the big city for their dream jobs.
"In the big city, the heroes come up against strong, powerful, and entrenched bosses who want to maintain control over the heroes. The heroes are obsessed with their work and go to extreme lengths in pursuit of success, even taking principled stances in defiance of their bosses. The heroes have partners who help them achieve success. But success goes to the heroes' heads and they publicly offend others and alienate their partners, exhibiting their own prejudices. This triggers a job crisis, resulting in the heroes losing their dream jobs and hard-won statuses."
In both projects, the hero returns home and encounters their former bullies, which teaches an important lesson.
"The heroes eventually overcome their own prejudices, reconcile with their partners, and finish their unfinished projects. In doing so, they regain their lost statuses and illustrate that one can evolve and become what he or she wants to be," the suit states.
The lawsuit alleges that Disney went so far as to borrow dialogue from Goldman's project. In Goldman's treatment, a character says, "If you want to be an elephant, you can be an elephant." In Disney's version, Judy says: "You wanna be an elephant when you grow up? You be an elephant. Because this is Zootopia. Anyone can be anything."
Goldman, the screenwriter of "Total Recall" and an executive producer of "Minority Report," says he first pitched the project to David Hoberman in 2000. Hoberman had been Disney's president of motion pictures and was then the CEO of Mandeville Films, which had a first-look deal with Disney. Though Hoberman responded favorably in the meeting, Goldman states that Mandeville ultimately passed on the project.
In 2007, Goldman says he was hired to write a screenplay for "Blaze," a Marvel project. For that film, he says he worked with Brigham Taylor, who was Disney's executive vice president of production and development. According to the suit, Goldman pitched Taylor on the "Zootopia" project in 2009. Goldman says that Taylor said he would show the materials to Disney's animation department, but later passed on acquiring the rights to the project.
In interviews, "Zootopia" director Byron Howard has said that the germ of the film was planted in 2010, when he and Nathan Greno -- his "Tangled" co-director -- pitched Disney Animation boss John Lasseter on several ideas involving talking animals.
"I will fully support any movie that shows animals running around in tiny clothes," Howard quoted Lasseter as saying.
Howard told Slashfilm that the project began as a spy movie featuring a James Bond-like rabbit character, and evolved into a detective story starring a rabbit and a fox.