LOS ANGELES — The city of stars is giving a nod right back to Emma Stone.
The "La La Land" actress has been named the world's highest-paid actress by Forbes, surpassing Jennifer Lawrence, who claimed the top spot in 2016 and 2015.
Stone, 28, collected $26 million, mostly thanks to her Oscar-winning performance as Mia, a barista and aspiring actress, in the musical juggernaut "La La Land."
Stone spoke out about gender parity earlier this year, revealing that her male co-stars had taken salary cuts so she could receive equal pay.
"That's something they do for me because they feel it's what's right and fair," Stone told Out magazine. "That's something that's also not discussed, necessarily — that our getting equal pay is going to require people to selflessly say, 'That's what's fair.'"
Jennifer Aniston was runner-up, with $25.5 million. While she continues to receive millions in royalties even a decade after "Friends" ended, the actress, who appeared in "The Yellow Bird," also monetizes endorsements through Emirates Airlines, Smartwater and Aveeno.
Lawrence dropped down two slots to No. 3, with $24 million, almost half of her $46 million earnings in 2016. Most of her paycheck comes from Darren Aronofsky's coming cryptic horror movie "Mother!," "Red Sparrow," and her Dior endorsement.
Emma Watson is the sole newcomer on this year's list after "Beauty and the Beast" became the top-grossing movie of the year so far, at $1.26 billion.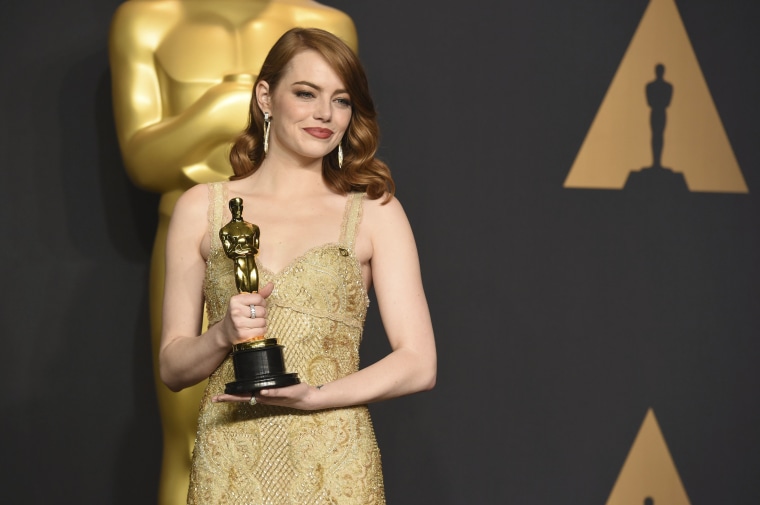 Earning estimates are based on a 12-month pre-tax scoring period from Nielsen data, box office numbers, and industry insiders. The cumulative list total is down 16 percent, from $205 million in 2016 to $172.5 million in 2017. While four women breached the $20 million mark last year, only three crossed the threshold this year.
The 10 highest-paid actresses of 2017:
Emma Stone ($26 million)
Jennifer Aniston ($25.5 million)
Jennifer Lawrence ($24 million)
Melissa McCarthy ($18 million)
Mila Kunis ($15.5 million)
Emma Watson ($14 million)
Charlize Theron ($14 million)
Cate Blanchett ($12 million)
Julia Roberts ($12 million)
Amy Adams ($11.5 million)